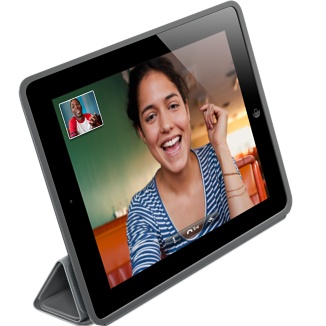 Apart from a lot of major announcements at the WWDC 2012, Apple also debuted a new iPad smart case that covers the iPad from the front and the back. The device can be purchased off the Apple Store. Here's a quick look at the features of this new smart case. Listed on Apple's official store, the iPad Smart Case covers the front and back of your iPad and still retains the thin, light design of iPad.
Like the Smart Cover, it folds easily into a stand for reading, typing, and watching video. Along with this, it automatically wakes and sleeps the iPad on open and close. Made from polyurethane, it's available in six colours and you can personalize it with free laser engraving on the Apple Online Store.
The case can protect your iPad screen and its aluminium back, so your iPad is fully covered on all sides. The Smart Case folds in just the right places to become the perfect FaceTime and movie-watching stand. It also doubles up as a keyboard stand, so you can fold it back to tilt your iPad into a comfortable typing position. At a price tag of $49 it costs about Rs. 2,740, which is close to the prices of their other smart covers. There's nothing extra special about his one, just that it has got better protection capabilities, so if you're having troubles keeping the iPad clean, then this one might just be the smart case you have been looking for.