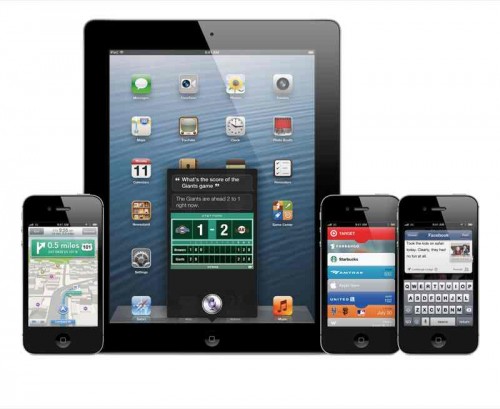 Now that the dust has begun to settle from Apple's Worldwide Developers Conference, details are now beginning to trickle out on iOS 6, Apple's next iPhone and iPad OS. Here is a take on Apple's iOS 6 announcements by NXHerald's Pat Pilcher.
Maps
Perhaps the most widely reported iOS 6 news is that Apple is adding their own version of Maps, ditching Google Maps in the process.
The Good: Apple's maps offering will no doubt be in eye-pleasing 3D and given Apple's interface and design savvy, it's bound to be a stunning looking app.
The Not so Good: Pretty is nice, and let's face it, no one does pretty better than Apple, but pretty isn't a game changer. What would've been really useful is offline caching, which would have handily given iOS 6 users access to maps when there was no cellular coverage or they didn't want to haemorrhage cash on roaming data charges when trying to find their way around a foreign city (which let's face it, is when you're typically most likely to need a maps app).
FaceTime over 3G
Facetime garnered a tremendous amount of attention when Apple first announced it.
That Apple have finally addressed its single biggest drawback by making it available over 3G instead restricting it to Wi-Fi only, can only be good news for iPhone owners everywhere.
The Good: With Apple enabling FaceTime over 3G connections, they've effectively opened up what iPhone users can do. From saying hi to a loved one when out of town to reporting back to the office, these are all things that were previously impossible with a Wi-Fi only version of Facetime.
The Not so Good: That said, these things have long been possible using third-generation mobile data technologies which has been part and parcel of all but the most basic 3G phones for years. That most people can make video calls to any other 3G video call-capable phones regardless of make, model or brand except Apple is nothing short of abysmal.
Facebook
The rumour mill had been running hot with speculation that Facebook will be baked into iOS 6, along similar lines to how Twitter was integrated in iOS 5. Now it's finally happening, so chronic over-sharers can rejoice.
The Good: In theory this should allow iOS 6 users to like App Store apps, as well as movies, music, plus TV shows from iTunes. iPhone users should also be able to post photos from Camera Roll, share a map or even a webpage. It's also been integrated with the Notification Center, so when something happens on your Facebook page, you'll see it on your iPhone lock screen.
The Not so Good: Integrating Facebook into iOS 6 is a great way of adding hype but should speculation come to pass that Facebook might not be around much longer, this functionality could quickly become the digital equivalent of a dead duck.
Passbook
Possibly one of the few new and innovative iOS 6 announcements, Passbook looks like a boon for travellers.
The Good: iPhone-toting travellers score a new app that'll keep airline tickets close to hand. Passbook is location-aware, so in theory airline boarding passes should pop up on the iPhone lock screen when you arrive at the airport. There's other nifty tricks too – Passbook can also update in real time with gate changes, making life a whole lot easier at the airport.
The Not so Good: Hold on a sec, hasn't this sort of thing been available for ages on Android via apps such as Mpass?
Siri
Siri has been the IOS feature others have rushed to emulate. After all, what could possibly be more natural than talking to your phone to get results?
The Good: iOS 6 gives Siri a much-needed shot in the arm, allowing her to more intelligently respond to queries about sports, dining, and films. That Siri gains functionality across the entirety of IOS and better language support allows Apple to stretch out an already massive lead in voice navigation.
The Not so Good: Siri may have brushed up on baseball, basketball, AFL, soccer, and hockey but forget league, rugby or cricket. Whilst you can also get Siri to dish up the goods on restaurants through improved Yelp integration, and even make reservations through OpenTable, this isn't going to help you much unless you're travelling. Greater support for that oh-so-difficult to understand kiwi accent would've also been really useful.
Final Words
To this end Apple appear to have by and large scored some real hits with iOS 6, which looks set to greatly enrich an already fantastic piece of hardware.
The trouble is though, many of these upgrades have already been available on other platforms such as Blackberry or Android whilst many others appear to have been "borrowed" from third party applications that have long been available for jailbroken iPhone hardware.
Whilst it could be argued that there are only so many ways to craft a mobile OS, iOS 6 hardly appears to be groundbreaking, and Apple desperately needs to innovate if they're to keep Android and the other smartphone OS vendors from making serious inroads into their marketshare. But would I get iOS 6? You bet I would.
You can have a look at the hands-on images of the iOS 6 here at BGR.
Source: NZHerald