There is a fair amount of good news for those who are planning to upgrade their hard drives to the modern, faster and efficient solid-state drives.
Prices of solid state drives have collapsed and come down by about 50 percent since 2011. Solid-state drives are of course known for being incredibly fast, quiet and low on power consumption. The major reason why they haven't been popular yet is because of their heavy price tag. But there is good news. Prices of solid state drives have halved since last year.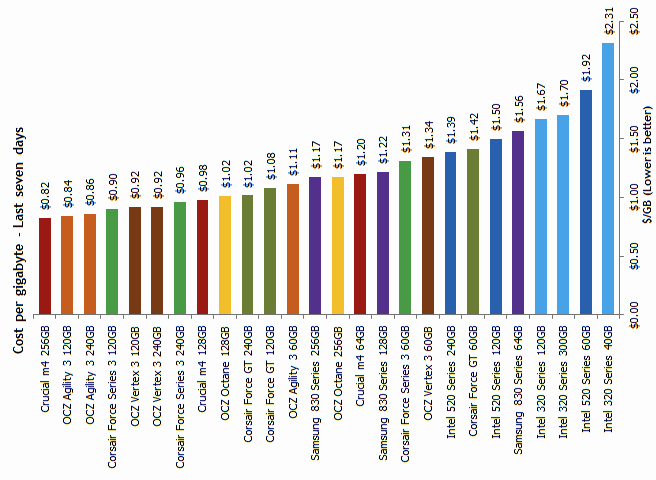 Other companies had suggested this trend in the past. For example, Kingston had predicted 2012 to be the year of SSDs. The reason for this was the dropping price of NAND flash memory. The price of 1GB of NAND flash was said to fall to around a dollar and sales of SSDs to rise in the second half of 2012. The high cost of flash memory has always been the reason why SSDs have traditionally been expensive. The move to the more efficient, 19nm fabrication process should also help prices drop further.
Prices are likely to drop further as we approach the next quarter.
Another reason that's likely to have made SSDs more in demand is is the current increase in price of hard drives. The cost of hard drives had risen, close to 150 percent in some countries and is likely to remain like that through 2012. There's also a shortage of low-capacity industrial grade drives. Kingston is one of the large companies when it comes to Flash memory, and they've slowly been moving away from their module business and focusing more on the NAND Flash business, which it believes will bloom in the years to come.
The hard drive market has been in trouble for some time now. Seagate and WD were both affected during the Thailand floods and prices of drives shot up. Demand continued to rise steadily and supply has reduced and the extra stock has depleted over the end of last year. Prices almost doubled around that time and the beginning of this year. The rise in prices was because of a number of reasons – some claimed that hard drive manufacturers hiked up prices and even reported great results under the disguise of the effect of the flooding.