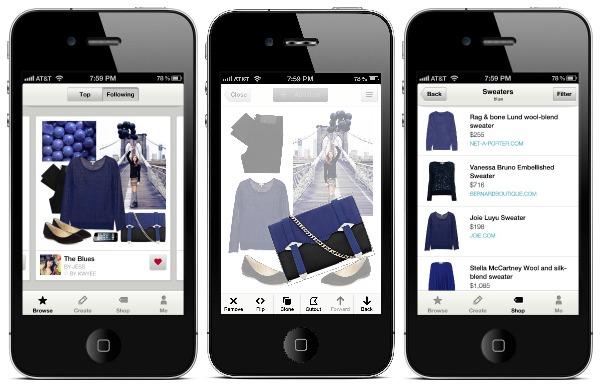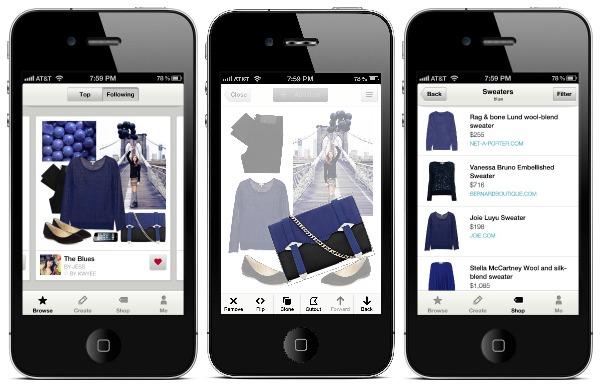 Mobile apps which address to the silliest, yet the biggest concerns often gain popularity. As app world progresses towards more meaningful and user necessity addressing ones, an app that recognizes the need for easing the biggest concerns a shopper faces is indeed a big step.
Although everyone shops, the task of shopping is often associated with women. It is so because it is a more specific and an important thing when women shop. There are a few words which rule the world of shopping. They are trends, brand names and comfort. A shopper finds it hard to pick as there are multiple criteria to be met before the person decides to choose something. And to meet multiple criteria when online shopping has emerged over the recent years even though has become easy, has become more confusing. In short, shopping isn't cumbersome but something that's way too befuddling now. Polyvore seems to be attending to this in a beautiful way by combining social networking with online shopping. Although the idea seems clichéd the app seems to capture all the details appropriately. It allows a user to combine different products to complement each other, like dresses with shoes or bags. The App allows the user to associate with friends and get to know what they picked from which place. The app has a feature that allows the user to engage with fellow users who share similar interests and keep oneself updated about the latest trends in the shopping world. Any new product releases are updated and notified to the users often.
The Polyvore app is available on iTunes for downloading and is moderately priced. It has obtained good user reviews and experiences so far.