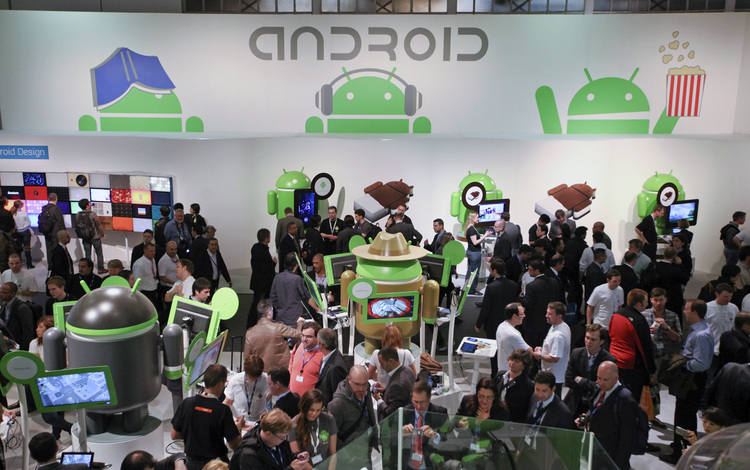 Businesses and businessmen are beginning to rely on android apps more than ever. This is mainly because business activities are moving from desktops to smartphones and thus, businessmen need custom apps to perform various business-related activities. Here we give you a list of top 13 android phone based apps to perform various functions.
With the PocketCloud android app, you can remotely access your Windows or Mac desktop and access applications, files and photos. You can search for files and folders through the Smartphone screen, and share small or large files with others.
Cost: Free (one computer use)
The BrainShark android app allows you to view, add, edit and share Power Point presentations. You can also convert heavy presentations into a voice-based video representation.
Cost: Free
The Google Drive android app is very tightly interlinked with full Office suite and 5 GB of storage. You can create, edit and share documents with other collaborators, control view and share properties, and track changes made to existing documents.
Cost: Free
The Evernote android app seamlessly integrated files across various devices, take notes, store images, make to-do lists, record reminders and many more. It contains Web Clipper, a bookmarking tool to save links.
Cost: Free (Basic version)
If you are a regular traveler, you need this android app. The Expensify app records travel bills through scanning, track mileage, import credit card statements and more. You can connect this app with QuickBooks account or create a new expense report manually.
Cost: Free (Individual Use)
The android version of Skype is a very good collaboration tool allowing you to connect with any team member or client anytime. You can save money on telecom bills through free calling feature. The app also lets you share Smartphone screen, receive messages, send messages and perform Smartphone-based video calls.
Cost: Free (Basic Use)
SignEasy is a very simple android app which allows you to electronically sign documents and send them. All you have to do is create the signature on the Smartphone screen, edit it, resize it and add to any document.
Cost: $14.99 (Lifetime Use)
If you manage a team or a department, you should use the Yammer app. It works as a collaboration tool between team leads and employees by creating a close-knit network to share ideas, develop projects and get updates. This could be used as a central to receive customer feedback too.
Cost: Free
The HereMatch android app is a business lead generation tool. Link the LinkedIn, Twitter and Facebook accounts and the app will give you real time location-based notifications of other users. For instance, if you are a website designer attending a conference, the app will update your location and show you names of people with whom you can exchange services. It's worth a try.
Cost: Free
Do you need to exchange contact information? Just bump your and the other persons' android phone together to exchange contact details. All the contacts are automatically synced into the address book.
Cost: Free
The Google Voice android app is very useful. It automatically integrated with the phone's address week, sends you transcribed voicemail from emails, allows you to make calls through the assigned Google number, sends automated SMS notifications and charges very less for international calls. This app is apt for daily business callings.
Cost: Free
The Meebo android phone app allows you to remain connected with people over various instant messaging networks like Facebook, AIM, Yahoo, Google Talk, ICQ and MSN. Just login with Meebo account and chat with multiple contacts.
Cost: Free
The Cab4Me is an awesome transport service for business personnel to book cabs anytime. They use location detection to give you a list of companies who could provide cab service. Just select or call one, mention the number of passengers, book and the cab will be there to pick you up.
Cost: Free
All these android phone apps fulfill various purposes. There is no limit to the number of apps you can use. Select these and simplify business.
About The Author
Sanjeev Kumar is an avid tech critic and a proud Internet Freak. He heads Internet Marketing at iShopper.com – a product discovery and price comparison shopping website in India that provides creative way to compare products including mobile phones, laptops, cameras, tablets etc…and find best price for them from all major online shopping stores.