This definitely is big news. China has now topped the U.S. and become the world's top country for active Android and iOS smartphones and tablets. Last year, reports showed that China was the world's fastest growing smart device market. One year later, China is on the top.
For this report, Flurry uses its entire data set, tracking more than 2.4 billion anonymous, aggregated application sessions per day across more than 275,000 applications around the world. Flurry estimates that it reliably measures activity across more than 90% of the world's smart devices.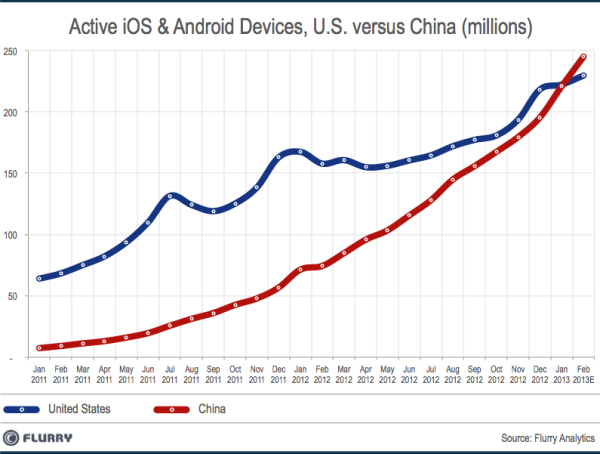 Reviewing the chart shows that China and the U.S. had roughly the same active smart device installed base in January 2013, 222 million in the U.S. versus 221 million in China. According to Flurry's estimates China will have 246 million devices compared to 230 million in the U.S. by the end of February 2013.
There is little chance that the U.S. will be able to top the chart again considering the huge population advantage that China has. The only country that probably has a chance to reach that spot is India but with only 19 million active smart devices in India, China will not likely see competition from India for many years.  Below, we show the top 12 countries by active iOS and Android installed base through the end of January 2013.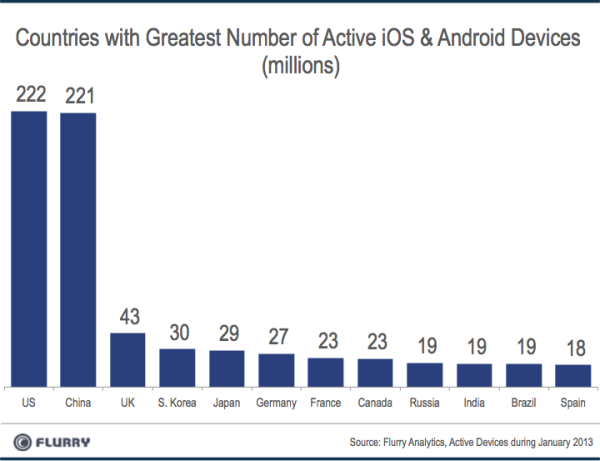 In this new era of mobile computing, sparked by a confluence of powerful innovation across microprocessors, cloud storage and network speeds, Apple and Google have helped create the fastest adopted technology revolution in history, 10X faster than that of the PC Revolution and 3X that of the Internet Boom. And now, as the largest and fastest modernizing country in the world, Chinese consumers lead that revolution.
Credit: Flurry Analytics