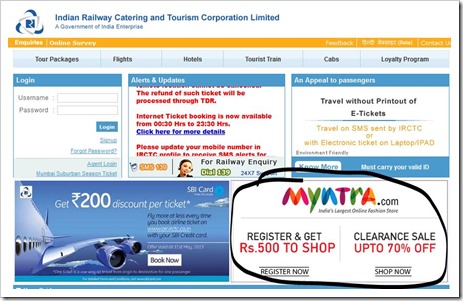 The Indian Railways Catering and Tourism Corporation (IRCTC) is planning to spread its wing of services from the current food and tickets to books, mobile phones and footwear in future.
"We are discussing with existing firms in the e-commerce space to thrash out the details. This will help us monetise our registered user base of over two crore," IRCTC Managing Director R.K. Tandon told Business Line. IRCTC will only act as a front-end and all the inventory and logistics part will be handled by ecommerce sites they have partnered with.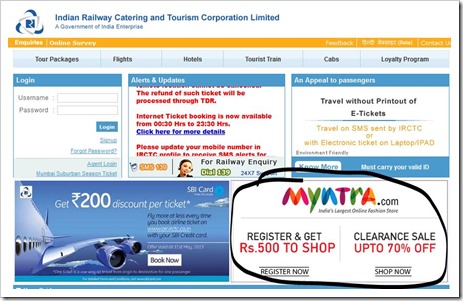 If you are also worried about the already sorry state of the IRCTC and how this move will affect the ticketing experience, then Mr. Tandon assures that IRCTC's online shopping plans will not affect its online ticketing platform.
"Even now, our system capacity is free during the large part of the day, barring peak hours. And now that we will invest in further upgrading the IT infrastructure, we would like to increase asset utilisation to earn more revenue on the same costs," he added.
In the latest railway budget, ailway Minister Pawan Bansal had announced that by this year-end, IRCTC's capacity will be upgraded to support 72,000 tickets a minute, from the current level of 20,000 tickets a minute. The upgrade will also mean that IRCTC website can support 1.2 lakh simultaneous transactions which is thrice the current rate.
So, why is IRCTC getting in to e-commerce?
Clearly, IRCTC is the largest ticketing platform in India and also one of the most visited sites as far as traffic is concerned. IRCTC has over 2 crore registered users and obviously they realize the potential to monetize the website further and generate more revenue per user.
While the internet savvy population might despise the IRCTC website, but a large population of no-so-internet friendly people view IRCTC has a legitimate online portal and would probably have more trust while purchasing items there.
The IRCTC has already started off with display advertising and will probably launch its e-commerce plans too. I am guessing payments will be handled by IRCTC which will act like another portal to shop online from different merchants who will take care of the shipping and logistics.
We'll have to wait and see how IRCTC takes this forward with different online merchants. We would definitely love to hear your thoughts on this move.