The Tech Panda takes a look at recently launched gadgets & apps in the market.
Ethernet: Ease of design for OEMs to connect automotive devices with new 10BASE-T1S ethernet solutions
Expanding its portfolio of automotive-qualified Ethernet solutions, Microchip Technology (Nasdaq: MCHP) today announces the new family of LAN8650/1 MAC-PHY devices qualified for automotive applications. The LAN8650 and LAN8651 MAC-PHYs include a Media Access Controller (MAC) and Serial Peripheral Interface (SPI) to connect devices at the edge of automotive networks.
"Microchip continues to develop automotive connectivity solutions with its line of 10BASE-T1S products, providing the industry with turnkey solutions that meet customers' requirements," said Matthias Kaestner, corporate vice president of Microchip's automotive business. "This new technology will connect sensors and actuators in the physical world all the way to the cloud, enabling a seamless Ethernet architecture in vehicles, which in turn reduces development effort and time to market."
The Why
Ethernet solutions continue to gain momentum in the automotive industry because of the well-established security protocols for keeping network systems secure. These systems can be extended to the edges of the network without needing extensive changes or new development.
Automotive designers are creating new zonal architectures in automotive applications with 10BASE-T1S Ethernet solutions. The 10BASE-T1S technology makes it possible for low-speed devices to connect to a standard Ethernet network, eliminating the need for dedicated communication systems.
Features
The LAN8650/1 devices with a built-in MAC and SPI enable designers to connect 8-, 16-, and 32-bit microcontrollers that do not have a built-in Ethernet MAC to 10BASE-T1S Single Pair Ethernet (SPE) networks. This allows sensors and actuators that interface between the digital and the real world to become part of an all-Ethernet architecture. Connecting to even the simplest MCUs can reduce the overall size and cost of a design.
These devices are equipped with Time-Sensitive Networking (TSN) support, which allows for synchronized timing across far-reaching Ethernet networks. This time synchronization is critical for many automotive applications such as Advanced Driving Assistance Systems (ADAS).
The automotive-qualified LAN8650/1 MAC-PHYs are compliant with the AEC-Q100 Grade 1 qualification standard for enhanced robustness in harsh environments, including extended operational temperature range from ?40ºC to 125ºC.  In addition, these devices are functional safety ready and designed for use in ISO 26262 applications.
SaaS: QR-based Complaint Box
Qudify, an enterprise SaaS platform that focuses on building software solutions for Indian MSME's and enterprises, following the Meeting Room Booking Management and Visitor Management, launched a Complaint Management System (CMS), the QR-based Complaint Box, to make compliance easy, digital and cost effective for all organizations – offices, coworking spaces, commercial buildings, hotels, schools, colleges, cafes and more.
Akshat Tripathi, Co-Founder and Business Head at Qudify, emphasizes this unique technology's importance: "An effective complaint management system is the need of the hour for every organization and building. The existing mechanism to capture feedback or compliants is manual, paper based and inefficient. In general it takes multiple days for it to reach the right person and get resolved.Our QR-based Complaint Box empowers businesses across all sectors to efficiently receive, address, resolve and respond to the end user in the most fastest and efficient manner."
The Why
An effective complaint management system has become a vital tool for modern-day organizations, assisting them in navigating the challenges of a competitive and customer-centric environment. The CMS streamlines compliance management, lowering the facility's or complex's risk of regulatory difficulties. It eliminates physical complaint forms or registers and encourages reduction of carbon footprint. It prioritizes accessibility, making the complaint mechanism available to all occupiers and visitors.
Features
Assists in understanding the concerns of internal and external customers by ensuring the feedback or the complaint is captured at ease and timely resolved by the concerned authority. This is made possible due to real-time recording and effective routing of complaints and feedback, which results in an overall improvement in the operations and the satisfaction levels.
The platform uses crucial insights to improve service, thus increasing customer satisfaction. White-labeled and fully customizable pages, QR-based submissions, automated mailers, analytical insights, automated reports, cloud-based architecture and removal of physical touchpoints make this product a comprehensive and environmentally friendly option for modern businesses.
Wearables: Sterling Pro Smartwatch and Astra, gaming BT wireless earbuds
BOULT launched its new smartwatch–the Sterling Pro Smartwatch and Astra, gaming BT wireless earbuds.
Varun Gupta, Co-Founder & CEO, BOULT stated, "We are thrilled to introduce Sterling Pro & Astra, as the latest addition to our esteemed product portfolio. At BOULT, our unwavering commitment lies in continuously infusing innovation, enhanced functionality, and cutting-edge technology into the category of smartwatch wearables. With Sterling Pro we have successfully raised the bar for smartwatch technology. It is not just a timekeeping device but a productivity tool and a reflection of your commitment to leading a healthier and more connected life. Astra TWS further cements our status as the fastest-growing audio brand in the market."
Features
BOULT Sterling Pro Smartwatch
1.43-inch AMOLED HD Screen with a remarkable resolution of 466×466 pixels which is the highest display brightness at 800 nits
available in two timeless shades–black and silver
the fusion of Zinc Alloy Ring and Lightweight Polycarbonate Frame
it has an Artistic Knurled design with delicate grooves
Its single-chip BT 5.3 technology enables seamless Bluetooth Calling through a dedicated speaker and microphone
health monitoring features from real-time heart rate monitoring and SpO2 Blood Oxygen tracking to Blood Pressure monitoring and Sleep analysis, Female Menstrual Cycle Tracking, Drink Water Reminder, and Sedentary Reminder
over 100 sports modes for fitness enthusiasts
IP68 water-resistant rating
250+ cloud-based watch faces
priced at INR 2499
BOULT's Astra TWS
The gaming TWS provides 48 hours of playtime
Blink & Pair™ technology for lightning-fast connectivity
Can pair it with smartphone or other devices
10-minute charge for 100 minutes of playtime
Single full charge provides an impressive 120 hours of standby time
With breathing LED lights that serve as indicators of battery level
Bluetooth 5.3 connectivity
ultra-low latency of 40ms
its BoomX™ Technology ensures an immersive audio experience
Zen™ Quad Mic ENC for superior voice clarity
IPX5 water-resistant
available in three colours– Black Gloss, White Opal, Smoky Metal
priced at INR 1399
Camera: Roadeye Dash Cam
Consumer electronics brand CrossBeats, launched its newest product Roadeye Dash Cam.
Abhinav Agarwal, Co-founder, of Crossbeats, commented, "We've reimagined road safety by seamlessly integrating smart technology into the driving experience. Our newly launched RoadEye Dash Cam does more than just capture memories; it also gives drivers access to cutting-edge capabilities that improve their driving experience and avoid unwanted traffic violation tickets."
Features
HD 1296P Dual Recording to capture every twist and turn with the front and back cameras powered by Sony IMX
The 3-inch LCD Touchscreen gives instant access to recordings and allows easy navigation
No low light levels thanks to the Pro Night Vision and 6-Glass Wide Angle Lens
G-Sensor Protection with AI-powered detection of impacts and seamless recording
With real-time alerts from the brilliant ALDATM (Accidental Lane Departure Alerts) and FOCATM (Forward Object Crash Alerts) technologies
The Parking Monitor with an Anti-Theft feature eliminates parking accidents and theft issues
Loop Recording & 24/7 Safety, which automatically overwrites older films at a certain time window
Timelapse Video, to create exciting clip of the video for social media
advanced wireless connectivity
OTA Support keeps the device updated with recent improvements
Priced at INR 6999
FinTech app: Jewelry purchase & saving mobile app
Heralding a paradigm shift in jewellery purchase and saving, Plus, Bharat's jewellery savings app, launched its mobile application across iOS and Android devices. Plus' platform empowers Indian homemakers to save for their jewellery purchases, while earning an exclusive 10% annual internal rate of return (IRR) on their investment.
Veer Mishra Founder of Plus said, "We are thrilled to announce the launch of Plus' app, the revolutionary jewellery savings platform for Bharat. With better opportunities, our platform enables users to make their jewellery purchases, discover 1000s of jewellers effortlessly, and access exclusive discounts for their next big purchase. Our platform delivers simplicity, transparency, and safety for all customers, and will transform the jewellery savings market for Indian homemakers, making it easier, affordable and convenient."
The Why
India is the second largest consumer market for gold and jewellery, where an estimated 300 million people buy gold and other jewellery every year. Within this market, approximately 20% of all jewellery sales are achieved through investment schemes run by various jewellers across the country.
However, the jewellery savings market is yet to be digitalised, and involves challenges in the form of lack of aggregation, exorbitant hidden jewellery making charges (15%-30%), and others, which do not support the idea of jewellery as an investment. Despite gold and jewellery being the biggest asset class, the entire journey for the consumer is offline.
Providing a disruptive solution in the jewellery savings market, Plus lets users save, discover 1000s of jewellers, and purchase their dream jewellery, all on a single app.
Features
users can start saving from as low as INR 1000 in a monthly SIP manner, or save a lump sum amount in one go
Users enjoy growth in savings, earning 10% IRR annually, along with the added benefit of users' savings being extremely liquid, which can be withdrawn within as fast a period as T+2 days.
users can discover jewellers, book visits with a single tap, and avail exclusive discount offers on instant jewellery purchases
users can make purchases with their savings balance which has accrued a 10% IRR, at any store in the country
jewellery partners on Plus' app offer gold coins and bars at very competitive prices across the country during festive seasons for customers to purchase
Soundbar: ZEB-Juke Bar 1000 with Dolby Atmos
Zebronics, a brand in audio gadgets & home entertainment industry launched ZEB-Juke Bar 1000 with Dolby Atmos®. This an affordable 2.1 channel soundbar that packs revolutionary Dolby Atmos for a richer audio experience.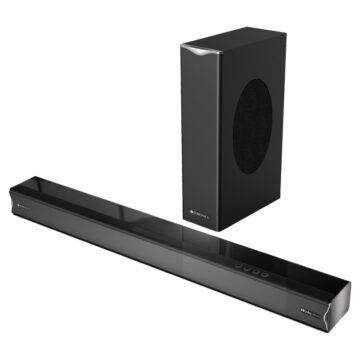 "We have ushered into an era of rapidly evolving content culture, where an enveloping sound experience is in demand. With Dolby Atmos transforming the entertainment experience, the Zeb Juke Bar-1000, breaks the barrier as India's most affordable 2.1 Channel Soundbar with Dolby Atmos, offered at an unbelievable price point. It offers an astonishing audio ambiance and will certainly be a game changer in the Home Audio arena. Gone are the days when Home Theatres were considered as a symbol of affluence; this compact-yet-powerful Soundbar is a testament of our vision that enables consumers to enjoy cinematic luxury within their homes thus providing "Premium for Masses". We are converging our efforts in revolutionizing the Home Entertainment ecosystem by introducing more such products that makes every content-watching experience an awesome one and thus being 'Always Ahead'" – said Pradeep Doshi, Co-Founder & Director – Zebronics.
Features
dedicated sub-woofer that delivers a thumping 150 Watts RMS output along with Dolby Atmos
the dual driver soundbar ensures crystal clear sound reproduction and the sub-woofer delivers powerful bass
equipped with Bluetooth v5.3 and has HDMI (eARC), Optical-in, AUX and USB modes
wireless music streaming
seamless TV connectivity
Priced at INR9999
Smart wearables: URBAN Quest Smartwatch
URBAN launched the URBAN Quest Smartwatch, a versatile round-dial smartwatch that combines style and functionality.
Aashish Kumbhat, Co-Founder, URBAN, stated, "Our quest is always to better ourselves and come up with innovations that make a difference to people, and URBAN Quest is our yet another endeavor to get the very best out of our customers. This smartwatch is designed to be versatile and fit into your everyday requirements. We all wear different hats throughout the day, this smartwatch is crafted to be the constant companion."
Features
Design: The metal alloy body makes it lightweight yet sturdy, while the dual buttons and multi-functional rotating crown offer intuitive navigation. The watch's luxury design is complemented by a durable silicon strap.
Display: The smartwatch features a vibrant 1.43″ Super AMOLED display with a narrow bezel and 2D curved glass, delivering sharp visuals and dynamic animated watch faces. The colored always-on display and dynamic animated watch faces are there to give an enhanced user experience.
Health Monitoring: Equipped with dual sensors for SPO2, heart rate (HR), and blood pressure (BP) monitoring, the URBAN Quest Smartwatch prioritizes your well-being. The premium URBAN Health Suite provides comprehensive health insights.
Connectivity and Communication: With Bluetooth 5.2 capability and a 10-meter Bluetooth range, this smartwatch offers seamless connectivity, enabling Bluetooth calling, contact book, and dialer functions. The inclusion of a high-quality microphone and speaker ensures clear communication, while the AI voice assistant provides hands-free convenience.
Customization and Personalization: It offers extensive customization options with multiple watch faces, allowing users to personalize their devices. Its rotating crown function enhances the customization experience.
Productivity and Fitness: It supports multiple sports modes to track various physical activities, ensuring users stay active and engaged. Additionally, the watch enhances productivity with features like alarms and notifications, keeping users informed and on schedule.
Priced at Rs 3,999. The smartwatch is available for purchase on the official company website, leading e-commerce platforms, and all leading retail outlets.
Health & wellness wearable: aaboRing
aabo, a MedTech startup, released an upgraded version of its health and wellness wearable, the aaboRing.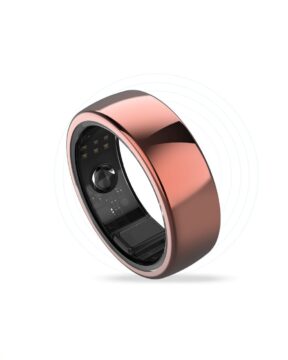 Nirav Hemani, aabo said, "In past couple of years, there has been a lot of innovation in the field of wearables, and people have been very receptive towards knowing and understanding their health and wellbeing. There has been a surge of health related apps and devices and consumers are excited to adopt technology to enhance their health and wellness."
Features
The new version of aaboRing comes with a wireless charger, enhanced accuracy, elaborative workout mode and mobile app upgrade.
Offers significant advantages in heart rate monitoring, sleep monitoring, variations in body temperature, blood oxygen levels and respiratory health by monitoring SpO2, mindfulness and key body metric trends which are useful for senior health, sleep apnea and lifestyle diseases care.
One of the lightest health and wellness ring and it's sleek design enables comfort during sleep, workouts or performing day-to-day activities.
Comes with CE & CDSCO certifications and medical grade health data and research grade sensors of HRV 98% accuracy and heart rate 99%
Made of titanium metal with 2.5 mm sleek form factor and PVD coating in its inner shell, it is built to withstand corrosion, scratches and rough use.
It is water-resistant up to 50 meters
It has 7-days of uninterrupted wear with its battery life, and wireless charging takes 40 to 60 minutes to charge from zero to 100%.
Helps you understand your body's health and predictive analytics and AI provides timely biofeedback of present state of your body
Offers wellness counselling, diet plan consulting for predictive and preventive health care to its users.
Uses Bluetooth to connect and sync with the aaboRing app
compatible to Android devices running Android 6.0 or later and iPhones running on iOS 11.0 or later.
Comes in four-metallic colours, Silver, Rose Gold, Gold and Black and is available on Amazon and the official aabo website.
EV: Acer MUVI-125-4G
Taiwan-headquartered multinational technology corporation Acer and Indian electric mobility platform eBikeGo have joined forces to introduce the Acer MUVI-125-4G, a cutting-edge electric two-wheeler designed for urban commuters seeking elegance, efficiency, and eco-friendliness.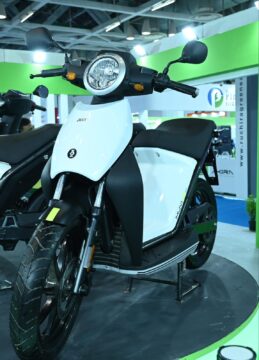 Shri Nitin Gadkari, Union Minister for Road Transport & Highways commented, "The introduction of products such as the Acer-branded MUVI-125-4G indicates a promising step towards sustainable transportation solutions. Our nation's mission to achieve cleaner transportation benefits from the innovation and commitment displayed by companies like eBikeGo. I trust they will continue to maintain the momentum in fostering a sustainable mobility future for India."
Features
The first EV model to be launched under the Acer brand for India
Under a license agreement with Acer Incorporated, the MUVI-125-4G shall be designed and manufactured by eBikeGo.
Swappable batteries
Robust yet lightweight chassis
16-inch wheels
Data-driven design
Highly customizable features
Offers a top speed of 75 kmph and a range of 80 km
App: Retail tech platform GoStor.com
Retail tech platform Arzooo launched GoStor.com, making home appliances e-commerce more customer friendly while empowering 30k+ offline retailers at the same time. With the festive season approaching, this launch will help Arzooo establish a seamless connection between Indian shoppers and offline retailers.
Khushnud Khan, Founder & CEO, Arzooo states, "GoStor.com is a platform designed and curated for the high involvement purchases like Home Appliances. The platform emphasizes elevating the purchase and the post purchase experience for an appliance buyer. With Arzooo's vast network of Consumer durable stores, we aim to create an integrated commerce solution that caters to the need of Home Appliances buyers throughout the purchase journey and afterwards".
The Why
The platform is made for consumers who buy high-value products with a longer lifespan in categories that requires careful consideration. This is because home appliance buyers consider various attributes beyond just price while making purchase decision, like assisted buying in store, post-sales life-cycle support, and the overall product experience further add to the shopping experience. These attributes lead over 85% of home appliance buyers to prefer an offline store.
Features
Allows consumers to get expert assistance and product demonstration via live video
Brings lifetime care service for every home appliance purchased on the platform with its post sales service solution
Enables customers to raise instant service request in case of any appliances breakdown for a doorstep service
It's flagship services like Live product demonstrations pre-purchase, Service support post purchases
Brings a unique feature of "Better Price Guarantee" wherein if one found a product elsewhere online, you can seek a better price for the same product by just sharing the product link of that website
Empowers retailers with order management and inventory management solutions
Mobile app: Cashli
Mitgo, a global IT/MarTech company launched Cashli, a specialized mobile app that enables users to earn money by promoting brands while also providing them a platform to attract new customers for their products.
According to Artem Bukharyn, CEO, Cashli, "We aim to establish a transparent system where both partners and brands can access the necessary information. Partners will have visibility into the current statuses of the leads they have provided, while brands will receive only genuine traffic. This system will enable thousands of individuals to find new job opportunities to get an additional source of income."
Neha Kulwal, Managing Director APAC, and India, Mitgo said, "Cashli is designed to be highly convenient to use. Individuals who choose to become partners will have access to informative videos within the app, explaining how the process works. They can easily find suitable offers, generate links, and effortlessly share them with clients. Everything is designed to be user-friendly and intuitive."
The Why
The company observed that brands are struggling to attract customers from different regions of India using conventional paid channels. As a result, there is a need for a platform that connects brands with partners andthen to their customers via relevant offers. With an investment of $250,000, the company has ambitious plans to expand in the Indian market.
Features
Through this app, brands can provide their offers to partners who are willing to share them within their network to find suitable customers for the brands. In return, these individuals receive a commission for each successful required action from the customers they refer.
The app has a pool of brands from the BFSI market with partners residing in Tier 1 to Tier 6 cities and has offers for credit cards, bank account opening, demat, UPI, credit score, and EMI cards.
The app is in the process of adding more industries and services in coming months.
EV: Quantum Bziness Pro e-scooter
Quantum Energy, an electric 2-wheeler manufacturing firm tied up with Bluwheelz to deploy 5000 electric scooters called the Quantum Bziness Pro e-scooter.
Chetana Chukkapalli, Director of Quantum Energy Limited, said, "With this partnership, we would like to make last-mile connectivity greener. Quantum Energy's fleet is the smart choice for sustainable transportation. Through this important partnership with Bluwheelz, we aim to promote the adoption of electric vehicles for all kinds of deliveries."
Arun Sharma, the Executive Director of Bluwheelz, emphasized, "Bluwheelz is committed to delivering cutting-edge logistics solutions that prioritize both efficiency and environmental responsibility. Our collaboration with Quantum Energy perfectly resonates with our mission to pave the way for a more sustainable and eco-friendly future in the realm of last-mile logistics."
Features
Range of up to 135 km on a single charge
Equipped with a high-performance Lithium Iron Phosphate (LFP) battery, which comes with a warranty of 3 years or 90,000 km
Packed with segment-leading features, including an inbuilt IOT tracker with an IP67 rated battery pack, remote lock-unlock, anti-theft alarm, USB charger, disc brakes, LCD display, and more.