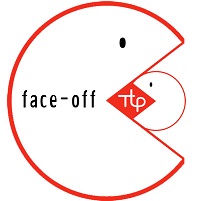 Why be a King, when you can be the God
Doesn't matter if you are not ready, your opponent is. While you are having a good night sleep, your opponent is either getting funded or is acquiring customer. Do you have it in you to face-off your opponent in the unruly terrains under the most obnoxious atmosphere?
What is face-off?
TheTechPanda presents "face-off" where any two like-business will be evaluated. In a face-off two startups from the same niche and market will be placed against each other and will be judged on the basis of several parameters. This is how it is done:
Two like-businesses will be evaluated on the basis of 10 parameters. Each parameter will consist of 100 point and thus the 10 parameters collectively will consist of 1000 points.
You will be given 10 parameters to rate your opponent and the same parameters will be given to your opponent to rate you. The ratings will be kept confidential with us. The decision of TheTechPanda jury will be final while evaluating both the parties.
Both the parties will receive same points out of 1000 in the end. The differentiating factor will be the ratings assigned in the parameters (For example, you might receive a rating of 90/100 in Website Checkup and your opponent will get 75/100, you might be rated 80/10o in Team whereas your opponent will get 95/100 for the same; where your and your opponent total would be 850/1000)
What are the parameters?
Parameter 1: TTP Pitch 160
You have to give us a snippet of 160 characters about your company. This will be evaluated on the basis of
English Usage

Creativity

Uniqueness

Brand perception
Parameter 2: Website checkup
On-page SEO

Off-page SEO

Mobile friendly

Page load time

Readability

Color combinations
Parameter 3: Social Media presence
Number of social media platforms you are present in is the last resort for you to get higher ratings. How many followers you have on your target social media is the first priority.
Parameter 4: Growth
There is no sense of having face-off between CocaCola and YesterdayDrink, because surely we cannot rate on how they both grew over 130 years or 1 day.
Parameter 5: The Team
Education of the founding members

Work-ex of the founding members/previous startup

Team size
Parameter 6: Availability in different platforms
Presence of your business in Play Store, Windows, iTunes and other platforms.
Parameter 7: Product/service assortment and diversity
Apart from your productivity from flagship service/product, what else do you provide to your customers to choose from?
Parameter 8: Value proposition strength
Does your business really gives what it promise to the users? Does your business try to make the world a better place by giving them what they want?
Parameter 9: Audience and Scalability
Target market size

Possible expansion

Plausible diversification
Parameter 10: Customer ratings and feedback
Customer Experience

Ratings on other platforms

Service/product quality

Positive/negative feedbacks
Please note:
Face-off will not be carried forward without the acknowledgement of both the parties. Shoot us an email on [email protected] to know more.

Face-off will, not in any way, devalue your brand when you are willing to indulge in face-off session with someone. Both the parties will get same rating out of 1000 but the ratings will vary in each parameters.

We are happy to accept face-off sessions if you are personally willing to have a face-off with someone. We will look out for your opponent for you. Send us an email at [email protected]