Whether or not Apple's iWatch is underway and will be hitting the stores soon, concepts appear all over the Internet for the rumored Apple iWatch.  Will it try to play the catching game or sweep the market with an innovative idea like iPod? While only time can tell, 91mobile.com has come up with this concept worth taking a look at: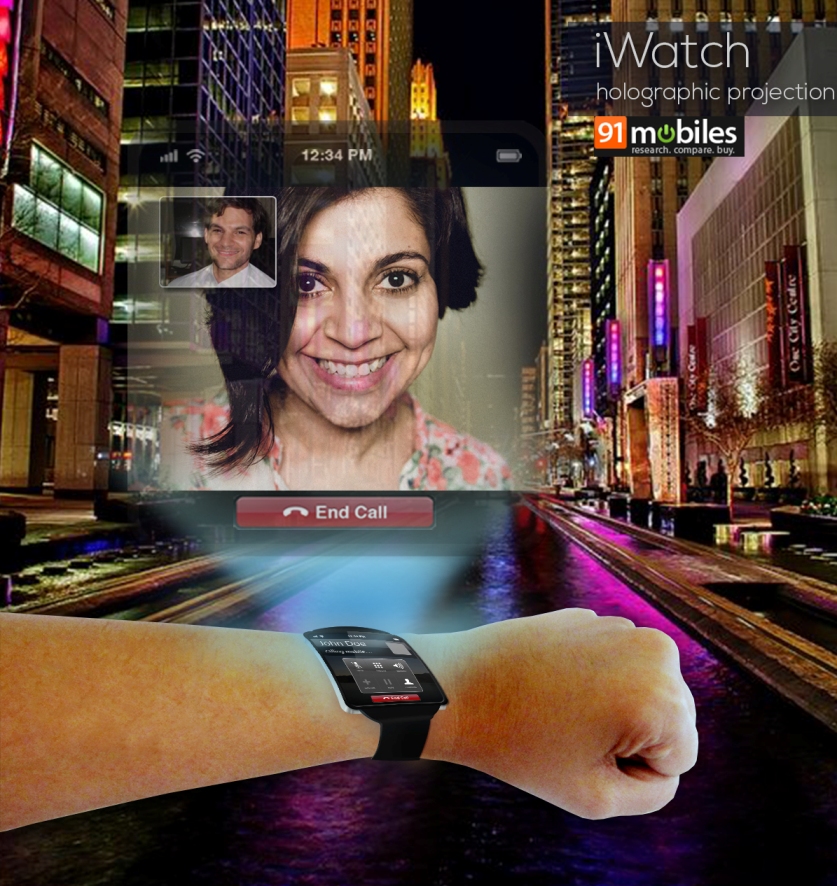 The iWatch will come with a holographic projection in combination with its personal assistant, Siri. The notifications can thus be read out by Siri or read on the projection. The projection can also be used for browsing websites, navigating a map or even stream movies, documents, etc. by connecting to the smartphone.
For the externals, iWatch would sport a 1.5 inch IPS-LCD screen bearing a square resolution of 320 x 320 pixels. The multi-touch display will allow use of intuitive gestures for navigating the apps and starting camera or activating Siri by a simple swipe. To match up with the wearer's attire and mood, interchangeable straps would be available.
Sharing it's hardware with other Apple devices,  iWatch would be powered by the 64 bit A7 computing chip and would have a dual core processor that clocks at 1.3 GHz. It would also be supported by M7 co-processor as one of the key functions of the device would be to track users' health and activity which includes movement, calorie count, sleep, etc. This chip was recently introduced in the Apple device to ensure that such things are tracked by a dedicated chip efficiently and be battery-saving as well. A 1 GB of RAM ensures smooth functioning of the watch.
For connectivity, the watch will be having Bluetooth 4.0 LE (Low Energy) and Wi-Fi 802.11 b/g/n/ac. So, one can always be connected to internet and thus the data tracked for health and activity in the watch can be instantly backed up to the iHealth application/ website. The device would come in handy for few quick pictures and recordings too with 1.2 MP Facetime Camera and HD Recording features.
True to providing stunning user experience, iWatch would come packed with iOS Custom UI, which will provide all the necessary apps in a simple interface, while during the holographic projection we will have the voice-activated Siri giving access to emails, browser, FaceTime, movie player and more.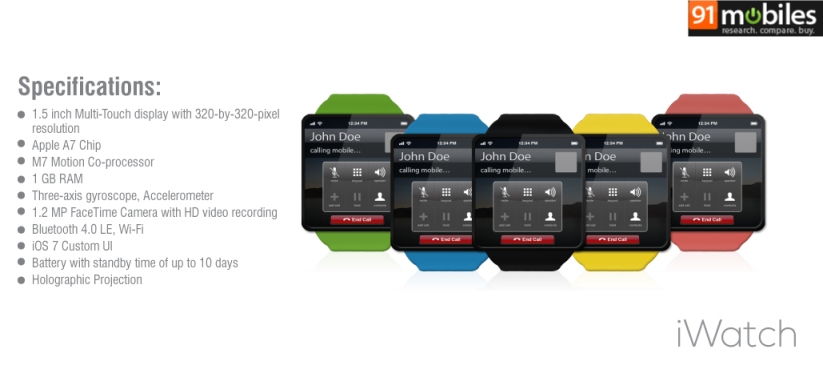 What do you think of this Concept? Do let us know in the comments.