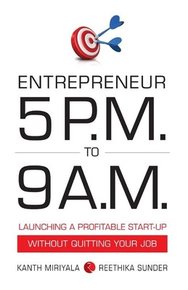 We are told by society to go study and get a good job. After few years into the job, sometimes, we feel it is not tapping into our strong areas, and it is not aligned with our passions in life. But, a steady pay check is notoriously addictive : It effectively creates your mindset in such a way that, any efforts to live alternate paths of life will be met with great resistance – from within and outside. Meanwhile, we see a gradual shift in the society around us, the new breed of fearless entrepreneurs who are willing to take risks and get rich and successful. We ourselves have a lot of ideas, and probably secretly think that they will make a profitable startup. But, the main question is : When and how to startup? And, how to do it with a full time job?
Folks, please pick up this book : "Entrepreneur 5 PM to 9 AM : Launching a profitable startup by Testing and co-creating with customers", written by Kanth Miriyala and Reethika Sunder. Kanth is a founder, investor, and mentor to startups. He was the co-founder of Quintant, a BPO (business process outsourcing) company based in Bangalore which was sold to iGATE in 2003. Qik, a mobile video streaming company in which he was an angel investor,was sold to Skype in January 2011. Reethika Sunder has a MBA in Marketing from IIM Ahmedabad and works at a consultant at Indian IT Firm.
Entrepreneur 5 pm to 9 am tells you how you can become an entrepreneur even if you have a full time job and are risk-averse. You can test different business ideas, till you find the one that has good potential, start developing it and when it becomes big enough, you can quit your job and work on the start-up full time.This book encourages you to fail and fail often — but keep the cost of each failure low, so that you can keep going until you succeed. That is the fundamental nature of success; it is hidden among failures. Zero To Launch methodology is outlined in this book – which is a journey from point A to point B — from the very beginning of the startup process to a sustainable launch.
Point A – The decision to begin
Point B – A Point where your business is primed to lift off like a rocket from a launching pad — capable of building and sustaining momentum, clearly aimed and targeted, with "all systems go."
The way to get to Point B is by Iteration and placing a lot of low-cost bets. Also, at the beginning of any business, there is a mix of known and unknown parameters in terms of Target Segment, Reach, Problem, Solution, Approach and Price. All of these parameters are important because they all are necessary pieces of the "formula" for a successful business.It is okay to start off with a few known, but the key point is to slowly convert the unknowns into knowns. That is Precisely Point B.
The book deals with two major people involved in Startup – You and Your customers. The first half of the book is devoted to you – the founder.It urges the startup founder to look within himself, observe and get rich experiences in life. It is imperative to find a sweet spot between strength, passion and the ability to make money with the idea. Before starting up, it also helps to make a realistic assessment on the quality of life, and see which areas are likely to be effected by starting up. At the end of the day, a balanced wheel makes the longest and successful journey, and a well balanced individual will do so in all areas of his life, including a startup.
After dwelling deep into You, and coming up with a sweet spot, the next crucial step is to find a co-founder and one/many mentors. A co-founder will co-create the product or service with you, and will be willing to make the necessary sacrifices. With mentors, it becomes easy to understand the blind spots during driving the startup vehicle. They also help to find you the opportunities you may not think exist otherwise.
The second half of the book mainly deals with co-Creating your product with customers : Involve customers from the conception stage. Take feedback at every stage and validate it. Bright Spot analysis highlighted in the book would be of extreme value while evaluating user feedback.The authors urge you at several places in the book to make low-cost bets. Build a prototype quickly and cheaply, then roll it out for testing.
Towards the concluding chapters, it is reaffirmed that the decision to startup is the single most important thing. But if you have the desire, the traits and habits of mind that enable you to succeed can be learned and cultivated. The book generously uses some famous frameworks from other books, and a lot of authors have been mentioned in Recommended Reading.
This book is a fast and breezy read. There are no jargons and heavy weight terms to make you feel fuzzy – the Zero to Launch framework is mentioned in the very beginning and all the rest of the book is how to achieve Point B. Please do not pick up this book if you'd like a step by step instruction on how to do inbound marketing for your startup idea. This book is not an instruction manual, but more like an old, wise friend who knows the entire jungle and the way to navigate it, although a bit tricky at first. It took me two complete reads to "get" the Z2L Framework, and the information in this book is more of telling you the right way to do things. For how to do them the right way, the recommended reading should help.
All in all, I would like to conclude that the Zero 2 Launch framework is excellent and a must try if you are considering a startup. This book is definitely worth reading for a first time entrepreneur – it will tell you loud and clear that it is possible to have your job, and still launch a startup!
 Image Credit: Burt Corp