Suppose an educational institute has multiple branches. But, for a particular subject they have an expert at a branch. How can they ensure all the students of their branches have access to the lessons of this expert faculty? How can they save this faculty's lectures so that they are available to the institute and students even if the faculty leaves the institute  How can they deliver the lessons at low bandwidths?  This, and many other questions linger over the minds of educational and training institutes. If these questions are answered, its a win-win: Students get the best of the institute and Institutes obviously get more students. Aurus Network, founded by Piyush Agrawal is a fit answer to this and many other questions.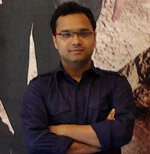 When we quiz him on the best advise he can give to entrepreneurs, he thoughtfully says,
BootStrap. Test The Waters. Build a working prototype and go to the market. See if someone pays.
Aurus Network is revolutionizing the way distance/online education is delivered.   Their product, CourseHub enables teachers to teach in their natural style and it automatically records their lectures. Also, they can be managed and delivered seamlessly to a wide variety of learners. You can view the lesson if you have an internet connection of atleast 100 kbps !
We caught up with Jaya Jha, Head, Marketing & Product for Aurus Networks. Here is the excerpt of the chat:
Congratulations for gracing the cover page of Business Today. Tell us about the journey so far. 
Our CEO, Piyush had joined the graduate program at Stanford University, USA and worked on cutting edge research related to video compression and computer networks. During this time, he developed a passion for making quality education accessible to masses in emerging countries, with the help of technology. Thus, he decided to drop-out of the graduate program and returned to India to start Aurus Network in July 2010.
Our first installation was in Jan 2011, for test preparation. In June 2012, we won the Microsoft BizSpark India Startup Challenge in the "Cloud" category. Later on, towards the end of 2012, we did receive funding from Indian Angel network.
As we expand more, we obviously need good people. If you are from Technology or Sales, do drop in your CV to [email protected].
Share with us what CourseHub is, and how does live streaming work with such low bandwidths? 
CourseHub is an integrated solution consisting of 3 parts – capture, manage and deliver.
Capture mode helps to capture the lecture and other digital aids.  These lectures are managed in cloud and can be used by teachers to optionally create structured courses.
The deliver mode is interesting. The live lecture is delivered to the groups of students in secondary classrooms on a projector or a LCD screen, or to individual students at work or at home. How we achieve live streaming is by focusing on a variety of things such as video compression and understanding the classroom setup to decide what gets captured. Also, for live streaming, it does not matter if the video is late by a few seconds, but it needs to be continuous.
What is the main USP of CourseHub, when compared to other online content delivery and management systems in the market? 
Our main USP is that we are one integrated solution – that is cost effective and that does not require lot of staff for maintenance. The course hub equipment quietly does the lecture capturing in the background. Our video compression technology enables the courses to be delivered even over lower bandwidths making CourseHub really different from the offerings in the market.
What are the future plans for Aurus Network?
We want to become one single platform for content creators and content consumers – which will be beneficial to everybody. If you can learn physics from one institute, chemistry from another and maths from the best one, wouldn't that be awesome?
[divider]
What do we think about AurusNet?
Nothing enough can be said about the Bizspark winner but these are the kind of companies that will change the world. We do not hesitate to say that this is one of the best Indian Startups in the sphere of Education. This is a classic case of how technology can change the world. Here's wishing AurusNet all the best.