The tech news feed has been filled with the new iPhone 5 features, the changes from the previous versions et al. After a year and a half of anticipation, dating to before the launch of iPhone 4S, now that there is a new phone hitting a streets, we all know what it means! New Cases. Yes, lots of cases. Also, we have an excuse because the new phone has a structure different from all the previous versions. In order to prepare you for the shopping spree for the accessory, should you make up your mind to get an iPhone 5, we at TheTechPanda have compiled a list of 5 coolest looking iPhone 5 cases that have already been unveiled.
Musubo: Retro for iPhone 5
The name is a misleading one, The Musubo retro doesn't look half as retro as it sounds. In fact, it is pretty stylish. The hard poly carbonate shell backed by a silicon lining provides perfect protection and the fishbone back gives it a unique look as well as a better grip. It looks extremely sleek and will definitely attract a lot of eyes once it shows up on your new phone. The Musubo retro iPhone 5 case will be available in black, blue, red, white and silver colours. Also, the estimated price is $35. However, depending on the shipping, it will be available for India for varied prices in late October – early November this year.
iPhone 5 Defender Series with Realtree Camo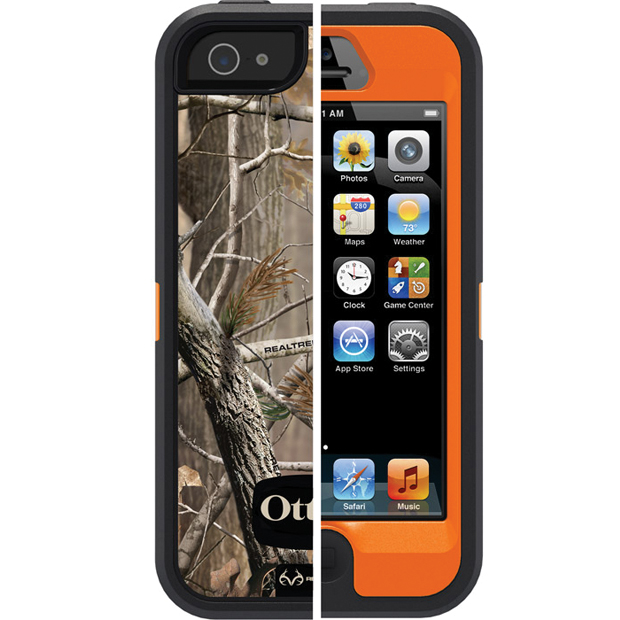 If you are like me and keep dropping your phone now and then, this one should be your pick. A two piece polycarbonate case snaps on to the phone and includes a screen guard. A rubber layer then encloses the case, hence making Defender Series With RealTree Camo the ultimate outdoor companion. Just so you know, this case also has a tree print on the back side which is pretty cool, I think. You can have the new case at a price of $60, excluding the shipping charges to India.
Incase Metallic Slider Case
Incase, as usual, has the cases ready at the time of the launch of a new Apple product. This time, for starters, there are smart, simple and sleek form-fitting slider cases for the iPhone 5. Available in 3 metallic colours- pink, silver and purple, these cases not only provide protection but also look amazing. Simple black and white cases will also be available, so will crystal red, silver and yellow. The new Incase Slider Cases will start shipping in early October, starting at the range of $35.

Even though the new iPhone 5 isn't out yet, Belkin already has a line-up of cases in all colours and types to please everyone. Be it hard shell, soft or flexible cases, Belkin has it all. Also, we know that these cases are always more affordable than the others. Since the iPhone 5 is much thinner and lighter, I am hoping we'll get to see a lot of armband cases in the future. Priced between $20 and $30, the new cases are worth being stacked up.
Gresso Revolution Bumper-case for iPhone 5
We possibly couldn't have finished this post without an exorbitantly priced case, and so we have the Gresso Revolution Bumper-Case. Not like you go around dropping your phone all the time, but if you do, bumper cases definitely afford some protection. The Gresso case is made of Titanium and coated with PVD, which gives the case the dark colour. The Golden area where the Gresso logo is etched is, in fact, 18ct gold inset. Not to forget, its a limited edition case. Now, sum it all up- Titanium, Gold, The Gresso brand name and a limited edition- you know where this is going. A whooping $3000 is what it will cost you to own your own Gresso case.
That's right, your search is over even before it got a chance to begin.