The Tech Panda takes a look at recently launched gadgets & apps in the market.
Computer for OEMs: Smart Cockpit HPC, Continental
With the Smart Cockpit HPC, Continental is presenting a high-performance computer (HPC) that offers ideally adapted system performance for a pre-integrated set of functions in vehicles. It's targeted at a balance between user experience, system performance, costs, and short development time. With this development, Continental demonstrates its proven expertise in domain-specific and cross-domain HPCs and positions itself as one of the leading technology companies in the software-defined vehicle market trend and in the management of complex HPC projects.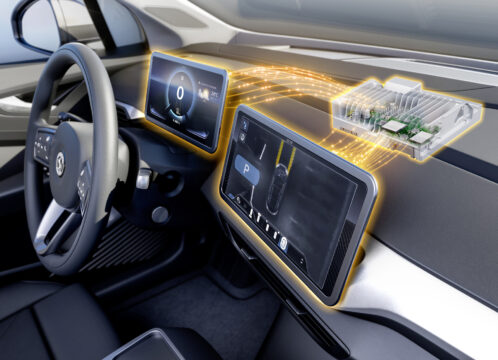 "Continental provides the automotive market with a comprehensive range of HPC solutions. With the Smart Cockpit HPC, we now offer our customers the opportunity to bring an increasingly automated and exciting mobility experience to the road in a cost-optimized way and with short development times," said Jean-Francois Tarabbia, head of the Architecture and Networking business area at Continental.
Features
Fast response times as well as a smooth user interface even for cross-domain functions
Enables vehicle manufacturers to minimize costs and time expenditure in the development phase
Pre-integrated, state-of-the-art cluster and infotainment functions can reduce hardware costs in the cockpit area
Enables the integration of various domains and functions, such as cluster, infotainment – with an interface to an Android Operating System – (display, radio, phone, phone-mirroring, and navigation) and Advanced Driver-Assistance Systems (ADAS).
By combining all cluster and infotainment functions in one box, the Smart Cockpit HPC reduces the number of previously installed control units and extensive wiring harnesses. This significantly reduces the complexity of the vehicle architecture.
Designed for the typical configuration of two displays for the center stack and the instrument cluster but can be expanded to include up to three displays, e.g. a head-up display.
Even though the Smart Cockpit HPC is a preconfigured solution, customer-specific adaptations can still be made regarding human-machine and hardware interfaces.
Interactive Display G-classic series
Globus Infocom Limited, an EdTech brand in India launched of its latest generation of interactive displays. Introducing the next generation of innovations, Globus Interactive Display has taken learning to the whole new level by introducing the whole new range of Interactive Display G-classic series making classrooms more personalized, interactive, collaborative, and convenient.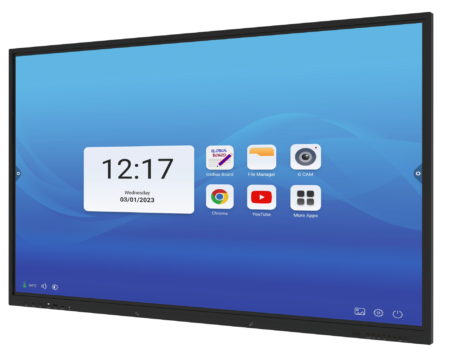 Kirandeep Dham, CEO, Globus Infocom Limited, stated "With continuous commitment and complete determination in turning quality education accessible, we are aiming to innovate more. The introduction of our new range of displays is a step towards offering a comprehensive advanced solution to address diverse needs and applications of educational institutes.
Features
Ensure immersive viewing experience
The available 4K HDR resolution in Interactive Display will ensure high picture and video quality.
Eye-protection mode preventing eyestrain caring for vision
Incorporating split-screen to help users perform multitasking as one single screen can be further split into 2 different screens, and teachers can simultaneously ensure visibility by exploring different topics.
The available AI pen for intelligent images search, gamified concepts, inbuilt more-app sections, geometry, subjective tools create brainstorming sessions for students.
Multiple writing tools available such as colour pen, eraser, undo, and redo function provide more accessibility to users.
Advanced to Android 11, access the device with more powerful controls
Users can disable and enable an inbuilt security feature at any time to lock USB ports, applications, and screens.
Scratch-free Ultra HD displays provide maximum accessibility with "Intelligent Gesture Control". Three-finger for floating menu & Five-finger for turning screen into sleep mode make everyday sessions easier.
Projector: ZEB-PixaPlay 22
Zebronics, an IT peripherals & home entertainment company, launched their Smart-LED Projector called ZEB-PixaPlay 22 in a modern vertical design. The Projector comes in a compact sleek design with built-in powerful speakers.
Co-founder and Director, Pradeep Doshi, said – "We are excited about the addition of the Zeb-PixaPlay 22 in the arsenal of our Smart LED Projectors. This new projector fits promptly in the mission to get a cinema-like experience at home with its cutting-edge tech, user-friendly features & powerful performance. Zebronics is pushing the envelope constantly to redefine the genre of Home-Entertainment with the range of Projectors, Soundbars and Smart TVs, wherein the users can enjoy an astounding Audio-Visual experience that won't burn a hole in their pockets. Catering to the wide range of demographics, our commitment to provide 'Premium for Masses' is essentially the epicentre of our goal to be 'Always Ahead'".
Features
The compact device can project a screen upto 406 cms in size.
With a brightness of 3200 lumens it ensures clear contrast, vivid colours, and intricate details, resulting in exceptional picture quality with FHD 1080P support.
To enhance the audio experience, the projector is equipped with powerful built-in speakers, and it can be further enhanced with a wide range of Soundbars, allowing you to convert any room into a theatre or gaming arena.
It offers multiple connectivity options, including HDMI input and USB ports with pendrive support, as well as an aux out for audio.
Its long-lasting lamp guarantees uninterrupted visual enjoyment with a lifespan of 30,000 hours.
User can cast and mirror content wirelessly from devices directly onto the projector.
It can be conveniently mounted on the ceiling and comes with a remote control for easy operation with electronics focus.
The device comes with a protective sleeve and carry loop.
App: Invstt app, a revolutionary tech startup investment marketplace
We Founder Circle (WFC), an early-stage startup investment platform, launched the Invstt app, a revolutionary Tech Startup investment Marketplace. Invstt, available on both Android and iOS platforms simplifies the entire angel investing process, from discovery and evaluation to investment transactions and portfolio management, through a user-friendly dashboard-driven experience. The platform caters to both individual angel investors and syndicates, providing them with the opportunity to invest in deals of their choice.
Neeraj Tyagi, Co-Founder and CEO of We Founder Circle & Invstt, stated "We Founder Circle Global Summit has once again demonstrated the power of collaboration and knowledge sharing within the startup ecosystem." He added, "The launch of the Invstt App marks a significant milestone for We Founder Circle. Through the Invstt App, we are unlocking the potential of early-stage startups and revolutionizing the way investments are made. With Invstt Platform creating your own angel network or investor community syndicate is just a few hours job. We offer complete managed services along with a great white label product and back it with fund as a service, for both Indian and global investors. So it's a great product & fund services package for syndicates, family offices, lead investors, angel networks and institutions"
Gaurav VK Singhvi, Co-Founder of We Founder Circle & Managing Partner, Invstt Trust said, "Considering that our marketplace is now available both on the web and through our app, it will make transactions easy and help individuals participating in our existing two SEBI and IFSCA regulated angel funds, catering to both domestic and global investors. The platform brings forth a wealth of data and transparency, enabling investors to make informed decisions with a single tap. With its intuitive dashboard and portfolio view, Invstt truly simplifies the investment process."
ViewSonic ViewBoard 50-5 Series Interactive Flat Panel
ViewSonic Corp., a global provider of visual solutions, expands its Interactive Flat Panel segment with the latest generation of ViewBoard® 50-5 Series, enabling new-age educators to effectively teach with various engaging tools.
Muneer Ahmad, Vice President – Sales and Marketing, ViewSonic India, said, "Providing the most contemporary technology for modern educators is important for improving and solidifying our position in the edtech industry. We updated a number of features in our recently released ViewBoard to give the teaching method a fresh experience, such as the fact that it runs on Android 11 OS and is powered by an octa-core CPU. These efficient features proportionately benefit our educators and bring an intuitive and interactive interface. We integrate new features and innovate our current models in response to input from our educators and the recent increase in demand for our goods. With this remarkable experience, we hope to strengthen and broaden our position as India's top provider of EdTech solutions."
Features
This version is available with Android 11 OS powered by an octa-core CPU for optimized efficiency and security.
It has multi-touch capability enabling up to 40-point touch input for multiple users, and a single-cable USB-C which brings instant and worry-free connectivity. With these advancements, the latest product is compatible to improve collaborations and engagement.
Making modern classrooms engaging and intuitive, ViewSonic's ViewBoard® 50-5 Series is pre-installed with Powerful Octa-core, 4GB/8GB RAM and 32GB/ 64GB ROM on the Android 11.0 Operating System. These features give a new edge to tech-savvy educators and learners, making it more compatible with the latest apps. The product also offers a smooth and natural writing experience with dual-pen and ultra-fine touch technology.
The product features a USB-C connector and is made to be simple to use while providing extensive connectivity. Any compatible device can be connected to this one-cable solution for immediate multimedia playback, data transfer, and battery charging while teaching. Boasting two 12W speakers and a 16W subwoofer, the product magnifies music and videos with unparalleled sound quality and boosts student engagement and information retention.
The product is embedded with Flicker-Free technology and an integrated TÜV certified blue light filter to safeguard the eyes of both teachers and learners while not compromising on the high-quality visual experience.
Fully integrated with the myViewBoard suite, the ViewBoard® 50-5 Series combines hardware and software for a complete classroom solution. It provides tailor-made tools to educators, like pop quizzes, an immersive reader, digital spinners, and timers, for effortless lesson planning and activities.
Additionally, students can use the ViewBoard®, which splits into up to six mini whiteboards, for enhanced learning through doing. Moreover, the ViewBoard supports Picture-by-Picture (PbP) with 2 different inputs and Picture-in-Picture (PiP) which shows a smaller screen within another screen. For different teaching scenarios, teachers can enrich the lesson by showing multiple content like website and videos at the same time, allowing effective teaching and learning simultaneously.
Further, to give seamless lessons, myViewBoard® Display and vCast are efficient tools for educators. Teachers can share content instantly from compatible devices with myViewBoard® Display without the use of extra cables or pre-downloaded software. This also allows educators to customize their devices with a portable speakerphone, slot-in PC, a motorized trolley cart, and a document camera.
The latest series also comes with an optional accessory, the VB-SEN-001 smart sensor, which helps to foster a smart classroom. The sensor helps to indicate the room's temperature, humidity levels, and air quality in real-time, helping the teachers to maintain an optimal learning environment. Also, to improve access management and ensure that the ViewBoard is not used inappropriately, this effective tool allows teacher to unlock the ViewBoard by swiping a work badge or any registered NFC card to prevent unauthorized use. Restricting access to only authorized personnel, the NFC card is an optional accessory and will be provided when on demand with an additional cost.