When you visit a review on Google Play for an app, book, song or movie, you won't have to worry as much about whether someone is sheepishly hiding behind a computer firing off nasty words, as Google has now flipped on the switch to display your Google+ name and profile picture with all reviews you add to the store.
I'm not so sure this is the best thing in the world, 100%, as you don't have an option to turn it off. I like the idea of inviting people to share their thoughts, and mixing in real names and pictures if chosen by the user. That way, people know what reviews they might want to trust over other ones that are anonymous and thus, perhaps shady. The company seems to be choosing quality over quantity, though.
Either way, Google is going all the way with its Plus initiative, as I've talked about before. Similarly, YouTube began this transition recently. This new initiative on Play is for both web and mobile reviews.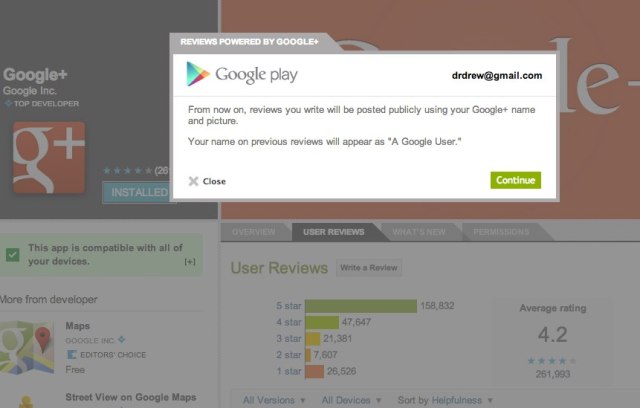 Signed out? No bueno:
Notice that it says "Reviews are powered by Google+", which shows how far Google has taken its social approach to all of its products. This isn't a short-term project, this is a long-term evolution for the company. Those who are praying for it to "fail" are ill-informed pundits, because this isn't a Facebook competitor, it's a shift in how Google's products weave together. It just works. Speaking of Facebook, its own App Center relies on real identities as well, so lets call this a trend.
Apple's App Store has a username system, which makes posting gnarly reviews almost a sport. I could see this as a way for Google to invite developers to interact with their users a bit more, rather than pay no mind to the reviews at all…as most developers do on Apple's version. Apple's attempts to go social failed. Ping, anyone? Google+ could liven up Google Play. Maybe. Remember, if you use Google products, you have a profile already.
Is anonymity dead on the web? Some would applaud if that were the case. I find that people who are allowed to hide behind false names and avatars are the ones that tend to be the biggest jerks for the most part. That's not to say that everyone who enjoys anonymity is a jerk, but you get my drift. If you don't, then read it again.
Jerks love anonymity. Nonjerks don't mind being themselves. Google has picked a side. Too binary? We shall see. Long live accountability on the web.
Via: TechCrunch