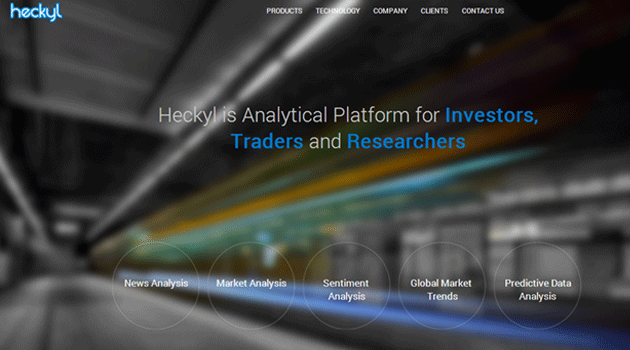 Heckyl Technologies Pvt. Ltd has raised over $3.5 million in Series B investment led by IDG Ventures India. Existing investors Seedfund Advisors also participated in the round. Seedfund Advisors had invested $1mn in the start-up in the first round. Rajiv Dalal, angel investor in the company also participated in this round. Venkatesh Peddi from IDG Ventures will join the existing board of directors of the company. Existing board consists of Paula Mariwala from Seedfund Advisors and two co-founders.
Coined itself as a disruptive news and data analytics platform for financial community, the company has seen strong growth over the last year. Heckyl now claims to be India's largest non-broking company that has the largest number of traders using its deep integrated news and derivative analysis platform, with more than 20 broking houses on-board.
"We are very pleased to have IDG Ventures India on board," said Mukund Mudras CEO Heckyl Technologies. "IDG Ventures India has a successful track record in India and Heckyl is proud to be in such good company. We are committed to making investing and research a great experience with our proprietary news and data analysis platform. With the support of IDG Ventures and Seedfund Advisors we have the requisite capital and strong partners to continue to lead and fuel our explosive growth and expansion into new regions."
By combining the capabilities of Real time analysis of unstructured data from millions of sources along with exchange data into a simple, intuitive and actionable platform Heckyl is uniquely positioned to lead the next generation financial analytics platform. Heckyl proprietary technology – discovers, analyzes and presents the information in real time and thus influences the market dynamics.
The global financial space in terms of News and Data Analytics is approximately around $ 50 Bn. Heckyl started by first tapping into the brokerage market. Heckyl is now poised to release big data mining platform for Financial Institutions and the Hedge fund industry. "We at Heckyl are very excited about the new capabilities that our big data platform will deliver to our clients." said Som Sagar COO Heckyl Technologies, who oversees product development.
Heckyl Technologies was founded in Dec 2010 by Abhijit Vedak, Jaison Mathews, Mukund Mudras and Som Sagar. Within 16 months of launching the product, it has top brokerages like Angel Broking, Sharekhan, Motilal Oswal, IndiaInfoline, Religare etc as its clients.
Said Pravin Gandhi, Founding Partner, Seedfund Advisors, "Our second round of funding to Heckyl reiterates our belief in the team and the product they have created. In the last two years, Heckyl has proved the usefulness of product offering in the Indian markets. It has a strong technological base and has robust systems in place to adapt the product for the global market.We are happy to be a part of the global growth story of an Indian product company serving the financial sector."
Said Venkatesh Peddi, Vice President, IDG Ventures India, "We are very impressed with the significant revenue lift and customer traction of Heckyl. They have built a sophisticated platform which according to our research has a large global potential. In Heckyl, we have found a very passionate team with strong business acumen and we are very excited to be part of the company"
About Heckyl
Heckyl technologies Pvt. Ltd is founded by four ex Merrill Lynch Execs having over 45 years techno-functional experience in the capital markets. It has top 20 brokerages as its customer in one year of marketing operations and two years of inception.
Heckyl provides real time news and data analytic platform for traders and brokerages. Its integrated solution with trading terminals provide high quality Information, Visuals, Heat Maps of Sentiments and Market Data to help traders to find the trading opportunity is this fast moving market.
Heckyl helps you explore new ideas and keep pulse on the current business events. Whether you are a short term trader, investor, or fund manager, and whether you prefer equities, forex, or commodities, you will find a wealth of information that matters to "you" streaming at your fingertips.
About IDG Ventures India (www.idgvcindia.com)
IDG Ventures India is a leading technology venture capital fund in India. The fund is part of IDG Ventures, a global network of technology venture funds with over $5.5 billion under management with over 220 investee companies and 10 offices across Asia and North America.
By combining the IDG platform — an unparalleled combination of global publishing, market Research (IDC), and conferences and exhibition resources — with years of hands-on experience in early-stage Company building, IDG Ventures India helps its investee companies understand their markets better and achieve leadership position ahead of competition. The IDG Ventures India portfolio companies include, Apalya, Aujas Networks, eShakti, Forus Health, iCreate, iProf, Manthan Systems, Myntra, Ozone Media, Perfint, Sourcebits, Unbxd, Valyoo Technologies, Vserv and Zivame.
About Seedfund Advisors (www.seedfund.in)
Founded in 2006, Seedfund Advisors is India's most active and best-known early-stage venture capital fund, with operations in Bombay, Bangalore and New Delhi.
Seedfund's investment strategy is to mentor and invest in seed/early stage businesses based in India that have the potential to become leaders in new market niches. Seedfund has an investment portfolio of over 25 companies across two funds. These include online auto classifieds startup CarWale, online bus ticketing company redBus, affordable hospitals chain Vaatsalya, education companies Edusports and Thinklabs in Fund1 and AxisRooms, AFAQ, DoneByNone, , Frontier Markets, Heckyl, Jeevanti Healthcare, Mydentist, Sportskeeda, , Chumbak and Jeeves in Fund2.