Have you ever had to face the situation when you do not have time to read an article or you know you want to read some articles later but not sure of the data connectivity on your cell phone? Well, the answer is here – InstaWeb.
InstaWeb is a cool iOS app that can save webpages as PDF for offline viewing later on. If you find yourself in situations where cellular data is not available, having some reading material close at hand is incredibly useful. InstaWeb makes accomplishing this as simple as a couple of taps on your iPhone.
InstaWeb is actually priced at $2.99 on the App Store but you can now download it for FREE for a certain period. So this is your chance to get a great deal on an easy to use app with some really cool functionality.
How It Works
The main purpose of this app is converting websites to PDF files. You can do this in a couple of ways. Both of them require you to use the built-in browser to go to the site you want to convert to a PDF. Once on the particular page, you click the app's logo on the bottom right of the screen, and the whole page will be saved as a PDF for to you read anytime, regardless of whether you have data on your device.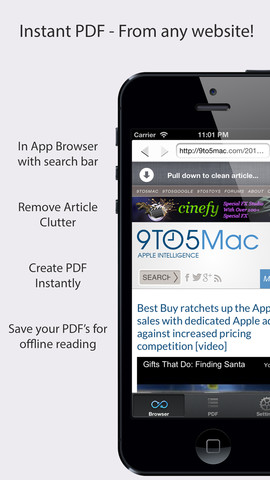 The other option for turning websites into PDFs is accomplished by pulling down on the page, like you would do to refresh in some other apps. This will cause it to clean up all the extras from the page, and just grab the article portion, then it will show it to you and give you the option to turn the cleaned up version into a PDF.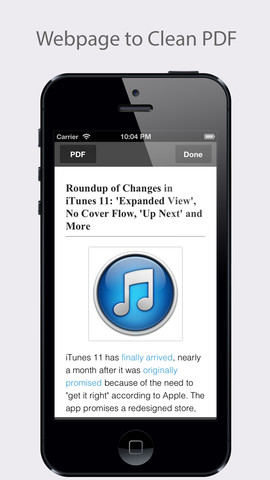 So what can you do with these files once you have them? First, you can click the "PDFs" button at the bottom of the screen to read them at your convenience. Depending on which method you used to convert the page into a PDF, you may have to zoom in to read the PDFs on the small iPhone screen.
You can also mail it to yourself or anyone! You can also print it. If you thought that was enough, well you can add it to DropBox too! So what are you waiting for, it's FREE for a while, make the best use of it.