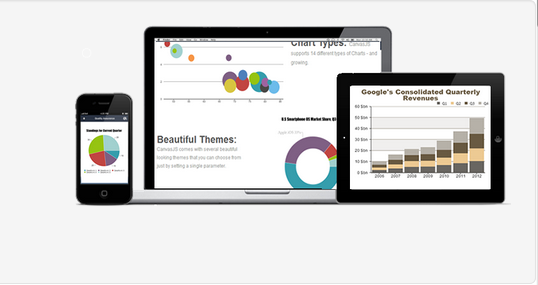 CanvasJS is the new, cool way to make graphs and charts. It's beautiful, intuitive, platform and device independent, and most importantly, very easy to make.
The moment I checked it out, I fell in love with it, majorly because of the really simple and beautiful user experience. CanvasJS is basically an easy to use HTML5 Javascript Charting & Graphing library. It can run across a wide range of devices including the iPhone, iPad, Android phones, Windows phones, Microsoft Surface, Desktops, etc. CanvasJS allows you to create rich dashboards that work on all the devices without compromising on maintenance or functionality of your web application.
If that wasn't enough, CanvasJS comes with beautiful themes and is around 10x faster than conventional Flash and SVG Charts – resulting in lightweight, beautiful and responsive dashboards.
We got in touch with Sunil Urs, the Founder of Fenopix, a Bangalore-based startup that has created CanvasJS.
Q. Why did you think something like CanvasJS was needed?
As of now, most analytics dashboards are dependent on Flash-based charting solutions for interactivity. But they don't work cross platform. SVG comes with its own set of performance issues. As a result, building cross-platform dashboards is a tough job. Most of the present HTML5 Canvas based solutions are non-interactive – which made it difficult to adopt HTML5 in dashboards. Hence, we have built an HTML5 Canvas based data visualization library that is beautiful and interactive – without any compromises on features or performance. In fact, CanvasJS has 10x better performance than conventional SVG and Flash based solutions in the market!
Q. Is the CanvasJS API available freely to all?
CanvasJS is free for non-commercial use under Creative Commons Attribution-NonCommercial 3.0 License. So students, non-profits or anyone doing personal projects that are non-commercial can use it freely. For commercial purposes it is paid.
Q. One thing I love about your product is the User Experience. Can you share more details about how you've mastered UX for your product?
Research suggests that you have only 30 seconds to make your impression on the first time user who visits your site. You have to get you point across in that time. But in case of most of the developer oriented tools/frameworks that time-frame is close to impossible. Normally when I am deciding between libraries, it takes me a good 15-30 minutes each to just download the library, read their documentation, create a sample project and get the feel of their API. Developers would understand that writing code takes the least amount of time here. Rest of it is just necessary to setup the tool and understand the basics of the API. So we decided to cut the c**p and directly get the user to write code and get a feel of the API. This would reduce a lot of valuable time for the developer and they would definitely be happy about it. Happy developer means one more potential customer. That is the reason we have an interactive sample & editor in the first page. In fact we follow the same principle though out our documentation.
Q. What is your advice to other aspiring entrepreneurs and product developers especially with respect to the important of UX?
My advice is simple. If a product has good UX, people will like your product & they'll also spread the word for you. This will automatically help in terms of your product marketing. Word-of-mouth marketing is very important for Startups as most of them won't have big budgets for advertising. I've seen Startups making this mistake of considering Coding, UX and Marketing as different fields that require different teams. This leads to products that are not marketable. Startups should instead think of Coding, UX and Marketing as one. They go hand-in-hand.
Q. Your first product was Hashplug. Can you tell me a little more about it? How has been the response so far in terms of user adoption?
I started working on CanvasJS even before HashPlug. HashPlug just happened. You probably remember the day we had an earthquake in Bangalore. As soon as I sensed it, I went to Google to confirm if it really was an earthquake or an illusion. But there was nothing related on Google and I soon realized that Google is not the right platform to search in real-time. But there were people tweeting about it on Twitter. Because mostly Google comes to our mind when we think of searching, I thought it would be a good idea to combine Twitter with Google – as Google had done it before. In next two hours I built a prototype and demoed it to my friends. Next two days I had a fully functional extension. Initially, I just gave it to my friends and did not release. But my friend Jyothi kept pushing me towards release and I finally released it after a couple of months. Response has been really great. As of now we have around 9.5K active users.
Q. Mostly, early stage technology based Indian startups tend to shift towards services sector primarily because they find greener pastures in terms of revenue. You have focused on products. Has this path been difficult for you?
In the past I've done consulting with companies like Alphonso Labs and others on ODesk. This has been a really good learning experience for me and it helped me save enough to start developing a product on my own. I've also seen many others doing the same. Lets accept that fact that money is a really important factor here in India. Its not as simple to gather a talented team or to raise funds here as in the Silicon Valley.
Q. How important do you think it is for new gen Indian entrepreneurs to focus more on creating valuable products? What is the best advice you would give as learnt from your journey so far.
I think the Indian market is slow when it comes technology adoption. It takes several years for new technologies and trends to get adopted by the masses. Why and how is a complicated matter. So if you are building something new in terms of technology, target global audience. Find something you can sell worldwide.
Early adopters can get a 50% discount
[divider]
Fenopix is run by Sunil and Shubham. Sunil belongs to Mysore and did his engineering in Electronics and Communications there and has been working in Bangalore since 2007. Shubham is from Noida. He finished his engineering in Electronics & Communication and has been working in Bangalore since 2012. They got together at one of the events at Jaaga and then in a Bangalore Startups Event that was held at my place. Soon, Fenopix was born.
You can follow Sunil on Twitter at @sunilurs.