Many a times we buy a thing, use it for a while, and then let it go unused for a lifetime. Be it a video game or an expensive dress, we all have that one thing that purchase for a specific need, but do not use it on a regular basis. Wouldn't it be great if we could let these things out to people who need them? And yes, earn some money out of it. IRentShare will let you do that!
What problem is IRentShare solving?
[pullquote]IRentShare was born out of the belief that people must share/rent their things with people who need them and can't afford them.[/pullquote] This will reduce the wasteful consumption of resources and make this planet a better place. IRentShare is building sharing communities within Schools, Colleges, Corporates and Housing Societies. The startup's aim is to build a secure platform so that people within each community can share physical products with each other. Many renting companies are listed on the website for free. The categories of things include- Books, Cameras, Mobiles, Computers, TV, Audio and Video, Musical Instrument, Furniture, Home and Kitchen Goods, Sports Goods, Clothes and Accessories, Travelling Gear, Power Tools and Equipment, Fitness Equipment, and Medical Equipment.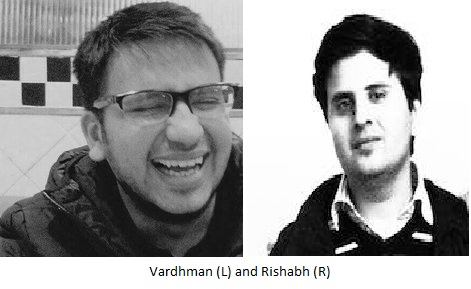 IRentShare is founded by Rishabh Kapoor and Vardhman Jain. Rishabh handles the strategy and marketing aspect of IRentShare. He has a work experience in a solar startup company, Infinia Solar India. Vardhman is responsible for the overall operations of the business. He has earlier worked with Goldman Sachs, Bangalore. IRentShare was launched on 14 June 2013. With 1000+ visits per month, the startup has had 20 transactions till now. Rishabh and Vardhman went ahead with the idea of IRentShare after receiving positive feedbacks from most people. Here's how the process works-
Owner uploads the good on the website and provides detail such as pictures, information, duration, deposit, rent amount.

Renter/Borrower requests the item for rent/share. If the product is negotiable, the borrower has a right to bargain with the owner.

Borrower states the duration for rent.

IRentShare takes the deposit, picks up the product and delivers it to the renter/borrower.

After the duration is over, the product is delivered back to the owner.
Marketing,Pivot,Competition and First 5 customers
[pullquote align="right"]After the pivot, the team put up a sharing stall in Jawaharlal Nehru University and received 100 sign ups and 20 books shared within a span of three hours.[/pullquote]  Although the platform is originally launched in June 2013, the team did a pivot and revamped their entire website, and relaunched in April 2014. Talking about the Pivot, Vardhman says, "When we launched initially, the platform was open to everyone. Anyone can rent/share stuff with each other. We were relying on ID checks and Deposit money but that was not enough. So we decided to launch community so that the owners feel more secure about their goods. You will feel more secure when a distant colleague is using your product or someone from your hostel is using. So it was important to launch the community platform.".
IRentShare relied on ground marketing in the form of posters and flyers in colleges. The team frequently fixes a stall where students can come and share things. Also, the startup uses social media platforms such as Facebook and Twitter.  The startup has already added 9 communities where people can easily share their products. The first 5 customers were a mix of friends and family members. The startup charges a 15% commission on each transaction. No money is charged for shared items.
Rentongo.com, Bhaadepe, Ayadu.com, LocalCircles are a few competitors of IRentShare. However, they provide only rental services as opposed to sharing and renting services provided by IRentShare.
Challenges and Achievements
Ensuring security of the transactions turned out to be the biggest challenge for the IRentShare team. The startup is self funded for now. Though, the founders intend to raise some funds in the future. IRentShare was the runner up in the Technical Section at the IIT Delhi National Business Competition with over 160 participants. Also, IRentShare won the Jury Award for Startup Pitch at 'Global Entrepreneurship Summit' IIT Kharagpur, India's largest entrepreneurship event.
"Our future plan is to build a team within Delhi and add more communities. We have already approached few corporates, housing societies and schools so we are excited about it. We just launched our new platform so we are working on adding a social layer to the platform as well like a discussion wall where community members can talk about issues, sharing stuff ,etc", concludes Vardhman.
TTP's Take
Going by 20 transactions in an year of launch, the team did take some wise steps in pivoting and launching communities for sharing and renting. For platforms like these, strong offline marketing component is essential to attract  people online. It is worth considering if the startup should participate in delivering the goods vs acting as an online connector. TTP wishes IRentShare all the very best!