Just a few weeks ago, the Times of India gave a statistics about the quality of MBA pass outs in India. It said only 20% of the total passouts every year were 'employable'. When the quality of education in India has become an open secret, this startup gives a ray of hope for the future.
Making Learning Universally Available and Fun!
'Last Bench' is one such unique startup that is bridging the huge gap that lies between our country's traditional formal education and applied learning. Last-Bench's mission is to make learning continuous, specific, universally available and  most importantly fun!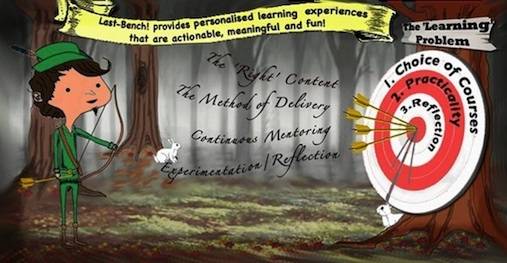 As catchy as the name sounds, the company has an equally commendable product to offer. They are attending to the simplest yet the greatest issue faced in the field of personal development today. According to Venkat Iyer, CMO of the Last-Bench, a learner could be anybody , a college student who's looking for skill that will equip him for the working environment or a working professional who feels he needs to develop himself personally and get increase his knowledge about the domain he is working in.
The current methods of learning do not meet the needs of experimentation and reflection. Often the gap occurs when learners either don't see or don't have an opportunity to apply the learning in the real world. Hence, their product aims at achieving an overall personal development using holistic learning. The entire learning process keeps the learner in the loop so that the motive of development isn't lost in the process. They are with the 'learner' at every step. They provide various facilities starting from assessing a learner with psychometric tests to giving feedback; studying business case studies to helping manage stress and time. Currently, they offer Business oriented courses and a few courses on Accounting, Sales, etc. are in the pipeline.
Last Bench intends to supplement formal education with memorable, meaningful and enjoyable experiences that provide the learner with an opportunity to expand their education by focusing on how they can apply what they are learning or explore other options.
What's more to all this is the price at which the product is offered. Unlike any other training or developmental courses one gets charged for, the product is priced at a modest Rs.2500 with discounts.
As described by Venkat, the current strategy of the company is as follows:
Interest Generation
Curiosity
Conviction
Delivery
Like every other product startup, the current challenge the company faces is interest generation as they intend to reach the masses. As they reach out further, we are sure they'll be one of the most promising players in the education space in India.
Here is Sajid Chougle, Co-founder and COO explaining their story:
[youtube id="C_czv9hK754″ width="600″ height="340″ position="left"]
 Contact Details
Website: last-bench.com