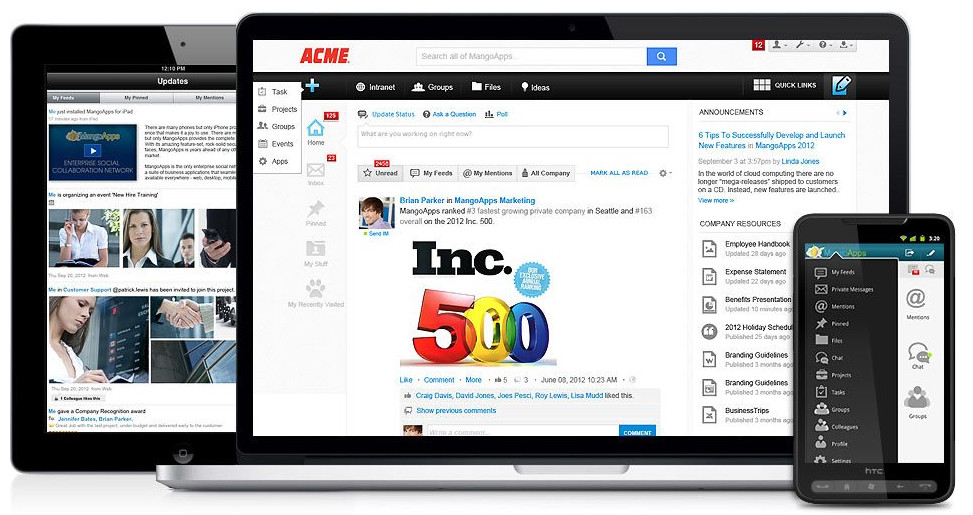 When your once a little startup starts growing, what grows along is the amount of chaos, creating and maintaining different types of forms for employees and customers, employees pairing and coordinating their work on multiple different online platforms. It would be nice if you could hire an admin to keep track of which work goes on which platform and which file is uploaded and shared on which network service.
The team behind MangoApps observed and understood the clutter that comes with daily ongoing and instead of building miniature applications they designed and architected a complete collaboration suite which would not only help organize the dispersed work of the daily runs and deadlines, but can also integrate your other required applications and services.
We got an opportunity to get in conversation with Vipin Thomas, Product Manager at MangoApps and learn more about it.
There are already various collaboration tools available, How is MangoApps different? How would you describe the USP?
Used by over 7500 customers, MangoApps is the only collaboration software provider focusing specifically on the needs of mid-size organizations. Our USP is bringing advanced security options, customization's & licensing flexibility which is normally reserved for fortune 100 companies & delivering the same options to mid-size customers.
MangoApps never asks a customer to accept our solution "as is" out of the box. We add custom features or integrate with customer's existing business systems. MangoApps is the only provider offering mid-market customers: a single solution for their siloed & point solutions such as;
Comprehensive All-in-one social collaboration suite. MangoApps uniquely combines an Enterprise Social Network, with a Social Intranet, and Team Workspaces including:
Document Management

Project Management

Intranet

Tasks

IM & video conferencing

Idea management

Events management

Wiki's, blogs, post, etc.

Micro-blogging

Mobile collaboration (Native apps available for iOS, Android, Windows & blackberry)
Custom-fit social collaboration solutions, including the ability to perform custom integrations with existing business systems. Currently integrates out-of-box with 30+ third party applications such as Microsoft office, Salesforce, Zendesk, SugarCRM, LDAP/AD, Google Drive, Sharepoint, & lots more.
A choice of 5 international data centers, allowing cloud clients to choose a data center close to their users for the best overall user experience. Data center locations include: USA, Europe, Asia, South America, and Australia. On-Premise installation behind the customer's firewall, for organizations with the most stringent security policies. Affordable Licensing options, including Annual, Perpetual, and Unlimited Enterprise-Wide Licenses.
What were the researches and insights that you guys went through before coming up with the idea?
The current set of collaboration tools (e.g. email, SharePoint) are outdated since they restrict information distribution, create silos and are the exact opposite of what is needed to effectively work together in this decade.
Our goal from the very beginning, was to make work life easy by providing a single tool employees could use thru' out the day for all their communication and collaboration needs which would bring a profound change in how we collaborate as email did almost 20 years ago. We wanted MangoApps to be a place where employees could not only talk about work, but do work!
Being an online collaboration tool which serves intranet pages and also provides file sharing services, means there is a need for a large amount of storage and a fast and reliable network, how do you scale? And tell us something about the technology behind MangoApps?
MangoApps setup can scale horizontally and vertically. We have tested the system with 1 million simultaneous users (Each person being followed by over 1M users).
MangoApps is built from the ground up using latest & greatest open technology stack (RoR, Java, Linux) to bring social software innovations to you faster & cheaper. Today we have Four different, SAS-70, Type II certified datacenters (Choose from US, Europe, Asia & South America) with high availability setup spread between multiple datacenters, automated, zero-downtime, configuration and application upgrades.. Also, a wide range of options are available to address security needs of organizations from healthcare to government.
On your pricing page there are different types of plans mentioned, Tell us something about this "On Premise Fully Managed" plan.
MangoApps' multi-tenant cloud offering is a month-to-month service requiring no commitments. There's a free BASIC Plan, as well as BUSINESS and ENTERPRISE premium plans refer Goo.gl/4N90F for detailed information on the pricing.
MangoApps Private Cloud and On-Premise deployment models offer Annual Licensing, Perpetual Licensing, and Enterprise-Wide Unlimited Licensing. The on-premise version allows customers the ability to store files on their local SAN. On-premise customers can also disconnect entirely from the Internet, for full control and maximum security.
Why the name MangoApps?
We are asked about this quite often Well, Mango is the king of fruits and is one of the most popular fruit in the world. We aim to be in the same in enterprise social business space…
Tell us something about the Team behind MangoApps.
Anup Kejriwal – Founder & CEO
Anup, an avid entrepreneur, is a 18 year veteran of the technology industry. Before founding MangoApps, Anup successfully founded ThumbSpeed in 2004, which was acquired by OZ (now part of Nokia) in 2007. Prior to founding ThumbSpeed, Anup lead product management and engineering teams at AOL, Go2Net/Infospace and American mobile.
Vishwa Malhotra – Co-Founder & CTO
A technologist at heart, Vishwa leads MangoApps's product and development efforts. Before MangoApps, Vishwa managed and launched Networking/Security management products at Nevis Networks. Prior to that, Vishwa was an architect at Telcordia and TCS leading a variety of enterprise-grade software projects.
Patrick Allman – VP – Marketing & Worldwide Sales
Patrick's background brings an 18 year track record of leading successful sales teams with a focus on launching and deploying game changing business productivity tools. Prior to joining MangoApps, Patrick co-founded and built one of the fastest growing companies in the mortgage industry, providing a paid online community facilitating communication, collaboration, and best practice sharing within the industry. Patrick also spent 12 years at McCaw Cellular and AT&T Wireless where he lead enterprise sales teams that deployed emerging technologies including cellular phones in the 1990's and wireless access to email and the internet via Blackberry, smartphones, and laptops in the 2000's.
Christina Kejriwal – Co-Founder & VP of Finance
As co-founder and VP of finance, in addition to being a voice of reason, Chris manages day to day operations and finance for MangoApps. Before co-founding MangoApps, Chris co-founded ThumbSpeed and was the VP of finance and operation at ThumbSpeed. Prior to ThumbSpeed, Chris was an Audiologist at Children's Hospital.
Ashish Agarwal – VP – Product Management
Ashish joined Mangospring in the beginning of 2010 after 5 years of working at Thumbspeed (acquired by Oz Communication and finally by Nokia). While at Thumbspeed, Ashish had multiple roles including Engineering Lead, Chief of Operations and Product Manager of Thumbspeed's messaging products portfolio. In his most recent role, Ashish lead the next generation instant messaging clients program for Nokia.
 

What are your future plans for MangoApps?
We've spent the past 5 years building and refining private, secure social networks for companies. We are fortunate to have had a front row seat to this evolution of the workplace & will continue to enhance the platform with new modules like CRM, workflows, etc… We recently released an app called TinyTake which allows capturing of images & videos for easy sharing & is available for FREE. Next we are releasing a What's App like application called Office Chat, you can request for a private beta invitation on the site.