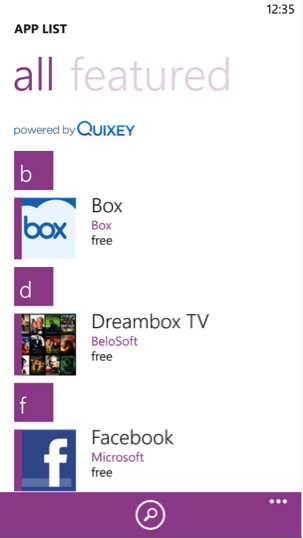 There is definitely no comparison between the number of Android and the number of Windows phone users, thanks to the definite better specs of Android phones. Oh, and of course a wider price range. And variety of handsets. And better battery life. Well, the list goes on.
No wonder Microsoft wants Android users, and it wants them bad. And so, hoping they defect to Windows Phone, the company will be appealing to them directly where they live — on an Android device. To work at that end, the company will be launching an Android app called "Switch to Windows Phone."
Reportedly set to release later this week, the app will point users to Windows Phone versions of the Android applications they use whenever possible, and similar alternates when none are available. It does this using Quixey, a search engine for apps, and Microsoft's SkyDrive, which will store the list of the user's apps. A WinPho application will match up the offerings with actual Windows Phone Store listings.
According to the original plan, the app should have already been released, says a Quixey representative, but delays are holding it up until next week. As for an iOS version, the rep says there are no plans for that. Well, that is pretty much expected. However, we all know that even if such an app is made, there is no way it will be approved by the app store.
Well, all we, at thetechpanda have to say that is that it is very gutsy of Microsoft to bring a fight to the masses and that too on Google's turf. But then Microsoft has never been a shy competitor when it comes to Android. Who can forget the December #DroidRage Twitter campaign or its recent jab at the Galaxy S III?
What's next? Will the company eventually hire folks to slap Androids directly out of the hands of consumers out in public? Well, we wouldn't be surprised.