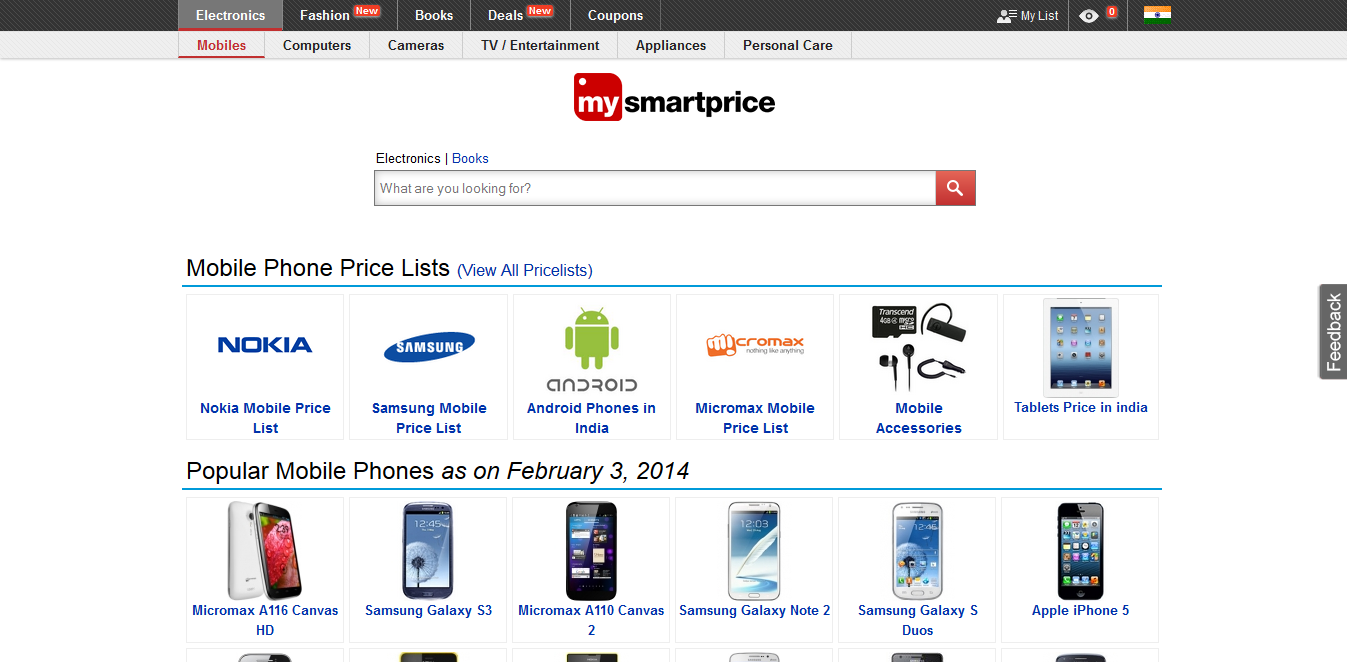 Mysmartprice, an online product comparison search engine has recently secured additional funding from existing investors Accel Partners and Helion Venture Partners. Earlier, it had raised seed funding of around Rs 2 crore from the same investors. The portal lets users discover best products across a wide array of categories that include mobiles, electronics, computers,cameras, books and appliances among others.
Sitakanta Ray and Sulakshan Kumar were classmates from batch 2002 NIT Rourkela and were close friends and worked together at Oracle together before branching out on separate paths. Sulakshan moved onto Infosys after spending 6 years in Oracle while Sitakanta would go onto do his MBA from IIM Bangalore. Sitakanta worked with ICICI for close to 2 years before both friends finally decided to take the entrepreneurial plunge.
Congratulating the MySmartPrice team on their funding ,here's a quick Q & A with the founders Sitakanta Ray and Sulakshan Kumar :
When is MySmartPrice launched?  What are the items that can be compared currently, and which is your best category so far?
Sulakshan: MySmartPrice was launched in October 2010, initially as a portal for discovering books but we soon diversified into providing the best price for mobiles and other electronics goods. We now offer a Product discovery experience for Fashion products as well.
What kind of traction is received on the website? What would you say is MSP's USP against current price aggregators in the market?
Sitakanta: We receive about 10 Mn visitors a month at the moment. Our biggest strength have been the ability to show accurate prices for products across over 25 ecommerce destination. Our website and Android App are easy to use and help users get results quickly.  We cover the largest number of categories among competing price comparison services.
What does the startup plan to do with additional funding?
Sulakshan: MySmartPrice has already grown significantly in a short span of time. We need the extra funding now to boost our growth further and become a true horizontal player. We believe to go to the next level as a product we must be able to list everything that is sold online in India. We also believe mobile is the future and we would like to significantly increase our presence across mobile platforms through applications. To do all this, we will have to ramp up our team and that is what this funding will mainly help us with.
MSP has raised 2 rounds of funding so far. Tell us your experience in getting funded and any tips for entrepreneurs trying hard to raise funds.
Sitakanta: The fund raising experience has been extremely positive.  Accel and Helion have been really helpful and have guided us at a strategic level. We have learned significantly from our venture partners. For aspiring entrepreneurs our advice is to prove yourself before seeking funding. It really helps to get some traction as a product before you seek additional monetary support.