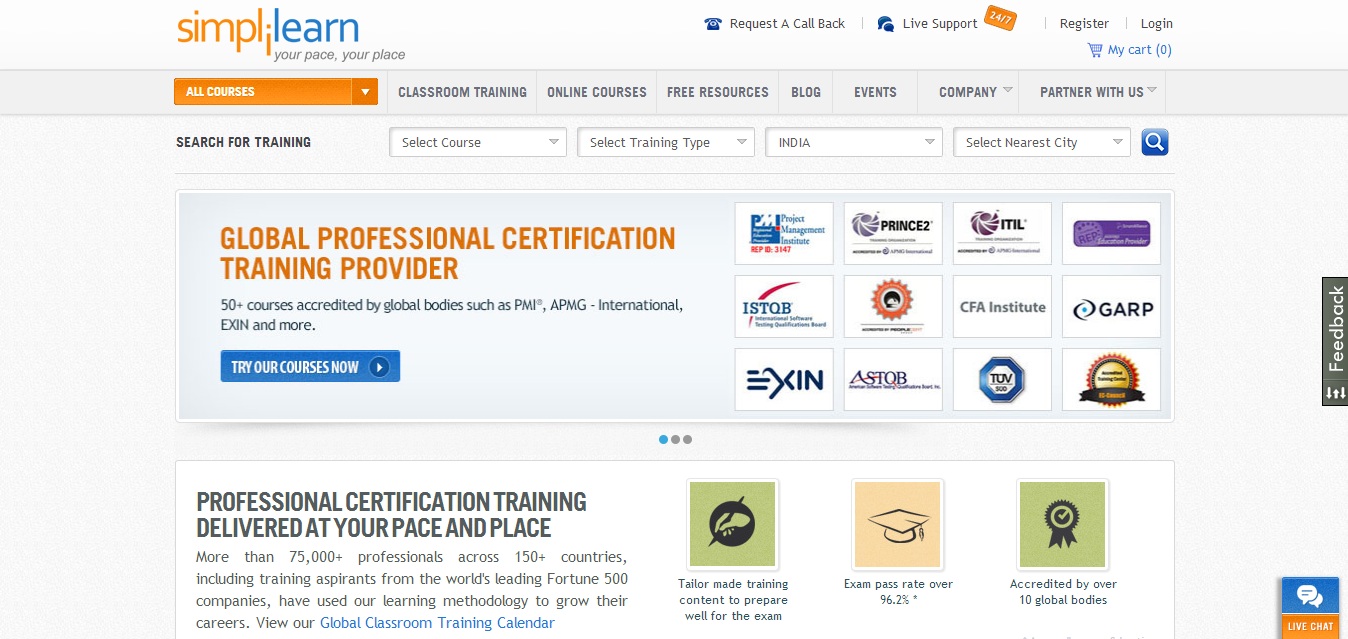 Education was, is and will be the one of the hottest sectors all the time. Talking about business in education sector, online education industry in India is around $20 billion and is set to grow to about $40 billion by 2017, making it the fastest-growing market in education. SimpliLearn have already set feet firm in this field.
Simplilearn offers 80-plus online certification courses across 11 categories in 150 countries. The course categories include: Project Management, Agile and Scrum Certification, IT Service Management, Big Data and Cloud Computing, IT Security Management among others.
What started as a blog in 2009 has then succeeded in securing Series A in less than 3 years. The startup raised $10 million in Series B this September, in 18 months after Series A.  Grown at a rate of 400%, Simplilearn is arguably the largest certification training provider for working professionals. Having trained 75,000+ professionals across 150 countries so far, the company is on course to reach the 100 crore revenue mark during 2013-14.
Krishna Kumar, the founder & CEO of Simplilearn.com is a graduate from  NIT Surathkal. Prior to this,he was the Co-founder & COO of TechUnified, which was acquired by public listed company in 2007. Starting his career at Infosys, Krishna has 13 years of experience in IT.
We catch up with Krishna Kumar, CEO Simplilearn to understand more on his startup,his thoughts on online education & fund raising.
Tell us the idea behind Simplilearn and the growth story so far.
[pullquote align="right"]In a move to expand their global footprint, Simplilearn recently tied up with Udemy, the world's largest destination for online courses, to offer their PMP training courses on the Udemy platform, reaching out to over 1 million Udemy users. [/pullquote]Simplilearn was launched in 2009 as a blog that shared ideas on project management and offered PMP aspirants information about certification and professional training. In April 2010, Simplilearn introduced an innovative "blended model" approach to PMP training, which entailed a mix of classroom and online training. A year later the site began offering additional courses across categories. Since then, Bangalore headquartered Simplilearn has become one of the biggest global players, offering 80-plus online certification courses across 11 categories. Simplilearn offers 24/7 online training, blended classroom training and exam practice tests and has trained over 75,000 professionals in over 150 countries around the world till date.
Recently, Simplilearn raised $10-million in Series B funding from Helion Venture Partners and Kalaari Capital to diversify and expand their course catalogue. Simplilearn has made successful inroads in improving customer engagement by adding local team members in the US, UK, Australia and the Middle East and enhancing their technology platform to make courses available on mobile devices.
What are the future plans for Simplilearn?
We are working towards building Simplilearn.com as a learning destination for certification preparation for working professionals. So in line with that plan, we would be adding a number of new courses to meet the demands of our user base. All our courses are available on mobile devices for easy accessibility.
We are also strengthening our presence in our key market, which is USA and India to provide better customer experience.
Simplilearn has raised Series B recently. Fund raising is commonly seen as a long & complex task. What would you suggest to an early stage entrepreneur seeking funds?
Fund raising is a 6 months process. To an early stage entrepreneur, my advice would be to first get the business model right and then approach VC to scale the business. That way, your chances of success is high. It's good to raise seed money from friends and family.
How do you see the trend in education changing? As your company provides all kinds of training – class room, online and virtual, which one do you see people opting the most and how have been the trends shifting?
Great quality self-learning content with instructor help as and when required, is going to be the future. Instructor help can come either in a physical classroom or in a virtual classroom. We see the trend of virtual classroom increasing as it is very convenient and cost effective. You can attend class from anywhere you want and with technology changing every day…it's only becoming better day by day.
What's the one thing that has worked for you as an entrepreneur & you recommend everyone else do too?
Do what you like. It's easy to get distracted by looking at the so called hot sectors. But the fact is that every idea has potential if executed right. So if you do what you like…you can sustain that for a long period and possibly succeed as well.
Do you think the VC/PE have opened up a bit to investing in Online Education Space?
I think so. People have started paying for online education and there are many companies like us testimony to that fact. We will only see more investment in this area…with people coming up with new and interesting business models.