Its official and the new iPhone 5 is here. You have pre-ordered your pretty piece and it will be in your hands in the next few days. So what do you want to do once that beauty is in your hands? Well, may be download apps. We, at TheTechPanda, have handpicked a the top 5 iPhone 5 apps for you so that you don't waste your time in deciding and can feel the awesomeness of the new iPhone's grandeur ASAP.
Awesome iPhone 5 App No. 1.
FIFA '13
If you have been craving for a mobile football game with slick player animations, well this is going to be your first pick! Few of the most amazing features in the new update are the EA Sports Footall Club and the ability to share goals and outlandish turns via YouTube. The new Fifa also lets you save your games in Manager and Tournament mode in iCloud so that you can continue your campaigns on another iOS device as and when required.
DOWNLOAD HERE. Priced at £4.99
Awesome iPhone 5 App No. 2.
Google Chrome
While you will have to do without Google Maps in the iOS 6, there is something that can help to make up for it. The new Google Chrome app works amazingly well with added support for the bigger display. However, it is age restricted to 17+, so you might have to stick to using the inbuilt Safari browser if you don't fulfil the requirements.
Free App, Download here.
Awesome iPhone 5 App No. 3.
Instagram
Everyone loves instagram, the retro-style photo app. There are more reasons to love it now, like the added support and modified interface for the iPhone 5 and iOS 6 to fit perfectly on the 4-inch Retina display.
Free awesomeness available here.
Awesome iPhone 5 App No. 4.
Netflix
Apple has tried to overcome a lot of problems in its new phone, the major one being the screen size. With other phones boasting of a larger screen, Apple has bowed to pressure and given its new model a 4-inch screen. The new screen has  a ratio closer to  16:9 and minimal glare. Also, crisper visuals thanks to the enhanced A6 processor make the new phone absolutely perfect for an app like Netflix.
Download here for free.
Awesome iPhone 5 App No. 5.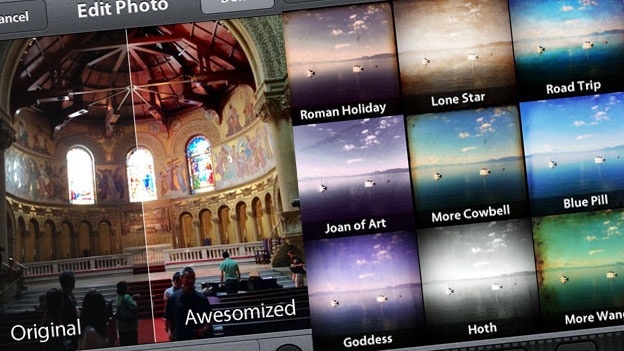 Camera Awesome
The one app that takes up a major advantage of the new features of the new iPhone 5 is Camera Awesome. Designed with craft in mind, it helps you take speedier and sharper, higher quality images. Also, using this app you can take an advantage of the panorama feature to click photographs at upto 28-Megapixels quality.
Free, available here.
Let us know which is the first app you would like to download to your new iPhone 5!