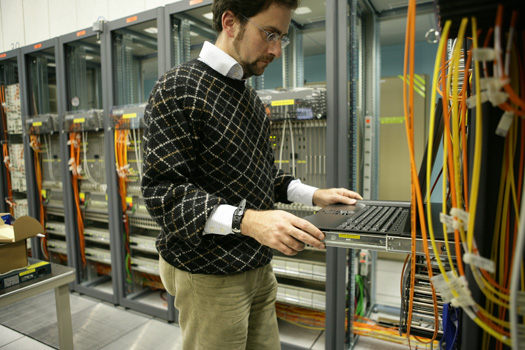 There are many different types of web hosts for your business to choose from. The most common types of web hosts include free webhosts, shared web hosts, dedicated web hosts, and collocated web hosts. The type of web host that will be most appropriate for your business website will depend on the type of business that you own, your company's goals and objectives, and the budget that your business has for eCommerce. Each type of web host has different advantages and different advantages that you should consider.
Free Web Hosting:
Free web hosting will be most appropriate for smaller businesses that have a lower flow of traffic. Typically, a free web host will be used more as an advertisement for a small business, compared to a website that will allow for products or services to be purchased. The technical support and design options for a free web host will be limited for the web owner. However, a free web host usually provides templates that allow you to design the website on your own. More often than not, you will not be able to have your own domain name with a free webhost. This can make pulling up your company's website extremely difficult for your customers.
Shared Web Hosts:
Shared Business Website Hosting is typically cost effective and beneficial for companies that have an average amount of traffic. With a shared web host you will have your own domain name, good technical support, and different software options. However, the security on these sites can be subpar and your database support is restricted.
Dedicated Web Hosting:
One of the better options for a larger business' website is the dedicated web host. Though it is the most expensive option, a dedicated webhost has many different benefits. With a dedicated web host your website is allowed a higher level of traffic, multiple domain names, strong support for your software, better email solutions, and a larger database. From a design aspect a dedicated web host requires a higher skill level and may require you to hire a web designer.
Collocated Web Hosts:
A collocated web host allows you to essentially run your own server. The disadvantages of a collocated host include difficult configuration and debugging methods, a high level of skills, and high costs. Advantages include higher security, increased bandwidth, multiple software options, and a higher up-time. This option will require you have higher security, dedicated internet connections, and a regulated power backup.
It is important that you choose the correct type of web host when you enter into the world of e-commerce. Knowing the appropriate type of web host for your business will require you to have a strong sense of your company's objectives. Each type of web host will have different advantages and disadvantages for your company to handle. While some of the disadvantages or worth the advantages that your company will gain, others can restrict or cripple your participation in e-commerce. Your decision should based upon how your company will compete with each type of web host that is available to you.
Image Credit: Stan Dorsett, Gillet Daniel