How Videoken is Hoping to Make Online Education a Lifelong Commitment
Posted On December 13, 2017
---
Earlier this year, Xerox in India split itself into two. But the resulting spin-off Conduent wasn't the only result of the separation. The fruits of many years of research at the company also led employee Manish Gupta to gobble up the copyrights and set up Videoken; a video viewing platform that helps companies and trainers set up their own courses on industry topics like AI and blockchain.
Now CEO, Gupta considers himself an 'accidental entrepreneur' who realised the value of his research following his long stints as research head at Xerox and IBM in India. His expertise took him far and wide (from California to Medellin) but it was education in India that was for him the natural endpoint for his labours.
'I am passionate about education in the country.' Gupta said, adding that '[r]esearch shows that only 20-25% of engineering graduates are considered employable. Many studies show that but it's also our anecdotal experience.' There have been reports by both NASSCOM and Aspiring  Minds to suggest how negatively the quality of education in the country has had significant impact on society. 
As a result, Gupta asked himself the following questions: 'why are educational outcomes so poor even though there are many educational videos online and on TV? And why aren't these videos being used for institutionalised learning?'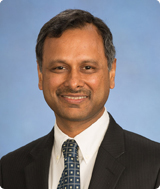 'So we wanted to make a product,' Gupta continued, 'that addressed this gap by having good content and actual consumption of that content.'
Having convinced Xerox to sell them the IP rights to the product, Gupta joined with Ashish Vikram, who led the team of engineers, and Vishnu Raned, who managed sales, to form Videoken.
And despite having a member of the team called Vishnu, Gupta insisted that 'Videoken is agnostic as to the actual content.' Entering in a search term shows you Videoken's unique 'phrase cloud' feature which throws up crucial words within the video that are based on an analysis of the content within the video and help the viewer summarise its contents. The site also draws up a table of contents that shows you where in the video a new chapter begins. This feature though, Gupta admits, is limited to videos that have slideshows for the engine to effectively order its content into a list of chapters.
'We allow you the ability to search for any video.' Gupta said. 'From AI to machine learning, medicine to maths or physics.' Some of the capabilities are available for free whereas extra features can be accessed by subscription to the service. The paid version allows you to add notes and can help put together courses for their employees. By way of example, Gupta stated that a German company was able to put together their induction course for their campus hires in India within 2 weeks.
 'If you're an instructor you can use this to curate material from public sources for your course.' Gupta said. 'Or say you're a manager for a team trying to educate yourself and your team you can make this Ken-list and share it.' The aim of the game here is not just self-learning, Gupta said,  but peer-to-peer learning as well. 'I want this to be the deafult portal for learning content.' Gupta stated. 'I really believe that every person on the planet needs to commit to lifelong learning.'
Although still working on  the small-scale at the moment, the people at Videoken are hoping that their product can move on to other shores. Having participated in their first trade show in Singapore this year, they are also looking to the US and Australian markets for their platform. Having had a boost from the Microsoft Accelerator Bengaluru, the company will also be looking to combine with lecture series providers like ACM Webinars (that includes Turing Award recipients), and NPTEL courses by IIT institutions in India.
---
Trending Now
You may also like