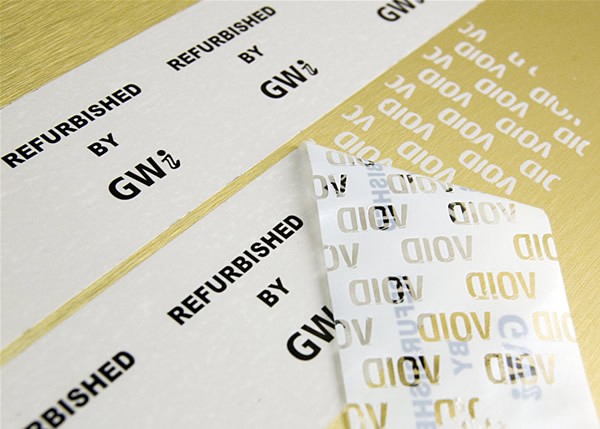 Technology is usually prevalent in every office. From a humble telephone to a massive file server with several terabytes of storage space, it's hard to find a workplace without a piece of tech which makes everyday tasks easy to do. As well as having value for what it does, technology also has financial value, which makes keeping it secure in the office vital.
Any business, charity, educational establishment or other organisation which relies on technology to keep everything running smoothly will want to keep everything they own from laptops to servers and printers safe, but will a security alarm alone be enough of a deterrent? Security alarms usually work, but it's worthwhile to take a few extra precautions.
It's all about the label
For technology in particular, asset labels can provide another level of security against loss, theft or even criminal damage. You might not think that a holographic sticker can do that, but in many respects, it's just as useful for businesses as it would be to own a high-level security system. Voiding labels in particular can work, but how?
Voiding labels, unlike traditional asset labels, are designed to help prove whether or not something's been tampered with or not. Typically, voiding labels have two layers, with the bottom consisting of the word 'void' being written in large, bold embossed type that cannot be removed even by the most hardened thief. The technology behind them is pretty hard to understand at first.
Peeling away
Many ordinary asset labels including those that come with brand new pieces of kit that have been bought from a shop, warehouse or online only have one layer which can be pretty easy to peel off. This isn't the case at all with voiding labels, mainly because the adhesive used to stick both labels to the piece of tech is incredibly strong.
The top layer of a voiding label looks like an ordinary asset label. It will have a unique code that's useful for inventory purposes, while it's also likely to be holographic, made with polyester and coated in vinyl, therefore making it extremely difficult to peel off in one go. However, what makes it different is that a little security is provided in the form of another label below.
Null and void?
The two-stage high-performance adhesives are used to stick the top and bottom layers together make them challenging to remove. The bottom layer works by revealing 'void' written several times all over the label, and when removed, an imprint will be left which will act as proof that the item which was adorned with the label will have been tampered with to some degree.
Stuart Jailler from Seareach comments: "With the amount of information able to be accessed and held on current day devices, knowledge that there has been a physical breach of security should form a critical part of a businesses' IT plan"
He went on to mention that the technology found in asset and security labels can be based on a specialist two stage adhesive. In essence, one of these layers releases quicker than the other at attempted removal, providing a shearing effect that reveals the word void.