I had a bracing moment a few weeks ago. I was taking a break from my University studies and surfing my social network and that's when I saw something which made my blood go cold. I had a friend recommendation to one of my friends from long back, someone I'd love to get in touch with. The only issue was she passed away in a car accident a few years back.
That brings up an important issue: Our lives are increasingly lived online, and as with our affairs in the real world, it may be a good idea to make posthumous arrangements for our data ahead of time.
For good or bad, Facebook makes it rather easy to change a deceased accountholder's status and memorialize his or her page. Twitter's process is a little more convoluted — loved ones have to submit documents like copies of birth certificates, drivers licenses, signed statements and/or a newspaper obituary clipping.
As for Google, it just tackled the topic head on with a new feature called "Inactive Account Manager," now available in the Google Account settings page.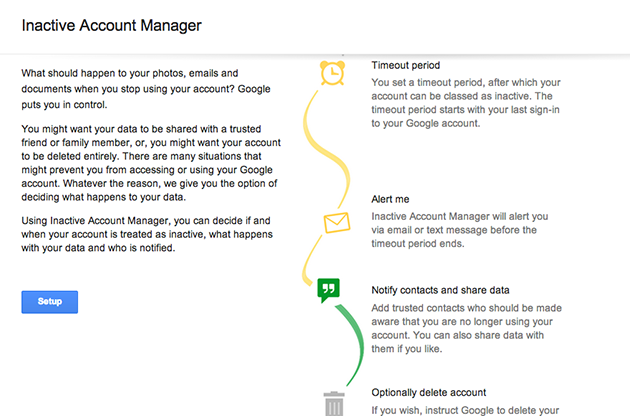 Users can choose the Timeout period, or period of inactivity before the account is deemed inactive, of three, six, nine or 12 months. Accountholders will get a notification email or text before the period lapses, to give them ample opportunity to stop the process before it goes any further. If no action is taken, the system notifies any predetermined contacts and, depending on the user settings, may share their Google data with them or deletes it.
As for which data, it includes Blogger, Contacts and Circles, Drive, Gmail, Google+ Profiles, Pages and Streams, Picasa Web Albums, Google Voice and YouTube, as well as any of the accountholder's +1s from across the Internet. Note that this does not include passwords, so your contact(s) won't be able to send from any of your accounts.
No one likes to think about what happens after we die, but a little preparation can go a long way to allay concerns and make things easier on the loved ones left behind.
Have you made arrangements for your "digital afterlife"? If so, tell us what services you found invaluable in the comments.