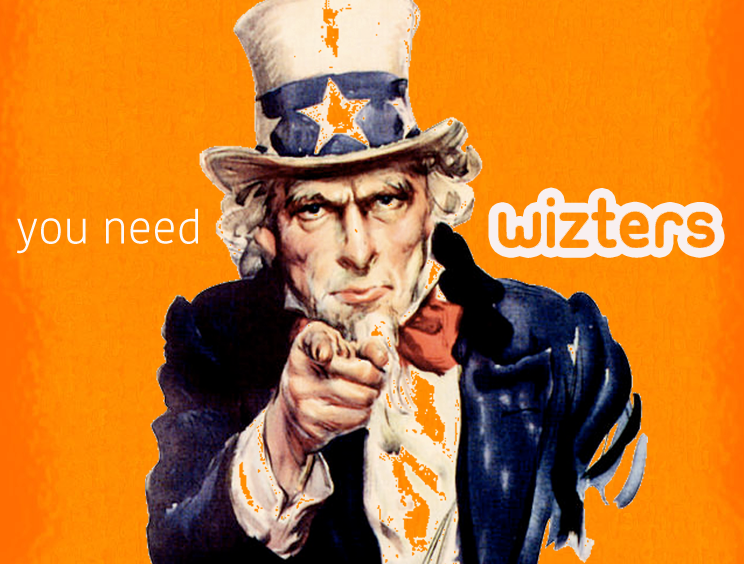 Facebook is still the biggest social network, but if you ask the industry professionals of the social media, you'll understand, the active number of increasing sign-ups and users are the marketeers, the mid-aged and the senior citizens, the population of young users on facebook is decreasing.
Now this doesn't state or mean that the young crowd is sharing less or is moving away from social networks, in fact they are indulging more into social networks and want to share more than before, the only thing is, today the youth needs a quicker, better and more smarter zone to talk.
The Social Network space seemed to be going obese, but its not anymore, if you can find the gap and target at the crowd that can adapt, you can still steal the show.
Here's one social network Wizters, taking anonymity seriously, they want people to get talking and share, no one's questioning your identity, your location or your queries? just open up and start sharing what ever you like. Remember, The unknown make a lot of whistles blow.
We'll get into conversation with Apoorv, the Founder and know more about the new kid in the town of social networks, Wizters.
The Social Media and Network space is already too crowded. How would you describe the USP of Wizters?
Wizters is very very different from other social networks. You see, every new social network tries to find a niche of their own in your social life. Wizters on other hand tries to be an alternate channel for sharing. On Wizters you connect with people in your daily social life, but anonymously. As we expand it is going to be much more than this.
Is Wizters truly an anonymous social network? Do you store user's ip or any network information or any kind of data at your end?
Yes it is totally anonymous. We do not store IP address or any network address of any user on Wizters.
Is communication on Wizters secure? Are you using SSL on your network?
Right now we are not using SSL, but in next 1­2 months, our SSL certification will come through.
What are your plans for revenue generation?
People actively use stickers on Wizters and they love it. So, Wizters will host a sticker store where it will allow companies and even individuals to publish their Stickers for a price, so that others can use them.
Wizters will allow developers to develop web applications that can utilize the anonymity platform eg. Love (available now), which matches the users if they both have crush on each other, anonymously and so on. The possibilities are end less. Wizters will allow developers to use the platform and publish their apps for a price and let users use them (for a price or for free, decided by the developers).
Ads and promoted posts.
Being a startup in the social network space, how do you plan to spread the word out?
We are relying on online marketing and will soon be launching our You Tube and Facebook ads. We are going to be quiet for a while and then rethink our marketing strategy. Also, we have been marketing offline in colleges through posters and even sponsoring the events.
Tell us something about the team behind Wizters?
Apoorv Saini, is the founder of Wizters and also the technical head and Director. He built the complete Web, Android and Windows Phone applications for Wizters by himself before others joined. He is a comupter science engineering undergrad at IIIT­ Delhi.
Dr. Ponnurangam Kumaraguru (precog.iiitd.edu.in/people/pk/Home.html), is the Chief Strategist and member of the Advisory board. He is also the Assistant Professor at IIIT ­Delhi and Ph.D. Alumni from Carnegie Mellon University.
Utkarsha Bhardwaj, is the head of Marketing and PR. CSE undergrad from IIIT­ Delhi.
What are your future plans for Wizters?
For next 6 months, we will be looking actively for investments for making our system more robust, secure and get our technology (in development) off the ground. Wizters aims to be the "Grand Central Station for Anonymous People", amazing things will happen.