Ahmedabad-based EdTech startup Orphicy along with team IMS to host IGNITE 5.0 – an Entrepreneurship Conclave serves the student fraternity and learners of all age groups intending to embark them onto an Entrepreneurial Mindset preparation. In the previous edition of IGNITE, over 8000+ potential world beaters have gotten a chance to learn from the experiences of top industry experts like Ms. Rashmi Bansal, Mr. Saurabh Dwivedi, Mr. Varun Gupta, Mr. Gaurav Dagaonkar and many more.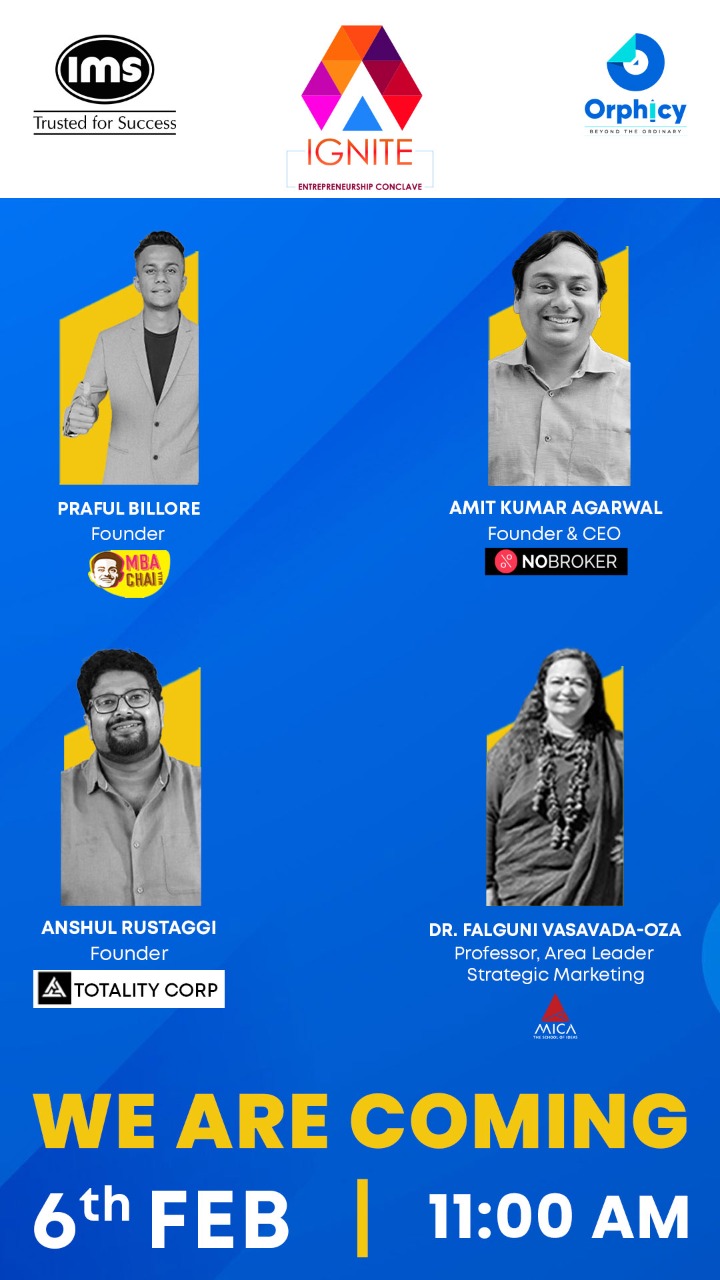 The one-day webinar will speakers across the industry sharing their knowledge with children, parents and teachers across the country. Edtech startup Orphicy feels great joy in organising this entrepreneurial conclave.
Amit Kumar Agarwal, Founder & CEO, NoBroker.com, Dr. Falguni Vasavada-Oza, Professor, Area Leader of Strategic Marketing at MICA, Anshul Rustaggi , Founder of Totality Corp and Praful Billlore, Founder, MBA Chai Wala will be the key speakers at the one-day conclave that will take place via Zoom.
IGNITE 5.0 is a chance for children, parents and teachers to gain valuable insights and interact with industry experts and entrepreneurs who have made a mark for themselves. The event is chance to truly ignite the entrepreneurial spark within each child and help them see a bigger picture.
Vipul Tyagi, CEO & Co-Founder of Orphicy shares "At Orphicy we have always believed in harnessing entrepreneurship. Be it with our offerings like MINI MBA & Young Leaders' Program or organising conclaves like IGNITE. The idea is to expose young minds to the power of an entrepreneurial mindset."
The EdTech startup is of the firm opinion that pre-recorded content is not the ideal solution for the young curious minds and thus offers its courses via its app in the form of live online classes. They believe that planned teacher intervention and highly engaging lectures are the pillars for online education to show positive learning outcomes.
The startup aims to connect with the vast student community across the country and help them gain a competitive edge with its pocket-friendly courses.
Those who wish to join the free webinar can register themselves at: 8000003370