Expensive Web Hosting vs. Cheap Web Hosting Comparison
Posted On November 20, 2015
---
'Cheap' is a word used in every promotional sector to entice customers, but beware everything available inexpensively cannot be effective as expected like cheap hosting services.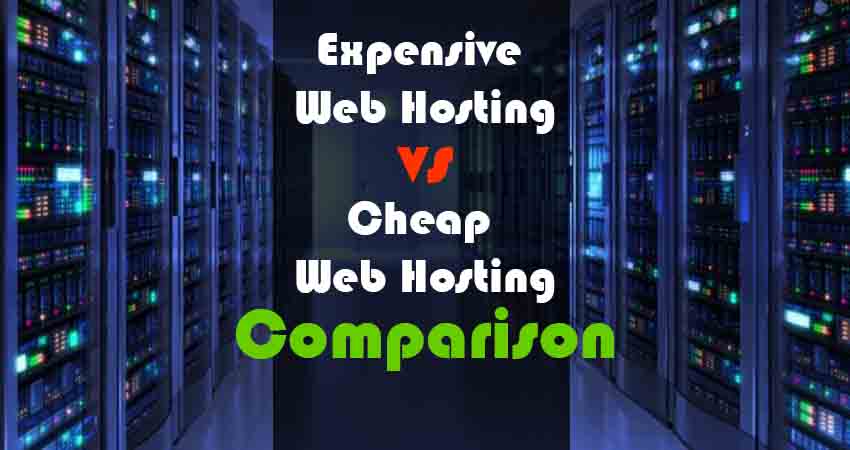 Dark Side of Cheap Hosting Services
Inexpensive is the most common traps used to attain large customer base.
On page, the cheap hosting provider promises to offer infallible web security, fast page load or 24/7 customer support.
They promise unlimited storage & bandwidth, which is not dedicated in real but shared. This means your online related information storage space is shared with other customers.
They take pride in offering quality service at a minute price. Huge customer websites hooked on a shared server can hinder your high traffic site speed and performance.
Cheap hosting servers are overloaded and always experience downtime along with insufficient customer support.
On shared servers your website is vulnerable to get hacked from bad neighbors. You can be a victim to collateral damage, which can ruin your reputation.
Cheap web hosting service only supports FTP for file transfer, which is inherently slow, insecure, difficult to synch and cumbersome to manage.
IP addresses your site gets may be blacklisted, which makes it difficult to send customers mail from your site.
They pretend to provide scalable features but they lie and cut your increasing traffic completely.
All the above aspects make cheap hosting services very expensive because you are paying lots more to manage your website in terms of time. Remember time is more expensive than hosting.
How Expensive Web Hosting Saves Money?
Cheap hosting services are good for personal use and don't care of experiencing a downtime or getting vandalized. However, if you are managing an e-commerce website then an hour downtime can result in losing customers and thousands. In addition, this can dent your business operations severely. To avoid such scenario, it is wise to pay more and for this you get the following services.
Managed hosting – The host provides security updates for crucial vulnerabilities in modules installed on your website.
Wide, long term backups – Your database content is saved every night. Backups are maintained for a week and precise ones for 16 months. The hosting service has successfully restored data (considered to be valuable) that was deleted months or weeks earlier.
Code stored – If some error occurs during updates, it is rolled back to its original state. This gives an opportunity to sort issues, before making an attempt to re-apply.
Geographically redundant backups – The production servers of the host can be scattered across but the backups are stored at their main center. If one of their providers (your site is hooked with) disappears their main data center can restore your website with a new provider in a couple of days.
Restricted server access – Clients are not allowed direct access to the servers. Codes are not permitted to be uploaded on e-commerce servers. It immensely helps to reduce break into your website, vandalism, or data disclosure.
Competent technical assistance – The staffs hired are experienced and can resolve IT issues proficiently.
Technical support – Clients in need of support can attain it for free with regular hosting plan.
Selecting an expensive or cheap web host is personal preference, but an optimized platform will provide you with convenience to focus on your business without worry about their website's backend management and security.
---
Trending Now