The Tech Panda takes a look at recently launched gadgets & apps in the market.
Speaker: DJ Speaker Zeb-Roxor
Zebronics, an Indian audio products, IT peripherals, gaming & lifestyle accessories brand, unveiled its latest DJ Speaker titled Zeb-Roxor.
Pradeep Doshi, Co-Founder & Director, Zebronics, said: "We are elated to be the first Indian brand to fuse the goodness of Dolby Audio with ourDJ-Speaker portfolio. It was a long-awaited combination and has emerged phenomenally, to be a must-have party accessory. Last year we were the maiden Indian brand to have Dolby Atmos powered wireless satellites in the Soundbar category as well as Dolby in the Tower Speakers. More products in the Audio category are being planned that will cater to our diverse audience including but not limited to, music lovers, entertainment enthusiasts and audiophiles. This flourished endeavor to transform the landscape of Premium Entertainment from being reserved for the elite few, to the hands of the masses is just getting started & will keep Zebronics 'Always Ahead'."
Features
Dual sets of drivers: 2 mid-range and 2 tweeters that deliver a bombastic 100W output
Dolby audio
RGB lights that grooves in various modes converting any space to a pulsating dance floor, which makes it an Audio-Visual spectacle
5 LED modes (and 1 off mode) that are indicators of various functions for ease of use
Users can connect the speaker with the Ultra-High Frequency MIC (UHF-Mic) and with the Karaoke feature and a guitar input
There is a provision for a holder in which users can keep their phone/tablet and use the remote control for navigation and controlling the audio experience
Multiple connectivity options including BT 5.0, Aux (in/out), Optical, USB, TWS as well as HDMI (ARC) that can be used for a range of devices including TVs.
It can be used in both wired and wireless mode and has a built-in rechargeable battery which is designed to deliver upto 5 hours* playback (LED off, 50% volume)
Includes 220V, AC power cable
The battery charges within 1.5 hours
Hearables: HearPods MINI, Pro, Pro 2 ANC, & AIR models
Hearmo, a smart wearable and hearable lifestyle brand, unveiled its latest HearPods range. This innovative lineup includes the HearPods MINI, Pro, Pro 2 ANC, and AIR models, each designed to enhance sound experiences and connectivity. Starting at just Rs. 799, the HearPods cater to the needs of tech-savvy consumers, providing an enhanced audio experience.
Mahendra D Jangir, Founder & CEO of Hearmo, said, "We are excited to introduce our latest earpods lineup, which redefines the boundaries of sound and style. Each earpod model has been crafted with precision to deliver an unparalleled audio experience, making them the perfect companion for music enthusiasts, busy professionals, and active individuals alike."
Features
HearPods Pro 2 ANC – Elevating Sound to New Heights
Intelligent Pro 2 Active Noise Cancellation technology, complemented by well-defined bass, crisp mids, and sparkling highs
Powered by Bluetooth version 5.3, it provides low latency of up to 50-60 ms
10mm dynamic driver with AAC support
integration of 4 MEMS microphones
HearPods MINI – Compact, Comfortable, and Captivating
13mm Dynamic Driver and two MEMS microphones
battery life of up to 14 hours
handy USB-C charging connector
Intuitive touch controls
HearPods Pro – Your Entry to Enhanced Audio
Bluetooth Version 5.3
Noise-canceling technology
semi-in-ear design
Powered by a 13mm Dynamic Driver and advanced ENC (Environmental Noise Cancellation) technology
IPX4 water and sweat resistance
HearPods AIR – Unleash the Freedom of Sound
advanced ENC adaptation
ASAP 3C Fast Charge
Bluetooth Version 5.3 and noise-canceling technology
13mm driver delivers ultra-low latency and battery life of up to 24 hours
Smartwatch: Boult Striker Pro
Boult, a wearable brand in India, has unveiled its latest smartwatch Striker Pro. It comes with astounding features to meet the dynamic needs of today's active lifestyle.
Varun Gupta, CEO & Co-Founder, Boult, stated, "We have always poured our heart and soul into designing the smartwatches we offer so that they seamlessly integrate fashion, functionality, and the needs of our vibrant Gen Z community. We always keep pace with the latest tech advancements, and we strive to bring the freshest innovations as one of the top 5 smartwatch companies. With our latest launch, the Striker Pro, we are taking some major leaps forward in that direction, besides strengthening our portfolio in the fitness wearable segment."
Features
1.43-inch Round HD AMOLED screen with stunning 466×466 resolution, 750 Nits brightness, and a smooth 60Hz refresh rate
Always-On Display
integrated speaker and microphone for Bluetooth calling
advanced health monitoring capabilities, it keeps a constant watch over your SpO2 blood oxygen levels, and heart rate, tracks menstrual cycles for female users
150+ cloud-based, stylish watch faces,
Has a durable zinc alloy frame
variety of strap options, including Blue, Grey, and Black, with a metal strap
IP67 water resistance
Smart Notifications, Calculator, and Weather Details
sends SMS and app notifications
Can locate misplaced phone
With Siri and Google Assistant user can long press the crown and let voice assistant handle queries, reminders, and tasks
Hearables: Boult Z60 Earbuds
Boult, a home-grown consumer electronics brand launched the Z60 Earbuds.
Varun Gupta, Co-Founder, Boult, said, "We believe in pushing the boundaries of what's possible technology-wise to aid our users with a sound experience of a lifetime. Our products significantly display the brand's unwavering commitment to excellence and continuous innovation. Whether it is the aesthetics or technology, Boult delves deeper and brings forth products that redefine the approach towards home-grown brands. Along the same line, we have set our foot in UK & USA markets with Boult Made in India products and are aiming to conquer furthermore international markets".
Features
playtime of 150 minutes with just a quick 10-minute charge
60 hours of playtime
powered by Zen Mode™ and Quad Mic Environmental Noise Cancellation features
lowest latency feature provides an immersive and uninterrupted gaming experience
They encompass the 13mm Bass Drivers to enhance the audio output
IPX5 water resistance rating
Bluetooth 5.3 connectivity
Available in four colour options: Raven Black, Flamingo Pink, Spring Green, and Powder Blue
Smartwatch: URBAN Titanium, URBAN Dream & URBAN Rage
URBAN, the homegrown smart wearable brand, launched their Luxury Edition smartwatches with 3 marquee products – URBAN Titanium, URBAN Dream & URBAN Rage. URBAN Titanium is crafted for men who appreciate a smart and stylish look, while URBAN Dream & Rage are tailored specifically for women seeking a chic & elegant aesthetic.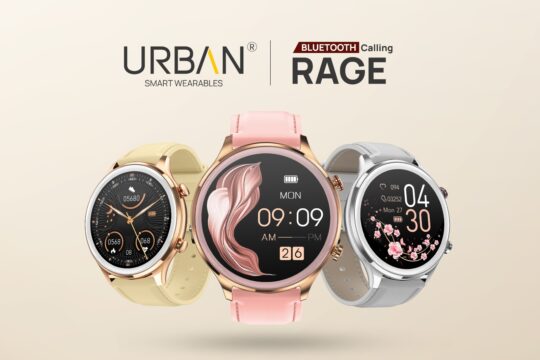 Aashish Kumbhat, Co-Founder, URBAN, stated, "Our luxury edition is designed to be stylish and elegant while retaining a powerful and efficient core technology. As smartwatches have evolved beyond mere fitness gadgets, they have become a reflection of our personal style. With these new launches, we have aimed to create something that is stylish, classic, and chic, while also being an extremely efficient piece of technology."
URBAN Titanium
zinc alloy finish along with the stainless strap
large 1.43" Ultra HD IPS Display
customisable 100+ watch faces along with Bluetooth calling and AI voice assistant
lightweight build, 100+ sports modes and dedicated dual sensors for SpO2, HR & BP monitoring
URBAN Dream
1.32" Classic round dial and a premium stainless steel design
metal strap
Weighing just 50 grams
Bluetooth calling and AI voice assistant
over 150 Customizable Watch Faces
Multiple sports modes
dedicated sensors for health monitoring
URBAN Rage
leather strap
1.32" Classic round dial ultra HD Bright display
stainless steel design with premium PU Leather Strap
Bluetooth calling
AI voice assistant
More than 150 customizable watch faces
3 elegant color options