The Tech Panda takes a look at recently launched gadgets & apps in the market.
Projector: 4K UHD LED Projector TV L1 +
Expanding its advanced 4K Ultra Short Throw Projector TV range, Optoma projector brand in home entertainment and pro-AV segments, introduced Ultra HD 4K resolution 4LED Projector TV L1 + in the Indian market.
Vijay Sharma, Country Head- India, Optoma Corporation said, "With this new launch we are excited to add L1+ with 4LED technology to Smart Projection TV space. Optoma now has a Projector TV which is compact enough to carry from one room to another and can be installed easily in the tiniest of spaces. It's a great companion for Indian customers who now want to have a 120" inches at home, and with cricket world cup just round the corner cheer up for Indian Team by having stadium at their home."
Features
Delivers up to 120-inch images, when placed close to a wall
available at MRP of Rs 2.80 Lakh
intertwined with Google and Netflix certified Android ™ TV Dongle, which allows customers to access over 5,000+ apps, music, games, news, and movie content available on Google Play
dongle 4K HDR support
additional LED to the 3LED ecosystem, which features consistent brightness, more saturated colors, and a lifespan of up to 30,000 hours (Eco mode)
Receives and displays both HDR10 and Hybrid Log Gamma (HLG) HDR content
Gamers can enjoy ultra-smooth fluid motion and reduced ghosting owing to 24Hz refresh rates
features 50% PCR recycled materials
Smartwatch: HearFit RS (SE)
Hearmo, a smart wearable and hearable lifestyle brand, launched a budget-friendly premium lifestyle smartwatch – the HearFit RS (SE).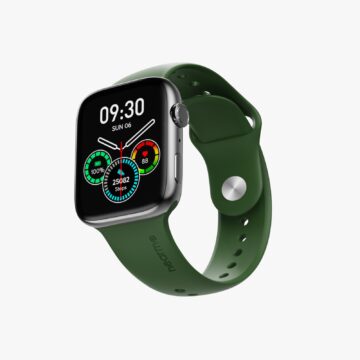 "We believe in providing high-quality innovative products at affordable prices and HearFit RS (SE) embodies that commitment. Our goal is to bring joy and ease to our customers' lives with exceptional technology and fashionable design. Everyone deserves access to high-quality wearable technologies that improve their lifestyle, and we are thrilled to offer a product that will add joy and ease to our customers' lives." said Mr. Mahendra D Jangir, Founder & CEO, Hearmo.
Features
sleek metallic design, accompanied by a frameless 2.0″ (UHD) Full View Display that offers wider visual angles
long-lasting battery and convenient wireless charging
IP68 waterproof and dustproof rating
resolution of 420X485 and 320PPI
700 Nits brightness
Refrigerator: Godrej Edge Neo
Godrej & Boyce, the flagship company of the Godrej Group, launched an energy-efficient refrigerator 'Godrej Edge Neo'. It consumes only 99 units per year which is the lowest energy consumption as per the current BEE ratings, in comparison to any other refrigerator in India, thereby aiding significant reduction in electricity bills. With potential savings of upto Rs. 1101 every year, customers can save an estimated amount of Rs.11,000 over 10 years.
Kamal Nandi, Business Head and Executive Vice- President at Godrej Appliances, part of Godrej & Boyce said, "We are proud to unveil India's most energy-efficient refrigerator that showcases our unwavering dedication to technological advancement while addressing the need for energy-efficiency and sustainability. Through this first-of-its-kind innovative offering, we are ensuring a big win for our customers with significant monetary savings apart from generating a positive impact for our environment."
Anup Bhargava, Product Group Head- Refrigerators, Godrej Appliances, said, "Backed by advanced technologies, the new Edge Neo refrigerator not only delivers exceptional cooling performance but also helps consumers save on their energy bills and reduce their environmental footprint. Operating in the 180L capacity segment, the model is well placed to deliver double digit growth and impact a large base of customers."
Features
Single-door refrigerator that uses a highly efficient inverter compressor, advanced capillary technology, coupled with smartly designed airflow
The annual electricity cost is less than the cost of running an LED bulb, a fan or enjoying a family outing to a multiplex
Promises huge savings for the environment as well as it can reduce up to 1000kg CO2 emissions in comparison to using a 1-Star refrigerator, equivalent to preserving approximately 64 trees over a span of 10 years
Moisture Retention Technology to ensure upto 24 days of farm freshness
Turbo Cooling Technology for faster bottle cooling and quicker ice making
Large Freezer and Aqua space for convenient storage
Earbuds: CrossBeats Groov Buds
CrossBeats, an Indian smartwatch and wireless audio brand, launched its lightweight earbuds of 2023.
Abhinav Agarwal, Co-founder, CrossBeats said "There are many TWS buds in the market from many different brands, the differentiating factors have drastically moved from just seeing earbuds from a music standpoint to considering them to being an everyday essential for the new urban folks. Keeping that in mind, we have designed Groov Buds to be the most comfortable, lightweight earbuds that can stand the everyday hustle and still cherish your music moments all day long. We've got a bigger battery, better design aesthetics and also advanced audio equipment embedded in the system to make this a remarkable earpiece for music lovers and commuters."
Features
Lightweight earphones that weigh approx 4g each bud
Powerful 10mm Graphene drivers improve the hearing experience
Powered by SnapChargeTM for fast charging and have a battery backup of up to 55 hours on a single charge
Its IPX5 rating makes the earbuds water/sweat resistant
Quad Microphones powered by ClearCommTM support environmental noise cancelling (ENC)
Each earbud has an in-ear design, Hi-Response Sensors earbuds, and Qualcomm aptX adaptive audio support
Compatible with both Android and iOS devices
Have USB Type C charging
40ms extreme low latency gaming mode
Comes with Multi-Touch Controls – Feather Touchpads
AR/VR headset: AjnaXR PRO and AjnaXR SE Mixed Reality headsets
AjnaLens, an Indian XR startup, unveiled the AjnaXR PRO and AjnaXR SE Mixed Reality headsets.
Abhijit Patil, Co-founder and COO of AjnaLens, has illuminated the transformative potential of the newly launched devices with profound insight, stating, "At AjnaLens, we envision a future where technology can improve our society and help us achieve more. Our AjnaXR SE and AjnaXR PRO devices are a step towards that future. They show our commitment to pushing boundaries in training, learning and human development and demonstrating India's innovation on a global stage. Our goal is to transform the way we learn and get skilled, and these devices reflect the goal of making every individual in India skill-first."
Features
AjnaXR PRO has a dual 2.1-inch display with a stunning resolution of 4560 x 2280, boasting 256GB of storage and a robust 5500mAh battery.
Their flagship product, AjnaVidya, is an XR ecosystem that uses AR/VR to provide immersive training and upskilling experiences for professionals and businesses.
For developers, Ajna Developer Hub (ADH) offers necessary SDKs, APIs, documentation, and tutorials.
Ajna Publisher Hub empowers creators with insights and analytics for their content, providing real-time data on performance, engagement metrics, demographic insights, market trends, and performance benchmarks.
Users can access XR tools and content on any device with an internet connection, making immersive learning and experiences accessible on the go with Ajna Workstation – AjnaLens' own cloud-based computing service that defies device limitations.