Simplify Data Transfer between Smartphone via MobileTrans
Posted On October 16, 2013
---
Because of the proliferating number of mobile platforms, which is also known as mobile OSs, companies are striving hard to include more features in their OSs day-by-day for the sake of attracting more users towards the platform. It is also notable that a few Smartphone and Tablet PC manufacturers are also including top-notch features in devices, which are supported by different mobile OSs such as Android, iOS, Symbian, etc. In that sense, you may want to shift to another platform in order to acquire additional features for the sake of productivity or sometimes its entertainment abilities. For instance, during previous years, we have seen many users, who shifted to Android, as they found interesting and worth-praising features as well as abilities in the Google-owned mobile platform. Thus, sometimes, shifts towards different mobile platforms are inevitable for those who are concerned about top-notch functionality of their Smartphone or Tablet PC.
However, one of the major problems you might face during platform shift is important data that you have stored in your device. For example, if you are using your Smartphone for both personal and professional needs, it might be containing different forms of information such as contacts, documents, media, etc. Nevertheless, today, we would like to introduce Wondershare MobileTrans to you, which would surely help you in seamlessly transferring important information between two Smartphones or tablet PCs, which run on different operating systems (say iOS and Android). First, we will have a brief overview on the latest member in suite of Wondershare Mobile Applications.
Wondershare MobileTrans – Platform Transfer Made Easy
Just as we mentioned earlier, this user-friendly tool is made for transferring different kinds of information between Smartphones or Tablet PCs, running on different platforms such as Android and iOS. The software, coming from the popular mobile suite of Wondershare, is something damn productive because users can cut down several processes of transferring their data to the new Smartphone such as individual contact transfer, media transfer via PC, Message transfer etc. In addition, the process of using the software is very easy than you guess and we will have a look to that section quite soon.
Apart from contacts and media, it can also transfer information such as Applications, call logs, as well as text messages through single click. This is possible because the software also allows us to transfer your data between two devices, which run on same platform. For instance, if you have bought a high-end Android phone and want to transfer information, including Apps, from the old device, MobileTrans will do its job very well. Now, we will check out working process of this tool.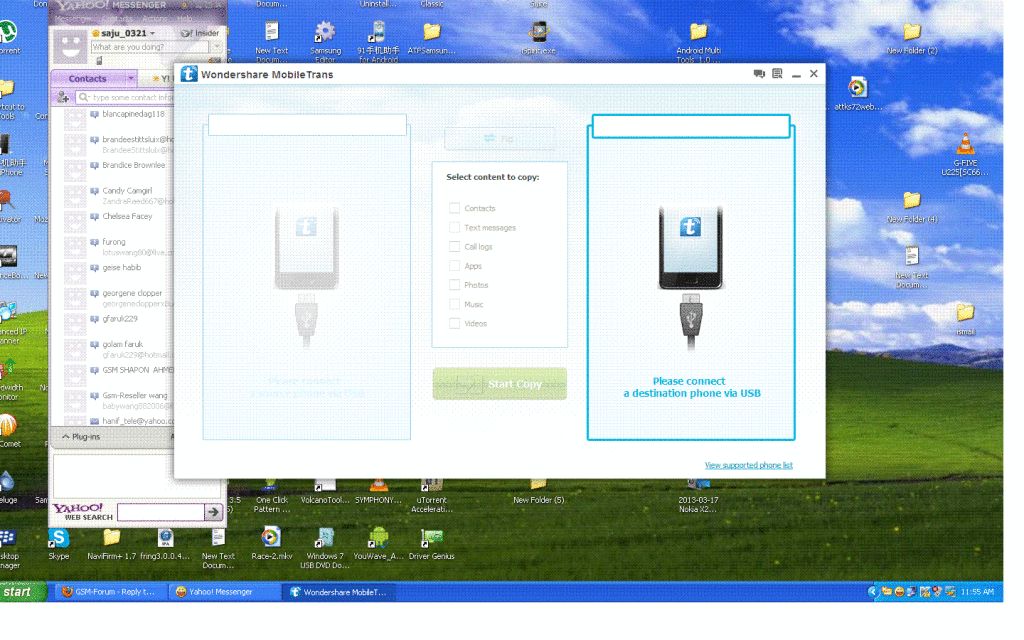 What You Can Transfer
Though the application is available for different platforms, there are a few limitations on what kinds of information; you can transfer using the tool. The major details are as follows.
Android to Android: Contacts, Messages, Apps, Videos, Call Logs, Media
iOS to Android: Contacts, Messages, Media
Symbian to Android: Contacts, Messages, Media
Transferring Data Using Wondershare MobileTrans
If you are eager to use this tool, you can lead to the official website of Wondershare MobileTrans and download the software in a matter of seconds. You will have to download MobileTrans through Wondershare Software Centre and the downloading and installing process will not take more than minutes. After finishing the installation, you can see a window as shown in the following image. As you can see, it is divided into two sections, featuring thumbnails of two devices. One device is called Source and the opposite one is called Destination.
Now, you have to connect both of your devices, between which you would like to transfer data. Check whether two devices are connected in proper places. Otherwise, you can click on the 'Flip' button to toggle between destination and source. As you have fixed the source and destination, you will have to select what kind of information you want to transfer.
Considering aforesaid, you will face some restrictions according to both platforms. After selecting what you want to share, you can click on 'Start Copy' button to start transferring process of selected information. According to the size of information, you have stored in the device, it will take time to complete the transfer process. In addition, it will show a pop-up window in the software, in which you can observe progress of transfer. The process is quite simple than you guess. Isn't it?
Extra Features, Worth Checking
Apparently, 90% of our readers, who have iOS, Android, Symbian powered Smartphone with them, can use this tool, as the developer offers such a notable number of supported devices, which includes basic ones as well as. In case of Android, it supports devices from brands such as Samsung HTC, Sony etc.
In addition, the ultra-simple user interface of MobileTrans does deserve praising because it simply does not require any kinds of technical knowledge to transfer data in-between devices.
Verdict
Viewing all what we said, Wondershare MobileTrans is damn useful and the simple UI is noticeable! However, we would like to know your opinion about the tool. Do let us know via comments.
---
You may also like