Platforms: Android
Rating: 5/5
Bottom line: A nifty way for app switching in Android.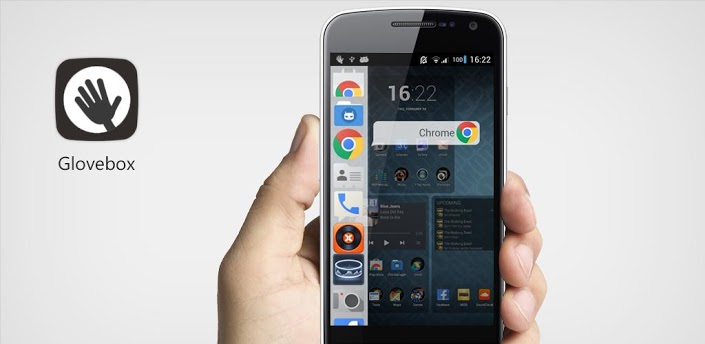 Smartphones have always boasted of their capability to multitask. While that is true, none of the smartphone platforms provide a convenient and easy way to switch between apps. Be it iOS, Android or Windows Phone, users have to return to the homescreen to launch a new app and there is no way to seamlessly launch another app while inside one. Long pressing the home key(on iOS, Android or Windows) generally provides a list of recently opened apps that are currently in RAM, but still there is no way to launch an app that is not in the list. Ubuntu promised a better way for dealing with app switching when it was unveiled this year and this has inspired a lot of launchers based on Ubuntu's interface and Glovebox is one which stands out from the crowd.
[youtube id="fzaYh0m5zvI" width="600″ height="340″ position="left"]
Once the app is downloaded and installed, the app-switcher bar can be accessed by swiping from the left edge of the screen. Initially only the Home icon is displayed which takes the users back to the homescreen no matter from whichever app it is accessed. Once inside the app, you are provided with options to add a list of your favourite apps to the list. Apart from that, there are options to control the transition effects, length and width of the bar, notification method and also the option to select whether the bar should be displayed on the left or right side of the screen. It depends on your usage and normally if you are right handed, you might find it convenient to access the bar from the right because a lot of apps like Flipboard have a back button on the top left corner and you might end up pulling out the switcher bar accidentally (most of the times!). If you opened the bar by mistake then swipe back to within the bar to cancel the action.
The app currently provides five themes – Default, Ubuntu, Light, Dark and LBP. The premium versions promises unlimited favourite apps/shortcuts, transition effects, and mainly support for widgets and of course, future updates. The paid version of the app costs about Rs.108 (in India) and users who like the free version can definitely give the paid version a try. Overall, the app ran smoothly always and there wasn't any problems with it as such.
Verdict
Android fans who like to tinker around with their phones should definitely check out this app.
This article has been reproduced from  Sridhar's blog.