Finally, Google has announced the latest device in its Chromebook lineup – the Chromebook Pixel. Unlike the previous versions, this one is more powerful, high-end device aimed at power users.
The Chromebook Pixel has pretty good hardware – a 12.85 inch high-density 2560×1700 screen (that's 4.3 million pixels) with a 3:2 aspect ratio, an Intel Core i5 processor and a whopping 1 terabyte of free storage on Google Drive for three years. Google will also soon launch a version with a built-in LTE radio and has partnered with Verizon to offer 100 MB/month for two years of mobile broadband and with GoGo to offer 12 free in-flight Wi-Fi sessions.
The best part of the Chromebook Pixel is definitely the screen. At 239 pixels per inch, it is now the laptop with the highest pixel density above the 220 pixel per inch of the Macbook Pro with Retina display.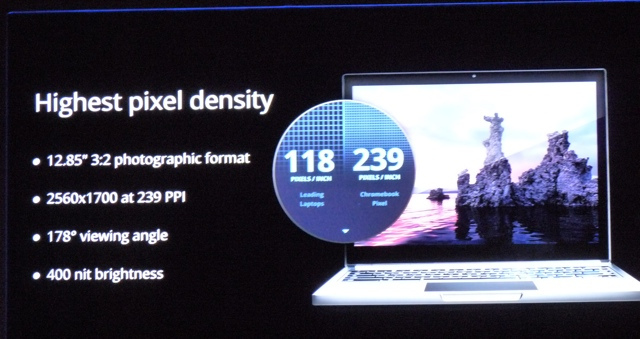 The basic Wi-Fi version of the Pixel will retail for $1,299 in the U.S. and £1,049 in the U.K. The Pixel is now available on Google Play and will also be available at select Best Buy locations in the U.S. and Currys PC World in the U.K. tomorrow. The LTE version ($1,449) will ship in the U.S. in April. The other difference between the LTE and Wi-Fi models is that the LTE version will ship with a 64GB solid-state drive and the Wi-Fi version will only have 32GB.
"I think the hardware shines," Google VP Sundar Pichai said at a press event in San Francisco today. Google, Pichai stressed, wanted to build a device for power users who live in the cloud. "There's a set of users who are really committed to living completely in the cloud," he said, and Google wanted to build the perfect laptop for them.
Here are the full hardware specs:
INPUTS
Gorilla® Glass multi-touch screen
Backlit Chrome keyboard
Fully clickable, etched-glass touchpad
HD Webcam 
SCREEN
12.85? display with a 3:2 aspect ratio
2560 x 1700, at 239 PPI
400 nit screen
178° extra-wide viewing angle

DIMENSIONS
297.7 x 224.6 x 16.2 mm
3.35lb / 1.52kg
PORTS
2 x USB 2.0
mini-display port
2-in-1 card reader supporting: SD, MMC

INNARDS
Intel® Core™ i5 processor (Dual Core 1.8GHz)
Intel® HD Graphics 4000 (Integrated)
4 GB DDR3 RAM
32 GB solid state drive (64 GB for LTE model)
AUDIO
Headphone/microphone jack
Built-in microphone array
Integrated DSP for noise cancellation
Powerful speakers tuned for clarity
INDUSTRIAL DESIGN

Active cooling with no visible vents
Machined from anodized aluminum
ENERGY STAR® certified
BATTERY
Up to 5 hours of active use (59 Wh battery)
NETWORK
Dual-band WiFi 802.11 a/b/g/n 2×2
Bluetooth® 3.0
GOODIES
One terabyte of Google Drive cloud storage, free for 3 years
12 free sessions of GoGo® Inflight Internet
100 MB/month for 2 years of mobile broadband from Verizon Wireless (LTE model). Carrier terms and conditions apply.
[youtube id="j-XTpdDDXiU" width="600″ height="340″ position="left"]
Well, the device definitely is pricey. At the same time, it caters to a select group. We'll have to wait and see how the market responds to this one.
What are your thoughts? Would you like to buy the Google Chromebook Pixel?