Real Estate is an area which has seen lot of startups coming up and ease the lives of buyers and sellers alike.  HomeShikari provides a viable alternative for listers (sellers / renters) to list their properties on their portal without getting cannibalized by a flood of broker posts and provides a level playing field for builders, both small and big.
The HomeShikari.com idea is being incubated by TTK Services, a TTK group company that launched a slew of startup ideas over the past decade that include YourManInIndia (www.yourmaninindia.com), a NRI concierge service and immigration support service for corporates as well as GetFriday (www.getfriday.com), the world's first organized virtual assistance service that provides remote support for small businesses and busy individuals across the globe. The company acts as an incubator for new ideas in the services space. YourManInIndia and GetFriday are profitable and growing ventures within the company.
We catch up with Mr.Sunder Prakasham, MD TTK Services & CEO HomeShikari.com to know more about HomeShikari and it's future plans.
What is HomeShikari.com all about?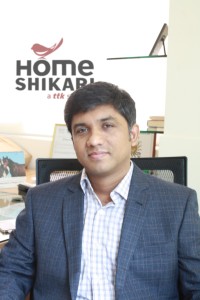 HomeShikari.com, is a real estate marketplace that aims to bring transparency and establish trust through:
Directly connecting all players in the real estate ecosystem (buyers / sellers / owners / tenants / builders)
Empowering consumers to make informed decisions through providing clean, verified and trustworthy information
Providing services that bridge trust gaps ease transactions and offer peace of mind.
We are focused on the consumer and aim to empower all kinds of searchers; people who want to buy builder properties or resale properties or those just wanting to rent. There is absolutely no advertising, no spam and no brokerage on our site. While we are not against brokers who legitimately represent a landlord / property, we are certainly against bad brokers who hold no inventory or merely play on information arbitrage through bait and switch tactics.
We launched our services for the Bangalore market (beta) in Nov. 2011, went paid for consumers in Jun. 2012 and for builders in Apr. 2013. We are not yet available in other cities, but have plans to launch in key cities once we close our funding.
How different is HomeShikari from other real estate startups?
HomeShikari.com caters to the changing needs of today's discerning consumers. The new breed of net savvy consumers in metropolitan India like to gather as much information as possible, review and then make an informed choice about buying a product, engaging a service or buying / renting a home.
These are people who lead a busy life, have tight work schedules and find it difficult to waste numerous weekends' merely visiting properties that they know nothing about. They also like to get detailed information, match it against their needs, and do as much due diligence online before spending time and physical effort in any activity.
Practically no prior homework was possible before the advent of HomeShikari.com. Multiple people could lay claim on representing the same property and multiple ads in different formats and with different information could all lead to the same property. Information is at best very sketchy or unreliable.
We brought a sea change to this by introducing our verified listings where our executives go and visit the property for sale / rent, take pictures, video, measure the property, do an accurate floor plan and upload all the information for the benefit of searchers. These listings go with a verified symbol which is an assurance to the searcher that what he is seeing on the website is what he will get, if he physically visits the property. This allows a discerning consumer to pre-screen properties and visit only those that meet his requirements.
From the point of view of consumers who are listing their properties for sale / rent, our website enables them to receive highly qualified leads that are more likely to close quickly. No wastage of time showing it to hundreds of prospects who may not be interested or whose needs don't match the property. And we are the only ones to actually give a refund to listers, when they delist their property. This is to ensure our site has only pertinent and fresh listings all the time.
For Builders we offer non-intrusive and preference based marketing that help interested clients to reach out to them after having reviewed all the information. This helps them connect with serious prospects only, leading to less efforts and waste of time. Consumers, in turn can be comfortable that they will be contacted only if they have shown interest and that their personal information and privacy will never be compromised.
And it doesn't stop there, we have services that span every aspect of real estate transactions such as getting title documents, title transfers, legal vetting, document authentication, tenant management, property monitoring etc. For ex: In Bangalore we have close to 100 homes under tenant management, at the moment.
How has been the traction so far?
We have had more than 3000 customers in Bangalore use our listing and VAS services in the last year, on a paid basis. We are seeing good traction and will be stepping up our marketing activities with the introduction of new services.
What are the future plans for HomeShikari.com?
We are looking at expanding to all key cities (let's say 7 to 8 of them), but our expansion model is not going to be as fast as our competitions. The simple reason is that we will not merely look at an online play, but the complete basket of our offline services to be available to consumers in every city we launch. So it is more intensive and the engagement with consumers will be far deeper.
Mumbai and Delhi are definitely on our radar next.
And of course, there are a bunch of services in the pipeline that would aid in making property transactions simpler and more trustworthy. Some completely new services may also come into being once the Real Estate Regulatory Bill becomes law, in due course of time.
What kinds of trends do you notice in Real Estate? Has the decision influencing capability shifted from brokers to online platforms?
The internet has made it happen in other industries. Not many buy airline tickets or train tickets through agents any more. The internet brought that change. Online purchase of books, electronics and even clothing has significantly jumped in the last couple of years. Real Estate sector will be no different. The internet is going to be a game changer for the sector. The internet also allows for greater transparency.
If we are looking at the market for pure advertising models, then it is probably about Rs.200 Cr. to Rs.300 Cr. now with a potential to become a Rs.1000 Cr market in the next few years.
But if we are looking at a complete change in the way this market functions and bring services that enable transactions, help manage the assets, make them more liquid and make their valuations more accurate, then we are looking at a billion $ market.
Am hopeful that the Real Estate Regulatory Bill that is expected to be passed by Parliament soon will give a huge fillip to the industry by improving transparency and trust. Though the bill is being opposed by the developer community, by ironing out serious shortcomings (if any) and empowering consumers, the market can only grow and attract more investments.
Is HomeShikari.com looking for funding? What are its expansion plans?
Yes, we plan to raise a funding of about Rs.30 Cr. to go to 7-8 key cities in the next 2 years. We have piloted Bangalore, made mistakes as well as had a lot of learning. We plan to utilize this when we launch other cities.
Most of the funds will be used primarily in marketing, to build a brand, to educate and create awareness amongst consumers in the cities we launch. Some part of it will also be used to strengthen our technology and data play. As far as operations are concerned, we have extensive experience in managing field teams and getting them to an operational break even quickly.
What is the one thing that has worked for you as an entrepreneur and would recommend everyone else to do?
These beautiful lines from Richard Bach (author of Jonathan Livingstone Seagull, Illusions) sums up my advice to soon to be startup founders.
When you have come to the edge of all the light you have,

And step into the darkness of the unknown,

Believe that one of the two will happen to you.

Either you'll find something solid to stand on

Or you'll be taught how to fly
Every time I have come across an practically unassailable challenge or a failure that seems impossibly difficult to get over, I just remind myself of this and it invariably works.
TTP's take on Homeshikari
HomeShikari.com's assurance of "no advertising, no spam and no brokerage on our site" should definitely appeal to the buyers. However, with cut throat competition in this space with likes of magicbricks, 99acres and commonfloor, it remains to watch out how HomeShikari will fare in other cities it's planning to venture out with the funding.