Close to 300 million vaccine doses have been administered across the country since the national COVID-19 immunization drive began in India on 16 January 2021. Telangana has so far vaccinated more than 93 lakh individuals and Hyderabad is leading this through various government led and corporate vaccination drives. These vaccination drives by organizations have been providing an alternate and smoother route for its employees and families.
In Hyderabad, this month, AGI glaspac, a leading global manufacturer of integrated glass containers, insured the safety of its industrial workers through a vaccination drive. While the startup ecosystem of the state was safeguarded by two leading startup ecosystem enablers, T-Hub, India's pioneering innovation ecosystem and WE HUB, an exclusive incubator for women entrepreneurs. The vaccination for the Hyderabad IT workforce was boosted by two leading global IT companies, Progress, the leading provider of products to develop, deploy and manage high-impact business applications, and Qentelli, a technology company that accelerates digital transformation.
The vaccination drive was carried out in partnership with various private healthcare providers to ensure that the highest safety norms are maintained during the vaccination procedures. These organizations have lent a helping hand by rolling out vaccination drives providing Covaxin and Covishield vaccines amid the second wave of the pandemic and vaccinated close to 1400 employees, including respective dependants.
AGI glaspac conducted a two-day vaccination drive for all its employees and their family members in both its plants, Hyderabad and Bhongir. It partnered with Asther Prime and KIMS Hospital for Hyderabad and Bhongir, respectively. Rrajesh Khosla, President and CEO of AGI glaspac, said, "At AGI glaspac, we consider our employees as our biggest assets, and their well-being has been our priority. We ensure that all our employees and their dependents get access to the vaccine."
Progress, in partnership with Star Hospitals, conducted the vaccination drive in its office in Hitech City, Hyderabad, for all its employees and extended it to their family and friends as well. Progress also organised a similar drive for its Bengaluru office.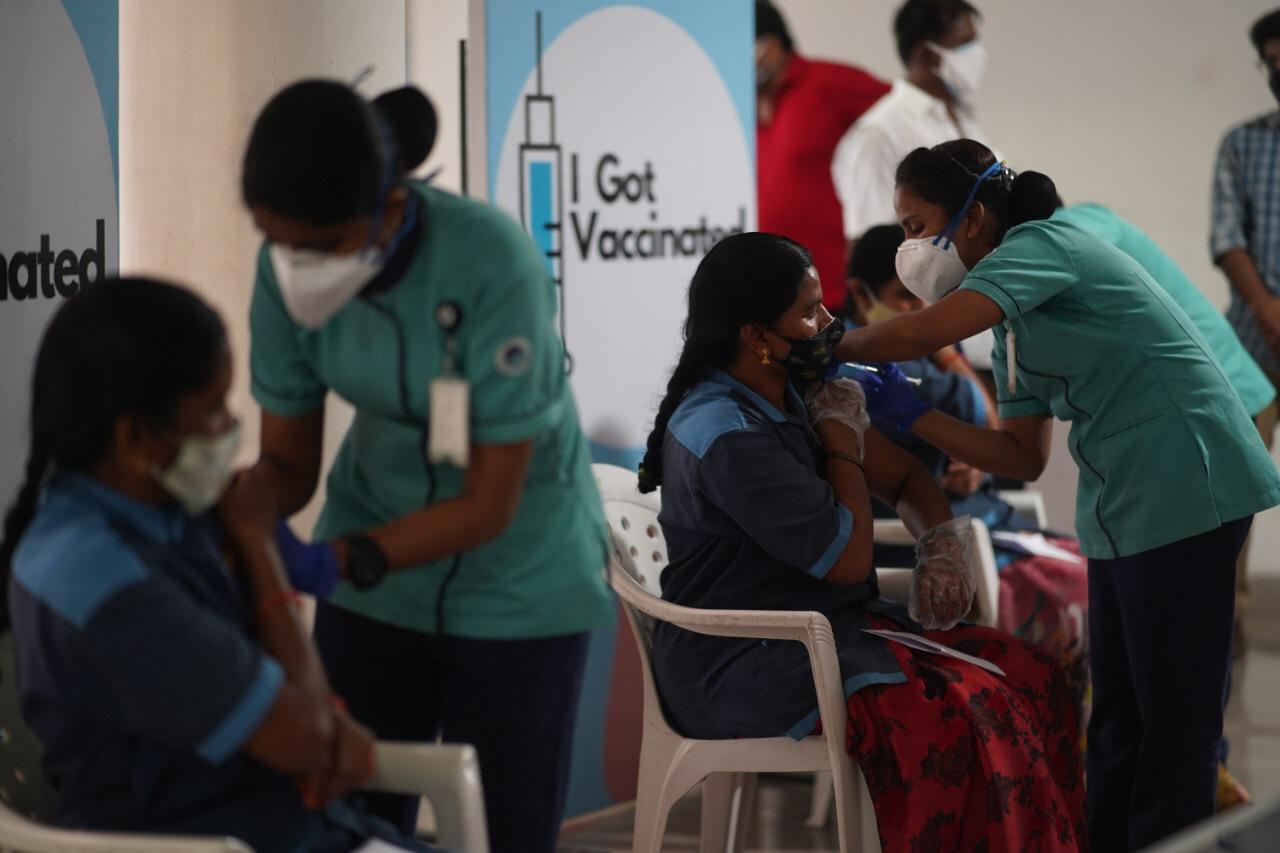 Prasanna Anireddy, Senior Director at Progress, said, "Ensuring the safety of our employees and their families and helping them go through this crisis has been a priority for us. This has increased the level of confidence amongst the employees of Progress as they will have better protection against COVID-19"
T-Hub collaborated with Star Hospitals and its startup, AdOnMo, to organise T-Hub Vaccithon at the T-Hub campus. The drive supported the T-Hub employees and their families but was extended to the startups, corporates and academia as well.
Ravi Narayan, CEO of T-Hub,said, "Vaccination has become the need of the hour in India, especially after the brutal second wave of the pandemic. These drives will enable us to reduce the pressure on public healthcare systems and help India counter the pandemic more effectively."
WE HUB partnered with private hospitals for the vaccination drive and got its staff and startups, including their family members, vaccinated.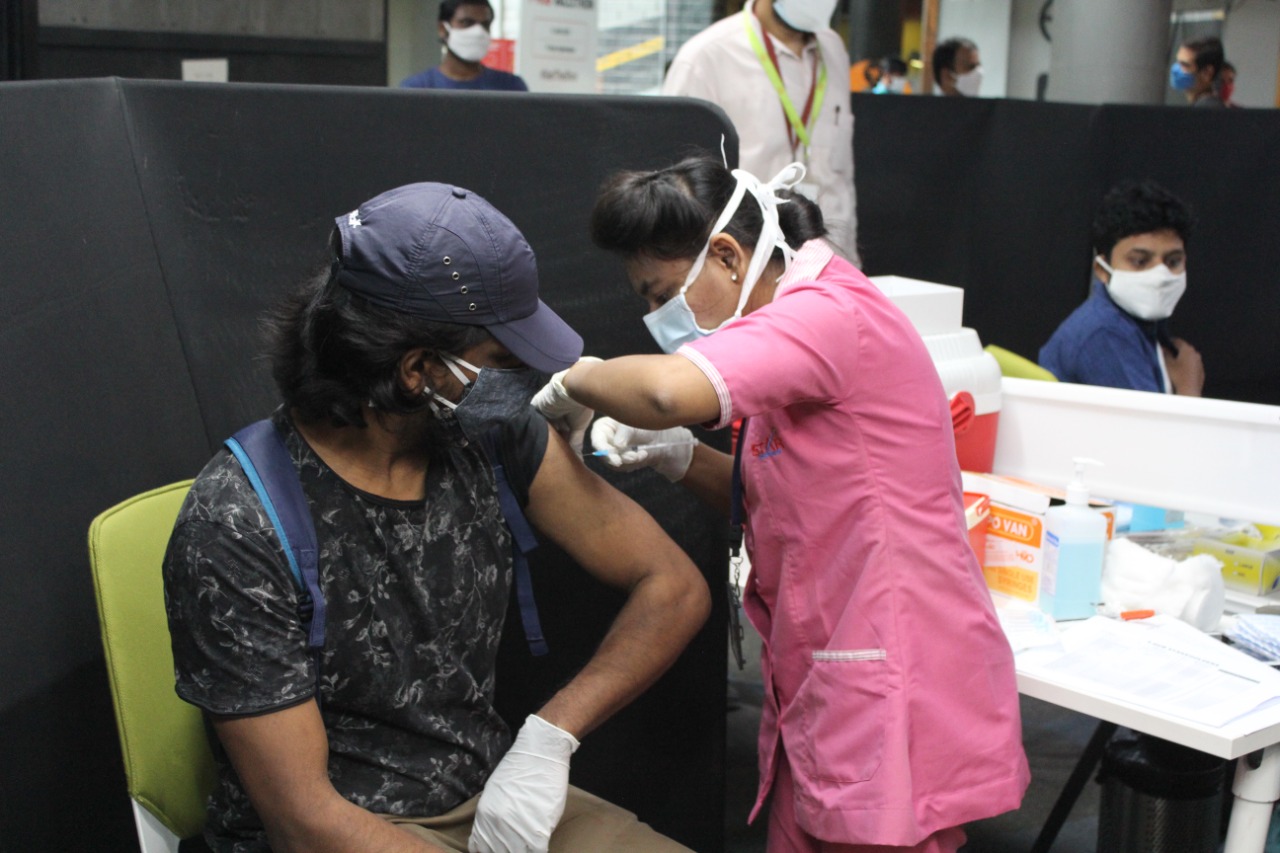 Deepthi Ravula, CEO of WE HUB, said, "We have always been at the forefront in standing by the team, and we wanted to ensure the safety of the team first. We are happy that the WE HUB team is now 100 per cent vaccinated."
Qentelli has also organised a workplace vaccination drive for its employees and their families in Hyderabad in partnership with the Rainbow Hospital.
Rashi Srivastava, Executive Vice President, Qentelli, said, "The well-being of our employees has been at the centre of all our business. Over the past one and a half years, we have reenergised our focus to an employee-first approach, which has been our proudest achievement during these times."
 Similarly, many other international schools, housing community societies, along with other corporates across the city, as well as in other states, too, have been organizing vaccination drives. The employees also find it is convenient to visit their offices with elderly parents, 18+ kids and spouses to get their shot.