We just spent a good amount of time with the iPhone 5. The phone feels very thin and light (obviously), and the improvement in performance is very noticeable compared to the 4S. Apple didn't have any games (and obviously no benchmarks) preloaded on the iPhone 5 demo units so we'll have to wait until launch to really quantify performance.
The display does look noticeably better than the 4S and the extension of the screen height seems natural. We'll be posting more detailed impressions later on, but for now enjoy the photos/video below:
[youtube id="ynBpKpjq5Oo" width="600″ height="340″ position="left"]
So we've spent even longer with the iPhone 5 and have some pretty solid impressions of the device. First, the display is indeed noticeably more vibrant than the 4S, which isn't super surprising considering Apple's move from on-cell to in-cell touch and full sRGB coverage. We'll be able to tell in due time just how close it comes to 100% sRGB, but what we saw was very impressive. Touch response remains completely fluid and 1:1, if you're concerned about going to in-cell introducing digitizer recognition issues, rest assured there didn't seem to be any here.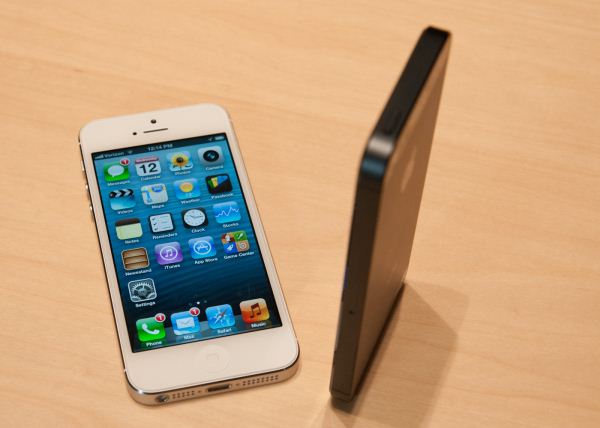 The iPhone 5 also feels substantially different in the hand. It always shocks me how much a simple materials change makes something feel, and it's always impossible to convey these differences, but the lighter and thinner form factor is very perceptible. The 4 and 4S always felt solid, the 5 moves to a much more ethereal form, and the lightness almost makes it feel like a hollow metal box. It's very hard to convey. Likewise the cutouts at top and bottom appear to be glass, but there's no noticeable gap between them and the unibody metal main body; this is very polished.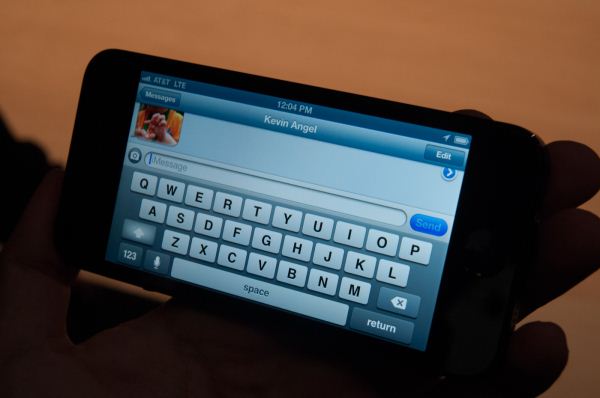 One of the questions I had upon seeing the change to 16:9 aspect ratio was what the landscape keyboard UI would look like with this larger real estate. The answer is that it simply extends all the way across and takes full advantage of it.

Apple didn't call out the nanoSIM explicitly, but side by side with the 4S it is immediately obvious this is indeed true, as the removable slot indeed is smaller. You can see that above.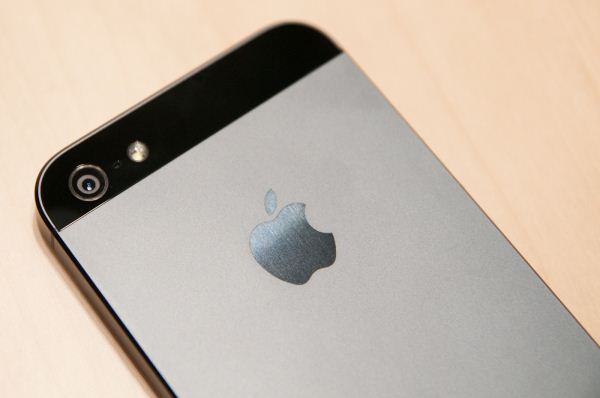 The 4 and 4S construction consisted of two glass plates which snapped onto the metal antenna band that circled the phone. With the 5 this changes fundamentally – the back no longer has a piece which attaches, and likewise there's no corresponding gap on the top for the display. The 5 instead has a polished edge chamfer which runs around the external band. In addition the 5 also continues to use the dual cellular antenna architecture first introduced with the iPhone 4 CDMA for Verizon, then made official on the 4S. These are the bands whose position remains roughly the same on the 5.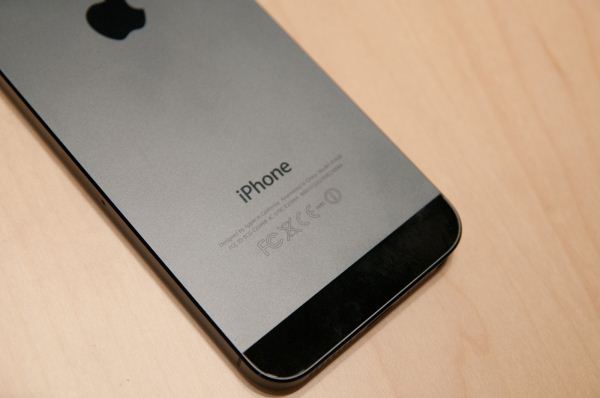 Performance is noticeably improved on the 5 as expected given the presence of two Cortex A15 CPUs inside the new Apple A6 SoC. Of course, Apple allowed no benchmarking at the event so we couldn't run any objective tests, but we pulled up Maps and 3D buildings which didn't appear to drop any frames. Compared side by side with the 4S showing 3D buildings in downtown San Francisco it was even more dramatic. Safari loaded pages quickly over the event WiFi and on LTE, but we couldn't explicitly time anything.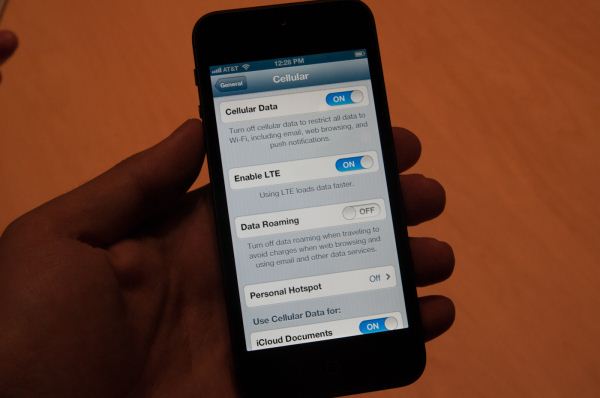 Inside Settings Apple has included an LTE toggle just like on the iPad 3 with 4G LTE. I didn't get a chance to see if FieldTest.app was present, unfortunately.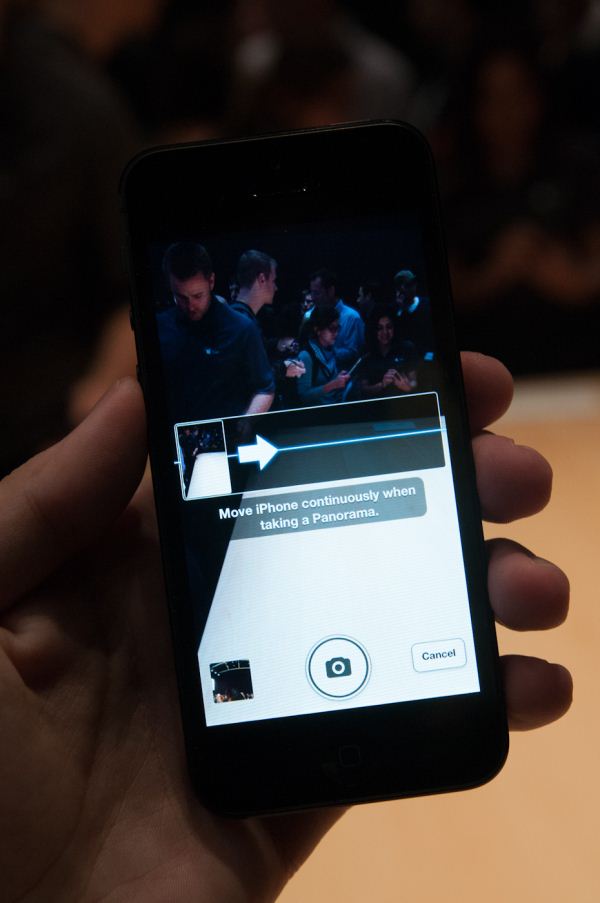 Camera on the 5 launched and performed very well. I was able to rapidly snap photos on the device, though it's always hard to tell whether this is any faster than the previous generation without using a timer or capturing video. As a reminder, the iPhone 5 camera is still 8MP with likely the same CMOS sensor as the 4S, but slightly different optics. This time around the iPhone 5 rear camera is still F/2.4 but has a slightly wider field of view. Focal length appears to be slightly changed. Panorama works very well on the 5, it appears to be continually integrating while moving rather than taking a small number of individual captures. Apple has also changed the camera UI just for the iPhone 5 it appears, with a circular capture button and edge to edge bleeds for the preview. This looks a lot like the iPad camera interface. I played with the new 720p front facing camera as well, and quality looked good.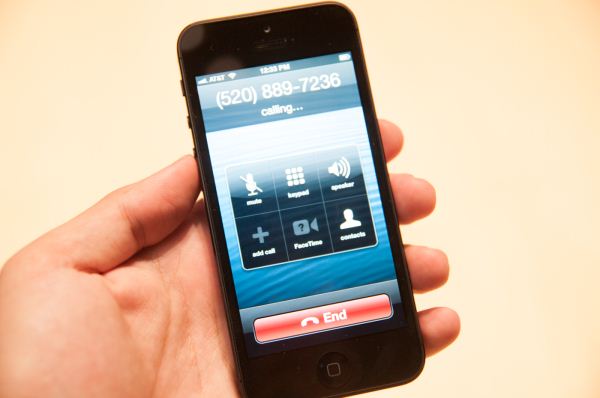 Note, this number is just an ASOS station I use for testing
Before heading off to play with the new iPods, I also placed a call to Anand and got some worried plus puzzled looks from onlookers. I think it's safe to say that we're living in the future when using a phone like a phone draws ire. In that brief time though I was able to roughly gauge voice call quality, which seemed very good. Interestingly enough I could tell that the earpiece noise suppression was working, as I felt the same kind of light pressure I do with active noise cancelation headsets.
I switched one of the demo units from WiFi (which was no doubt on 5 GHz, as it was working properly in an environment with crowded 2.4 GHz spectrum) to LTE and though I wasn't allowed to run a speed test, pages loaded quickly and there appeared to be no issues. There are three different models with different air interface and band support, as unfortunately even with MDM9615 there's no way for Apple to deliver truly world-mode LTE compatibility with all of the bands on one device. The PCB shots I saw this morning also seemed to suggest RTR8600 instead of WTR1605 like I originally suspected for transceiver, though the baseband is indeed MDM9615. Of course, you still need the corresponding power amplifiers even with a transceiver that supports more ports.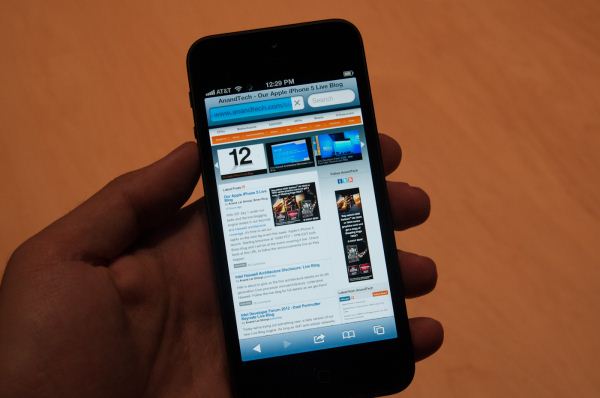 Overall after our short time with the iPhone 5 I'm very positive about the end result. The combination of new silicon and LTE alongside display and camera improvements craft a very positive outlook for Apple's iPhone line.
Physical Comparison
Apple iPhone 4
Apple iPhone 4S
Apple iPhone 5
Samsung Galaxy S 3
Height
115.2 mm (4.5″)
115.2 mm (4.5″)
123.8 mm (4.87″)
136.6 mm (5.38″)
Width
58.6 mm (2.31″)
58.6 mm (2.31″)
58.6 mm (2.31″)
70.6 mm (2.78″)
Depth
9.3 mm ( 0.37″)
9.3 mm ( 0.37″)
7.6 mm (0.30″)
8.6 mm (0.34″)
Weight
137 g (4.8 oz)
140 g (4.9 oz)
112 g (3.95 oz)
133 g (4.7 oz)
CPU
Apple A4 @ ~800MHz Cortex A8
Apple A5 @ ~800MHz Dual Core Cortex A9
Apple A6 (Dual Core Cortex A15?)
1.5 GHz MSM8960 Dual Core Krait
GPU
PowerVR SGX 535
PowerVR SGX 543MP2
?
Adreno 225
RAM
512MB LPDDR1-400
512MB LPDDR2-800
?
2GB LPDDR2
NAND
16GB or 32GB integrated
16GB, 32GB or 64GB integrated
16GB, 32GB or 64GB integrated
16GB or 32GB NAND with up to 64GB microSDXC
Camera
5MP with LED Flash + Front Facing Camera
8MP with LED Flash + Front Facing Camera
8MP with LED Flash + 720p Front Facing Camera
8 MP with LED flash + 1.9 MP front facing
Screen
3.5″ 640 x 960 LED backlit LCD
3.5″ 640 x 960 LED backlit LCD
4″ 1136 x 640 LED backlit LCD
4.8″ 1280 x 720 HD Super AMOLED
Battery
Integrated 5.254Whr
Integrated 5.291Whr
Integrated ?? Whr
Removable 7.98 Whr
Via: AnandTech
More: CNET, SlashGear, iPhone in Canada Blog, The Next Web,Geek.com, Gizmodo and MacRumors