(The latest offering from the Gionee Stable-ELife E7)
Whois Gionee?
Gionee might sound alien to people whose ears have been echoing with buzz of brands like Apple, Samsung & Nokia, but make no mistake here. With over 2000 employees, an active R&D center and huge market presence in countries like China, Taiwan, and Myanmar & Middle East, Gionee is too big a fish to miss. Gionee has evolved as one of the leaders in its domestic market with an 11.2% share of the GSM market. Only about 2 years ago did Gionee start looking at markets outside China.
What's so great?
Gionee has adapted a whole new strategy by churning out great quality products with very high specifications at affordable price. Let's find out if the brand really lives up to the buzz.
Diversified Product Range: Gionee mobiles has introduced Android smartphones starting from about Rs.4,300(Gionee Pioneer P1) extending up to Rs.30,000 (Gionee Elife E7).This diversified price points give them a presence across all budget segments of smartphones.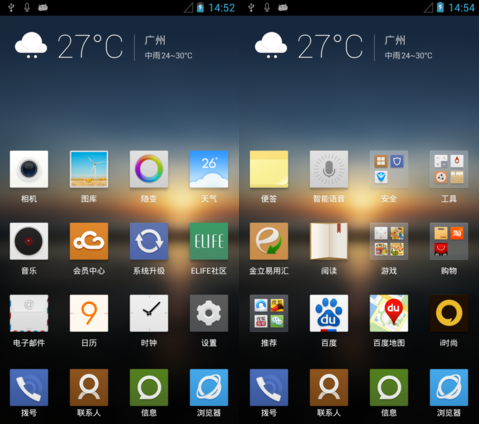 (The Flattened icons Courtesy-The Amigo UI)
User Interface: Gionee devices flaunt their own UI, christened 'Amigo'.Amigo is based on stock Android 4.2 & boasts of additional layers of privacy protection, intelligent offline voice assist& flattened square handle for the applications icon. The task manager in Amigo resembles the one in iOS 7.Amigo makes sure that user has a differentexperience with the Gionee smartphones as compared to its Android peers.
Build & Design: Gionee has not compromised with the build quality. Most of its devices have polycarbonate material body, which does feel like plasticbut gives the strength of a typical Nokia handset. The unibody design of its products exhibit a very solid feel.
Camera: This is one of the strongest features of Gionee. Thesuperior camera in Gionee mobiles helps justify the price tag. In fact,Gionee's latest offeringElife E7 boasts of a 16MP primary camera with Largan lens and an 8MP front camera.
Powerhouse: Gionee phones are loaded with the Snapdragon series of processors from Qualcomm. This is very unreal of aChinese manufacturer, they are not sacrificing the quality of the products for the sake of keeping costs low. The processors are optimized in a way that there are no signs of performance lag in their high end product range.
Configuration Optimization:  Apple and Samsung have always launched their top-end models with different storage capacities. This is an attempt to making the most out of the audience that is used to ordering 'large fries' every time, irrespective of the need. Gionee on the other hand is playing a different game with its Elife E7 model. The phone comes in 2 different processor speeds depending on whether it is 3G only or 4G enabled. Also, the RAM is 2GB with a 16GB storage and 3GB with a 32GB storage. Although, this might be an honest attempt from Gionee in terms of product but this will make it confusing for customers, having to deal with same model name with different performances.
The Billion Dollar Question
Will Gionee be able to make a mark in the $10 Billion worth Indian mobile market? Here's summing up the Gionee stand for Indian market:
Products – Although homegrown brands like Micromax has shown high end specs on papers but have lagged when it comes to real environment performance. Gionee seems to be at par with other international brands when it comes to performance.
Price – The phones aren't as cheap as a Lava or a Micromax that flaunt similar spec sheet but they aren't premium priced also.
Brand – The brand affinity is a major a king maker for Indian consumers. Samsung, Nokia, Apple and lately Micromax are way ahead in this curve. Gionee will have to put in a lot of good PR and marketing dollars to win this battle. Though, the fact that Gionee also manufactures low end phones that will be used by the lesser affluent crowd might backfire for its brand. Similar to what Nokia suffered and ultimately lost its leadership position to Samsung.
After sales service – After sales services of most of the Chinese phone has been always questioned. Gionee is making aserious effort here. It has already sanctioned 150 brand dedicated sales & service points across India. In the automobiles market Fiat has suffered due to lack of dedicated dealer network and now seems to be making a comeback by expanding the network. Gionee needs to keep this in priority.
It's very evident that Gionee is battling for the market space held by top players like Apple, Samsung, Nokia& LG. Gionee is getting the fundamentals right but still has a long way to go before it can actually take over the giants.
About The Author
Naman is the founder of FindYogi.com – a buying decision platform for consumers. He has been involved with a couple of startups earlier. Here he tries to explore Gionee's offering in the Indian mobile market and see what the brand can possibly do.