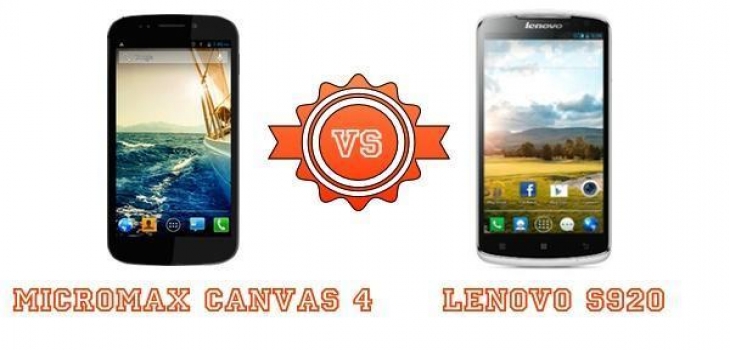 The competition fight for the best mid-range smartphone is tougher than ever. All the brands are focussing heavily into the mid-price segment of mobile devices as it is mostly popular with new smartphone adopters, who try to buy a better device by stretching their initial budgets. So all the brands try hard to offer as many features as possible. The most popular phones in the mid-range segment these days are the Micromax Canvas 4 and the Lenovo S920, which are both priced close to each other under INR 20K and offer almost the same specifications. Both offer quad-core processors and HD screens. Which one would you prefer? Confused? Let us clear your mind and help you choose the one which suits you the best and the one which offers more bang for buck.
Design & Build Quality
The Micromax Canvas 4 has a plastic body and the design which almost completely resembles the Blue Life One (a US based smartphone brand). It has aluminum finish sides and other things are made up of plastic. On the other hand, the Lenovo S920 resembles closely to the last year's HTC One X. Both, the design and build quality appears to be better with the Lenovo S920, as expected from an international brands.
Screen & Camera
The Canvas 4 has a 5 inch 720p HD LCD screen with a pixel density of 294 PPI, whereas, the Lenovo S920 has a larger 5.3 inch 720p IPS HD display with a pixel density of ˜277 PPI. The screens used in Micromax smartphones have a bit of low contrast, in general. But the Micromax Canvas 4 has better screen sharpness. Screen sharpness affects the readability a lot. Apple first introduced the idea of 'Retina Display' moniker which actually meant the screen sharpness so high, no matter how hard you try, a human eye can't distinguish between individual pixels. This means everything is super sharp and you won't see any jagged edges while reading the text or any other curvy things. These days, almost all the smartphones starting from mid-price range are coming equipped with screens whose sharpness is either close to or higher than 300 PPI. Such screens give a very pleasant experience while web browsing or using other things related to text.
The Canvas 4 has a 13 MP rear camera sensor from Sony, the same sensor which was used in the Sony Xperia Z. It has autofocus and LED flash and can record full HD 1080p videos. There is a 5MP camera at the front of the Canvas 4. On the other hand, the Lenovo S920 has an 8 MP rear camera sensor which can record HD videos. Overall, the cameras used in the Micromax Canvas 4 is better and also gives better final results in terms of image and video quality. Also, if you're a kind of person who craves for self-portraits, the Micromax Canvas HD is your best choice as no one else other than canvas 4 in the market has a better front snapper.
Hardware Performance, Software & Connectivity
Both, the Canvas 4 and the Lenovo S920 are powered by the same 1.2 GHz quad-core MediaTek MT6589 processor. It is based on ARM Cortex A7 CPU architecture which is known to be power efficient. Both have 1 GB of RAM so multitasking would be smooth but it depends upon the manufacturer and the software optimization. The Lenovo S920 comes with just 4 GB of ROM, out of which, only 1.77 GB is available to the end user. On the other hand, the Canvas 4 comes with 16 GB of ROM which can be called as generous at that price tag. Both perform similarly but the Lenovo S920 is smoother from time to time, thanks to better software and hardware optimization.
On the software side, both come with Android 4.2 JellyBean. But the UI design, software smoothness, animations and pre-installed apps are much better with the Lenovo S920 when compared to Micromax Canvas 4. Connectivity wise, both the phones have all the features such as Wi-Fi, Bluetooth, Dual SIM, HSDPA and Micro USB. But all the features in the Canvas 4 (Bluetooth 4.0, 42 Mbps HSDPA, Micro USB 3.0) have newer versions and are faster than the ones on the Lenovo S920 (Bluetooth 3.0, 11 Mbps MSDPA, Micro USB 2.0).
Value For Money & After Sales Support
The Micromax Canvas 4 surely seems to be a good value for money as the Canvas 4 price is currently Rs. 17,000 while the Lenovo S920 costs very close to Rs. 20,000 in spite of offering lower hardware specifications in comparison. But you need to focus on other important bits as well, such as the after sales and service quality and speed. Micromax seems to be lacking here completely, as they have lower number of service centers. Also, it supposedly takes more than a month to get your phone repaired or replaced as per costumer voice on blogs and social networks.
Overall, the Micromax Canvas 4 is a bit better in terms of value for money but when it comes to reliability and overall image, it is a no match for Lenovo S920.
About the Author :-
Ashwin works with Mysmartprice.com which is a price comparison website that helps users find the best price of mobiles, books, camera and lots more. Ashwin is a graduate of State University New York with an MS in Information Systems and an MBA from Amrita School of Business Bangalore. He writes on smartphones, gadgets, technology , ecommerce and marketing.