Nokia will introduce its latest Lumia 820 handset at a special event with Microsoft on Wednesday September 5th, we have learned. Images of the Lumia 820 leaked last week and we have been able to confirm them with multiple sources. The 4.3-inch Lumia 820 will be Nokia's new mid- to high-end Windows Phone and will feature some of the same impressive hardware specifications that its big brother (Lumia 920) also includes.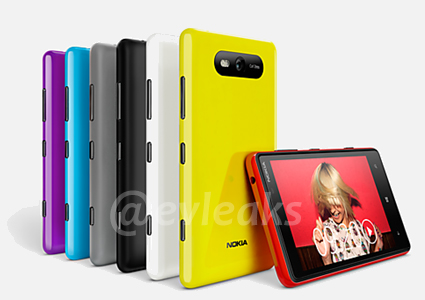 Like the 920, wireless charging on the Lumia 820 will be available too — allowing users to charge the device on a specially designed pad without cables. However, we undertand that owners will need to purchase an additional cover to enable the functionality. One unique aspect to the Lumia 820 is the ability to change the rear covers of the device. We understand that, like the 710, owners of the 820 will be able to purchase additional colors for the device.
Nokia's Lumia 820 will also include 8GB of storage, but the company is including support for a microSD slot to expand this further. A 1.5GHz dual-core processor and 1GB of RAM will help power the Lumia 820 — identical to that of the Lumia 920. We understand that the Lumia 820's camera will be similar to its Lumia 920 counterpart, but we're unable to confirm whether the company will be branding it as PureView.
We're expecting Nokia to announce the device on Wednesday, with a launch date expected in late October or early November.
Via: The Verge
More: Examiner, Neowin, Gotta Be Mobile and PhoneArena