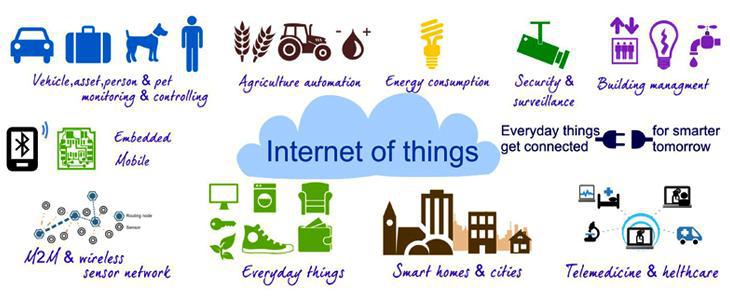 A woman wearing high-tech spectacles walks into her kitchen and opens the door of her refrigerator that tells her spectacles that there is no more milk. Then, the fridge or the spectacles sends a tweet to her husband asking him to pick up a carton of milk on his way home. When her husband reaches home, his car talks to the garage door which automatically opens. Hurrying in to catch the soccer game on TV, he forgets to lock the car. When he switches on the TV, it notifies him about the unlocked car. Does this sound like a scene out of a sci-fi Hollywood blockbuster to you? It sure does but this is soon to become a reality thanks to the latest in the world of technology. Welcome to the Internet of Things!
 What exactly is the Internet of Things?
What we know of the Internet or the Web has primarily been focused on people until now – people building websites, surfing them, looking at screens and typing on keyboards. As technology has advanced, two major developments have surfaced that now seem to be coming together – The Internet of Things and The Internet of People. Gartner defines the Internet of Things as "the network of physical objects that contain embedded technology to communicate and sense or interact with their internal states or the external environment."
To put it simply, in the near future billions of individuals and businesses along with billions to trillions of smart communicating devices will enlarge the current boundaries of business and social systems changing the very way we work, entertain, learn and innovate. People, information and technology are becoming more connected, pervasive and distributed breaking down the walls that separate the physical and virtual worlds.
What are the opportunities?
According to Hans Vestberg, CEO, Ericsson, 50 billion devices are expected to be connected to the Web by the year 2020 (See Figure 1). Currently, there are about 1.5 billion PCs and less than 1 billion phones connected to the Web. So a number like 50 billion means about 7 devices for every human being on this planet. Now that's something to think about! Leading market research firm, IDC forecasts more than 16 billion devices would be connected to the Internet by 2015 (See Figure 2).
The exponential growth in the number of smart devices getting connected to the Internet has opened up a plethora of business opportunities for entrepreneurs and start ups that are waiting to be explored.
So what are the business opportunities that the world of Internet of Things has opened up? Figure 3 shows the segmented application growth so far in Internet -enabled-device revenues and the expected growth for 2014.
 Given that the revenues are expected to be over $10 billion in the coming year and the incremental revenue is estimated to reach $309 billion per year by 2020, it clearly opens up a host of new business opportunities, half of which are expected to be tapped by new startups and 80% of which will be in the services sector. The industries that are the frontrunners in the digitization of everything are manufacturing, health care and insurance. The table below depicts the value to the connected life in monetary terms as per a study by GSMA, in partnership with Machina Research.
The definition of a smart device has now expanded to include a number of devices other than mobile phones and laptops. As health monitoring devices, telematics in vehicles, smart grid meters and equipment converge with IT and network infrastructure, there is a growing need for solutions and applications that promise an increase in productivity and efficiency. In the Indian context, entrepreneurs can benefit immensely by building applications and solutions in areas like the conservation of energy and water, healthcare, food wastage and transportation systems.
According to Nagasai Panchakarla, Co-organizer of the IoT Bangalore Community, there is a colossal wastage of food grains, fruits, vegetables etc. to the tune of Rs 44,000 crores in India every year right from the procurement stage to its storage. He feels that the wastage can be greatly minimized with the help of automated monitoring at every stage. ISKCON's Akshayapatra Foundation is a case in point that provides food for around 1.3 million children everyday thanks to their automated kitchens and an efficient GPRS system that tracks each meals distribution vehicle.
Who are playing with the Internet of Things?
One of the early adopters of the Internet of Things is Bangalore-based Connovate Technology that is behind the low-powered Bluetooth device Gecko. Among the many features of this coin-sized device is the ability to monitor various things and bring gesture controls to smart-phones. A few of the many applications of Gecko include triggering a camera to snap pictures or take a video, using it as a tracking device or monitoring device.
For instance it can be tagged to a pill box that sends a reminder alerting a person to take their medication at a certain time of the day. It can also be tagged to a door to get alerts when it is opened or closed.  Another company is Superflux, an Anglo-Indian design practice that is focused in the field of emerging technologies that interface with the environment and everyday life.
IoT Bangalore is an open community for those interested in learning about the Internet of Things (IoT) and building IoT-based products. Members meet regularly to discuss the subject and work on projects that are both educational and commercial.  The community is made up of 450+ members that include students, academicians, specialists, novices, hobbyists and DIY-ers.  Generally their meetings are very informal and anyone who wishes to join the community is welcome to do so.
What are some of the challenges?
As exciting as the Internet of Things sounds, there are a few challenges that need to be overcome to truly benefit from this emerging technology. Machine-to-machine (M2M) communication in its truest sense is possible if everything works together. Currently there are a few limitations as each company prefers to use its own proprietary technology. For instance a Samsung fridge cannot talk to a Phillips TV. Another aspect that needs to be looked into is to do with security. With millions of smart devices getting connected rapidly, there is an inherent need to come up with robust security measures that address an individual's privacy too.
What is the way forward?
Understandably it will take some time for the widespread adoption of the Internet of Things. However, the good news is that the rapid developments in the underlying technologies are helping immensely in advancing the timeline. Added to this is the fact that non-profit organization The Linux Foundation has launched the AllSeen Alliance, an initiative backed by 23 consumer electronics companies and software applications like Sharp, Qualcomm, LG and Panasonic who are working together to address the issues related to compatibility among devices and bring about some standards relating to the Internet of Things.
The AllSeen Alliance is also working towards bringing about a vendor-neutral approach with the help of open source software and collaboration development. The foremost advantage of doing so would be the development of services that can be introduced in the market a lot more quickly.
The Internet of Things is certainly opening up an array of exciting opportunities for startups and entrepreneurs in the areas of information, analysis, automation and control. Even though its full-fledged adoption is a few years away, now is the right time for early adopters across all industries to streamline their efforts in exploiting the breakthroughs in this new game changing field.
Featured Image Credit:  meetupstatic