Title: Temple Run 2
Rating: 5/5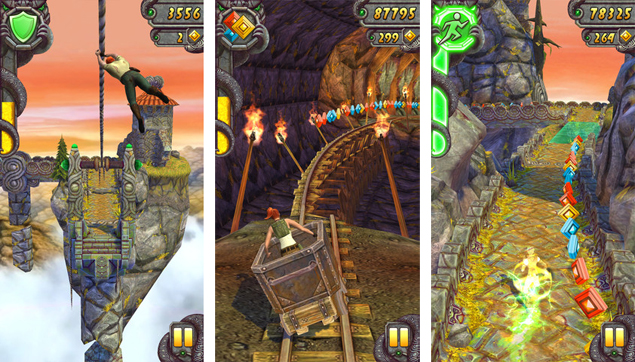 Bottom Line: A beautiful upgrade to the most popular Temple Run app.
Temple Run 2 was released on 17th January 2013 on iOS and within four days of its release on iOS, over 20 million copies were downloaded. It was released on Android a week later and till today, Temple Run 2 has become the fastest growing game with about 50 million downloads on iOS and Android within a short span of time. The game keeps its promise of a beautiful upgrade to most widely played Temple Run game. With new features, new layout and the new scenes, its gives almost a magical touch to the game, however the basic gameplay remains the same in which you are the thief and you just have to keep running from the wild big bear (replaced by three monkeys in Temple Run 1).
The game offers new power ups and new scenery designs which adds to the beautiful gameplay. However, personally speaking, the difficulty level of the game is slightly increased which is even more challenging and becomes more interesting to play.
Keith Shepherd, co-founder of Imangi (Developer Company Temple Run series) said, "Temple Run has evolved into something so much bigger than us. The game has performed beyond our wildest dreams, and we are thrilled that gamers and fans have embraced Temple Run 2 in such a short period of time."
Verdict: Go for it, you surely cannot afford to miss this one. It's worth a download, has the ability to make you jump off your seats!!