The four biggies of tech – Apple, Google, Amazon and Facebook have been creeping in to each other's turfs for years now. In 2013, their war is set to escalate around two fronts: hardware and search.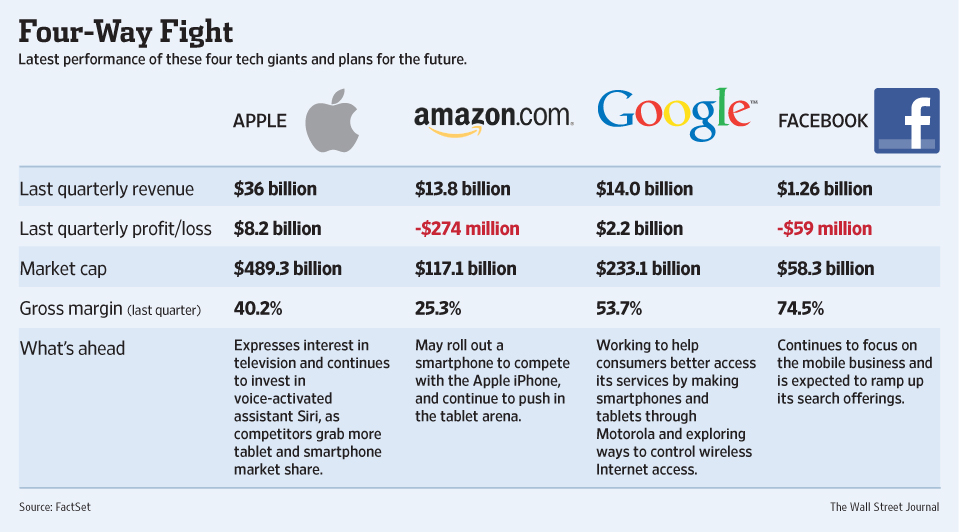 Software giants including Google and Amazon are interested in ramping up hardware to boost customer loyalty and to extend control over their software services and the revenues that flow from them. That is heightening their collision course with Apple, which is responding by building more of its own software to make its devices stand out.
Google, with the $12.5 billion purchase of Motorola Mobility under its belt, plans to use the phone maker to release new Android devices to help knock Apple's iPhone off its perch. And Amazon, which has upped the ante in the tablet wars with the Kindle Fire, has also been testing its own phone.
Meanwhile, all four companies see search as a big opportunity for retaining and profiting off customers. While Google's paradigm of typing queries in a search box has prevailed for years, now its rivals want to undercut the Web-search giant through mobile search on smartphones and other devices, and a slew of search services that allow recommendations from friends.
Apple's foray is Siri, a voice-activated service that answers queries about topics like the weather or sports scores from the iPhone or iPad homescreen. Next year, the company will continue its hunt for new data to power the service, making it useful for a broader number of queries.
And at a conference in September, Facebook Chief Executive Mark Zuckerberg riffed on the myriad ways that friends could provide useful answers. He said the company would expand its search capabilities in the future.
The four companies are clashing in other areas as well, from e-commerce to online ads.
"They are all getting into each other's market," said Opus Research analyst Greg Sterling. "It is a land grab in a way" to appeal to developers, who can help make their services truly ubiquitous.
It will be interesting to see what these biggies do this new year.
Read More: WSJ