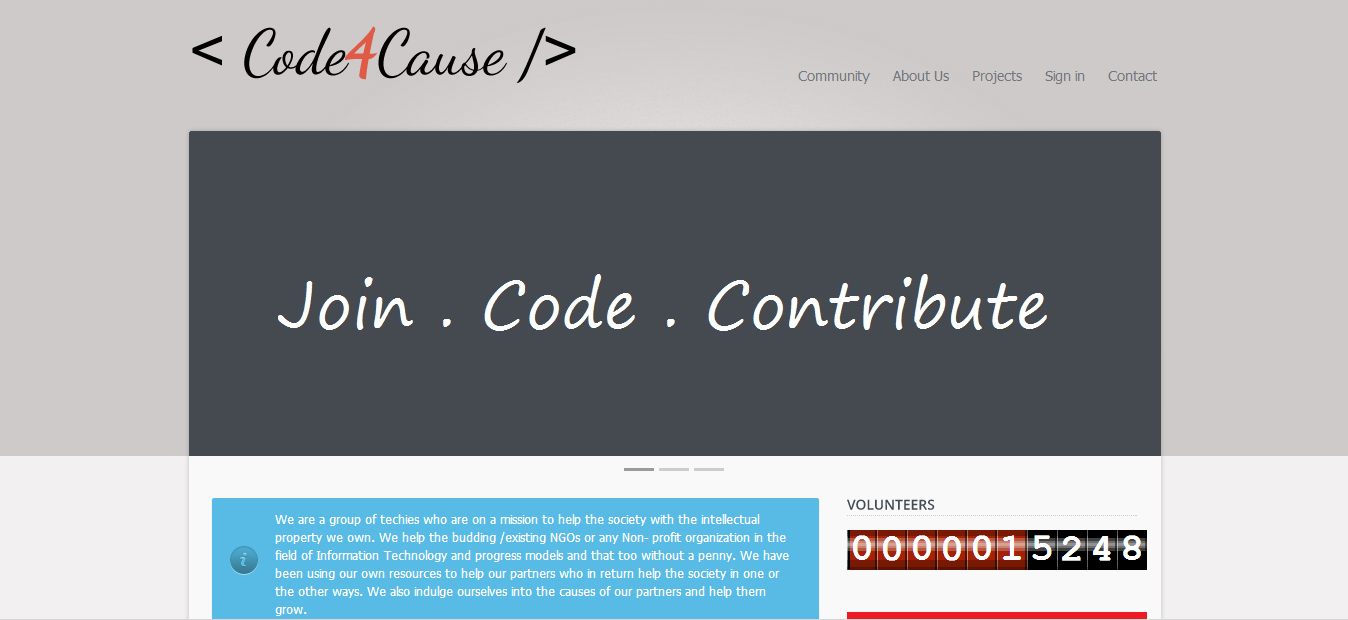 While we look around and find problems, the determined ones find solutions. A lot of NGOs today are fighting hard battles against the many evils in the Society.  For a larger part of the population, helping out the NGOs would mean donating money or volunteering their time physically at the required location.  With India being home to one of the largest IT pools in the world,  could we change the way NGO's operate today?
Code4cause was founded by Arun Rajiah (also a founder of few start-ups)  in 2011 when he was working in Cognizant and soon the wave turned into a tide engulfing many young guns. The startup helps  budding /existing NGOs or any Non- profit organization in the field of Information Technology and progress models. Currently, Code4Cause proudly associates with more than 15,000 volunteers helping to serve a noble cause.
The Startup provides their services in many different ways to the NGOs – Free Software Application Development, Mobile App development, Student Hackathons,  Collaborating on Social Projects, a non-profit business model for NGO's to sell their products offline/online and others.  The team has their footprints in various countries such as UK, Ghana, Kenya, Finland, China, India and others.  With very recent release being NGO Helpdesk, the team consists of volunteers dedicated to use technology for the betterment of the society. If you wish to join the team as volunteer, reach out to them here.
Code4Cause Team
Arun takes care of the core part, the software development and strategy. Abhishek takes care of partner program; NGOs are interviewed by him before we start working with them. Pradipta takes care of volunteer engagements and run campaigns in different colleges. Vignesh takes care of legal part, to make sure the softwares developed by volunteers are not commercialized. Apart from the core team, they have region (state/country) wise heads, who will take care of the NGO/project portfolio for their respective region.
Here is the detailed interview with Arun, where he explains the idea, progress so far and the future plans.
Tell us more about Code4Cause and the idea behind it. What motivated you to start it?
Code4cause started with an honest thought of helping those who help the needful. First we started helping the friends who were already involved in the activities of charity. We wanted to contribute to their achievements in some way or the other, since we are coders we decided to contribute with what we are best at, hence came the concept of code4cause.
How has been the journey so far? Do brief us on the highlights and key achievement of the team, your clients and the work you guys have accomplished so far.
The journey has been exciting and filled with immense satisfaction. We got a lot of positive response from people and organizations. There has been a lot of contribution starting from college students to the CxOs. Our team is a perfect amalgamation of both skills and genuine effort. Team is excited and full of energy to contribute both in coding and in spreading the awareness. Our clients are our sole driving fuel; we are inspired by them and with their efforts. We also have a bench of advisors who help us in achieving our goals. We started as a small team but now code4cause has spread all over the globe. We have volunteers and clients not only in India but all over the world. This milestone has been achieved in less than 2 years. Our works include creation and maintenance of the website, software applications which is the face of the NGOs and provide digital marketing, fundraising, skill development consulting for NGOs.
In the current market scenario where we find everyone is looking to make a pile of money by developing big websites like social networking portals and ecommerce websites, how does Code4Cause motivate coders to contribute their time, knowledge and other resources?
We are not the only one; there are many open source communities around the world developing software for free. It's because we love it and we do it for free.
The Code4Cause culture is different, you can see a volunteer who work as a senior manager level in large IT giant will actually work as a developer role in code4cause, sometime student play a project governance role. This is their own choice, but we always make sure they are mentored by a highly experienced volunteer. Every project provides lots of experience for the volunteers. It's not just a startup culture, it is more than that.
Volunteers work closely with NGOs, understand their problems and start coding. There is no requirement document, no project managers, and no deadlines. This is one of the biggest motivations for our volunteers.
More than that, we call it a pleasure of giving, an achievement of satisfaction which no money can buy. We are lucky enough to get good education, stay in houses which are safe in natural calamities, enough food to satisfy our hunger, but not many are born lucky. It was just a selfless thought or rather a realization of humanity that made us thinks beyond materialistic pleasures. None of our volunteers are paid salary in code4cause it's just their sheer honesty and humanity which makes them dedicate their valuable time and their education for the people who need them.
What are your future plans?
There are many,
Our future plan is to reach to the nook and corners of the globe and help the NGOs achieve their goals in a better manner. We are working on a model in which we have dedicated people for each NGO who will provide them assistance both in Information and technology as well as in business models and fund raising activities. Additionally code4cause is working on an e-commerce platform where we would showcase talents from corners of the world who are not getting a proper market to display their local talents. The platform would be free of cost and would help the grass root talents to get the correct value of their efforts by eliminating the middle men. We also look towards partnering with likeminded organizations to strengthen the movement.
We are planning create Code4Cause centers across India and invite technology students to work with us to deliver better solution for social problems.
 Being an NGO, we would like to know about the institutions that support Code4Cause's finances. Also, do you run any preliminary tests to ensure the quality of the volunteer before they start coding to help you out?
There are not much financial help required to run Code4Cause. It works just with dedication and the basic finances were contributed by our volunteers. But in future, we are planning to start fund raising to run our e-commerce and Code4Cause centers. We are already started working on it.
There are no preliminary tests if you would like to volunteer. Anyone who is willing to dedicate some time, effort and interested to learn something new every day qualifies for the job. Our ideology is to bring in as many people as possible who think in the same frequency. The projects are executed by the people who has hands on experience in industry, they select the volunteers and provide them guidance or on the job training.
We also have an army of college students who work with experienced people from the industry, which helps them in attaining the industry standards even before getting into it.
What is the most difficult part of managing Code4Cause? Do share your key learnings in the journey so far.
Code4cause runs virtually, we never meet most of the volunteers or NGOs before. Keeping volunteers engaged and make sure the product is delivered on time is always a challenging job for us.
But with a constant effort of our volunteers and cooperation from NGOs things have been quite smooth. Our challenges are to bring in the talents and assigning them projects. As it's not a usual work environment monitoring projects is a bit of task.
We interview NGOs in Skype, we have project meetings in Google hangout and we use most of the social networking site to get more volunteers. Marketing was never free hence we used free media to spread the word, thanks to the modern social media. Every day is great learning experience for us.
TTP's take on Code4Cause
Kudos to Arun Rajiah for this innovative and noble vision of helping NGO's with technology.  Achieving the current status – with 15,000 volunteers and footprint in so many countries is not an easy task and it shows the dedication, efforts and planning that went into Code4Cause.  We hope Arun & his team achieve many more milestones in the years to come!