GOSF 2013: An Example of How To Do Things Wrong
Posted On December 11, 2013
---
Google's Great Online Shopping Festival is back again this year and surprisingly things seem to be going awry at Google's end. While the Site www.gosf.in was running a countdown clock faithfully till about 11:50 PM on 10th, the site itself crashed soon after.  Most visitors complained early on about the website crashing several times early on and or about a countdown meter that showed -1 Days.
Clearly, GOSF 2013 seems to be off to a very rocky start.  Here are some of the possible reasons behind this year's shoddy mess.
Hands off Approach by Google
While last year Google  had personally driven the GOSF, approaching individual partners, running multiple Ads to entice visitors on TV as well as its various products, Google has been mellow this year.  In fact Google hasn't developed this year's site. A group called FMG Group that specializes in marketing has worked on the now defunct website. While the site had initially returned a 500 Error it also showed users a countdown clock with -1 Days.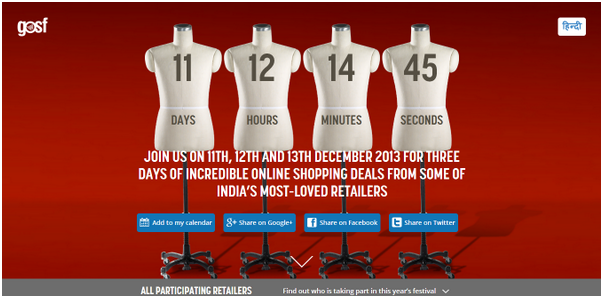 The site itself has already been hacked and now displays a Hello World message.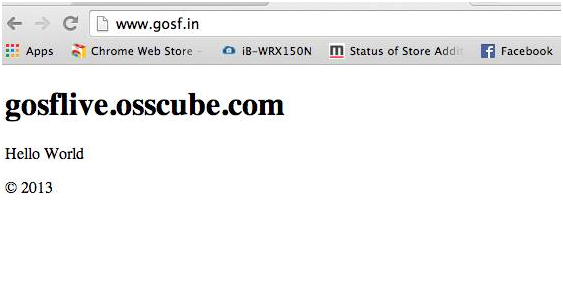 As this post goes live, Google has responded with a tweet apologizing but we feel it's too little too late.
We sincerely apologise for the inconvenience caused to shoppers on gosf.in. We are working on resolving these technical issues. #GOSF

— Google India (@googleindia) December 11, 2013
Confusing Partners
While GOSF 2012 had 70 odd partners, they were also some of the most prominent names in Indian ecommerce.  This year however GOSF has over 200 partners and frankly some of them are really way out of the ball park when it comes to relevance.  Banks, Insurance companies and even Car companies have seemingly offered online deals. Some offers read 2 Lakh off on Cars while others read Rs 10000 off on Dream Home. Clearly, GOSF has lost some of its plot this year around.
Consumer Scepticism
GOSF apparently is the Cyber Monday of 2013, however a preliminary survey of the offers seem to indicate otherwise.  Most offers are either redundant, in that they have already existed on the site or are misleading. A leading Twitter user had this to say about one such offer on SnapDeal.
Be very careful of deceptive marketing during #GOSF. First example on Snapdeal – Look at the orig price they mention pic.twitter.com/NUHvNaVqRC

— Raju (@rajupp) December 10, 2013
Clearly some ecommerce websites haven't adopted GOSF whole heartedly. Offers being misleading, or prices being raised to compensate for discounts etc seem to be claimed by several ecommerce customers.
Few Positives
Despite a gloomy start, GOSF 2013 has 3 whole days to turn things around and we are sure Google and ecommerce India will get the plot finally right.  There are certainly Few Positives to take away from the first day. The excitement is definitely high. Most users did log onto gosf.in early in the morning to check out the deals. Participants have definitely increased and it's definitely showing the increased interest in GOSF. Discounts for Fashion and Electronics etc. are also definitely high. In fact Fashion is one of the leading categories in terms of discounts this year.   One very good deal is the availability of Nexus 7(2012) at Rs 7999. Seasoned Deal hunters can still find the best of GOSF on sites such as MySmartPrice's GOSF page or others. Find deals across all categories including Electronics, Fashion, Books, Gaming consoles and lots more
Conclusion
GOSF 2013, will probably remembered more for the flaws than its merits. As an event that apparently occurs periodically, one would have imagined Google and partners to have planned for it better and executed the whole thing brilliantly. However, for now GOSF seems to be disappointing. Google itself will have to take some of the blame being the champion of the event, However the various partners too will have to shoulder some responsibility.  However with 2 days still left for the event, GOSF may still make a few customers happy. Here's hoping GOSF2013 is a success and ecommerce in India finds joy in GOSF.
About the Author:
Ashwin works with Mysmartprice.com which is a price comparison website that helps users find the best price of mobiles, books, camera and lots more. Ashwin is a graduate of State University New York with an MS in Information Systems and an MBA from Amrita School of Business Bangalore. He writes on smartphones, gadgets, technology , ecommerce and marketing.
---
Trending Now
You may also like