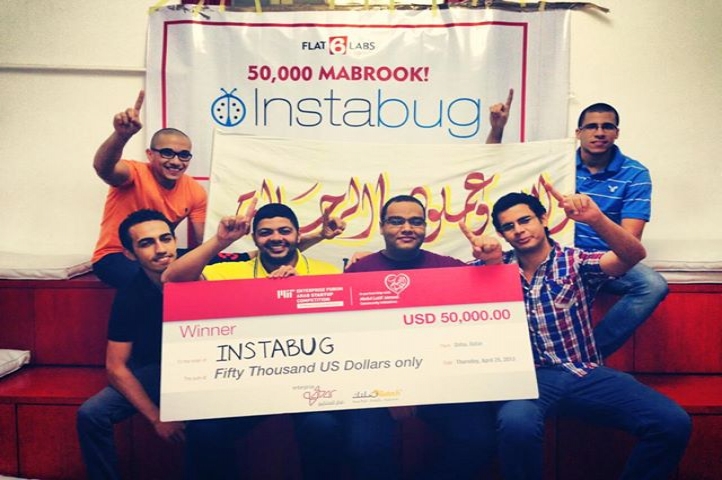 Once a mobile app has been created and launched, the most critical thing for the startup that created the app is clearing out the bugs if any. Since there will be your friends and other early adopters using the app, what you do is setup an email account like [email protected] and then from the inside the app, you allow users to send a message reporting the error or difficulty they are facing.
With Friends its okay, they directly chat with you or call you, so you know some of the things that need to be fixed.
But with early adopters, most of them don't use your internal feedback option, they just tend to login to the app store and type the bug there, which if pile's up can lead to more number of negative ratings.
InstaBug resolves this problem with the most simple solution for the users to provide feedback as well as for the app creators to integrate within their app. I didn't exaggerate when I said "Most Easiest Bug Reporting App"
For the app creators all you need to do is add one single line of code, and for the users, when ever they face an error or any issue, all they need to do is shake the device and InstaBug will immediately send the screenshot, the mobile device details, memory and disk usage, location and carrier details to the developers, which will help them to get a perfect clear picture of the issue.
Not only that, it also gives you a dashboard to keep track and a one page analyitcs and report which will show you the progress and will help you spot some trends as well.
InstaBug was selected in the top 10 finalists in the MobileBeat 2013 innovation showdown in San Francisco and they have got featured in FastCompany and VentureBeat.
We got an opportunity to talk to Moataz Soliman, Founder & CTO, InstaBug and dive more into the product and the entrepreneur journey.
What were the insights and trials you detailed through before coming up with the idea of Instabug?
With the huge rise of the startups ecosystem around the world we found a huge opportunity to build a product for startups serving that huge market. Also one of our founder Moataz, our CTO was working for Microsoft's HQ in Redmond, US as a software testing engineer with huge passion toward testing. This encouraged us to do a testing/QA startup that serves that market too. And from here came the idea of Instabug. We first started with a bit different idea that had many other features other that feedback management, but it was soon obvious that the feedback management is the single feature that the market really needs. So we decided to pivot and go deep into feedback reporting rather than going wide implementing too many features.
Instabug provides detailed feedback provided by users, you also provide a dashboard and analytics and reports, this means storing of large amount of data, How do you scale? Tell us something about the technology behind Instabug?
Our backend is based on PHP. We started with the regular famous frameworks offered, but it was clear that our needs are more than these one, so we decided to build our own framework by applying modification to the current frameworks available, which worked out great for us. The current framework we're using has been handling our data perfectly till now. We're also planning to migrate to a new framework that we've been working on that will help us scale even easier.
Are you still based out of Egypt? If yes, then with all the chaos going around, how are you managing the work?
Yes, our technical team is fully based in Egypt; we're planning to move part of our operations to the US though. It's a tricky time to be in Egypt now; we had to change our work times working from 10pm to 12pm in order to escape the times where demonstrations are going on. However since our office is close to the places of the demonstrations, we even sometime smell the tear gases right inside our office.
However, we felt that we need to be there, as all our team is based in Egypt, and most of our investors are there as well. Also we feel a sense of responsibility to the country that we need to be there and build a better Egypt.
How has been your experience at Google's BlackBox Connect?
It was great, there was a mix of entrepreneurs from all over the world, which was very interesting. Also the program was very well organized that it included visits, speakers and events that's very relevant to us at the current time. We're fortunate to meet many great speaker and chat with them like the founder of SIRI, Robert Scoble and many others.
Also the demo day was a good opportunity to meet and pitch to local silicon valley investors which was great for us.
Since the start of Instabug how has been the entrepreneur experience?
It feels controversial, with all the risk in it and the many uncertainties in the product, the market, the funds and even the team, we are really enjoying it.
We've also learned a whole lot that we wouldn't have learned in 10 years of working in corporates and big companies.
You have just launched the Beta version, How has been the response so far?
It was just great. Here are some of our customer's feedback:
"For developers, Instabug is definitely the most painless way to get feedback from users/beta testers" Terrence Tee – T+ Interactive
"Instabug is magical !  With 1 line of code, you can make users enjoy reporting bugs." Dani Arnaout – Appwe
"We noticed with our app that had a bug, 80% of complaints went to Instabug instead of the app store!" Rand Hindi – Snips
"Instabug has been a very innovative product, bug reporting in the app couldn't be more simpler!" Rahul Choudhary – Eventza
If you were asked to give 3 growth hack tips to the entrepreneurs who have just started their journey what would it be?
Choose the right team: as it's all about the team.
Be laser focused: because you can't perfect more than one thing at a time.
Validate your product as early as possible.
Tell us something about the team behind Instabug.
Our team consists of 5 bright Egyptian engineers and designers, we're almost the same age, all around 22-23 years old. We made sure that the whole team are enjoying their time working at InstaBug, we usually work, play and hangout together.
What are your future plans for InstaBug?
We're working on a few more features that should be released soon, and we have a 2-3 years product plan that will include quarterly updates and new features. Most of these features are user driven and will be implemented in a way to make sure our users love it. Which is our way of implementing features through users' validation.