We all at some point remember carrying big files and reports to a hospital. This time-consuming exercise should have faded a long time ago with the advent of Electronic Health Records(EHR). Sadly, many recognized hospitals still follow the 'stand in line to get your file' process. Hospitals with EHR facilities are of little use since the health records get fragmented among them. What the patients need is a common EHR platform. Livehealth is here to provide it.
We catch up with LiveHealth team to understand more about their startup.
About Livehealth and its features
The present EHR facilities in the country have 2 major flaws. First, the fragmented records of the patient make EHRs useless. Second, the EHRs in most hospitals are stored in PDF form. PDF's have many disadvantages such as- not being suitable to dissect the report(ability for the software to understand what the report means), lack of secured sharing & searching, and difficulty of storage. Livehealth removes both these flaws by providing an effective and safe platform to store EHRs.
"We strongly believe in minimising human interaction to the most essential parts only. Hence, we do not have an option where you have to enter your reports manually. We give you a better option, send us an image of your report and we will do that for you. It is not the customer's job to enter the report's data but that of the EHR software's to provide him with a report which is interoperable.", says  Abhimanyu Bhosale,Co-Founder CEO, Livehealth

How does it work?
Livehealth links diagnostic centers to end users. It provides the ideal way for users to maintain and share their medical records from various health care providers. The entire system is very easy to use. Here's how it works-
Visit your nearest diagnostic center that is linked to Livehealth and give the required samples.
That is it! Livehealth will take care of everything else. It will sign you up during the billing process. It will not only deliver reports instantly but will also track your previous records. For health providers, Livehealth helps them to easily manage their customer records. An in-built Customer Relationship model (CRM) helps them to easily connect with customers.
"Since the system is completely cloud based, Health care providers can have a better control over their activities operating over multiple geographic locations. We follow a SaaS model and hence keep improving the system continuously and adding new features to it, ensuring our customers always stay up to date as per the latest technology standards.",adds Sanket Savla, Co-Founder Business Development.
Journey so far and Marketing Strategies
Livehealth was launched on 20 October 2013. For diagnostic centers, the first beta version was released on 1st January, 2014. The first stable version for customers was released on 1 March 2014. Livehealth, currently, has about 700+ customers signed up. It processes 1000+ Medical reports every month. This number will increase with the Startup collaborating with more Health providers.
As for the marketing strategies, Livehealth team personally spoke to many Health care providers. They took advise from doctors and health experts. The Startup is planning to run a health awareness campaign in the country. It will use social media platforms such as Facebook and Twitter. Sanket explains, "Currently, our prime focus is the Health care provider (Hospitals, Diagnostic Centres and pathology labs) as the consumers are signed up on our platform automatically, there is no explicit sign up for them. We want to partner with as many providers as possible because the platform will be collaborative in true sense. Ultimately, the consumer will be benefited by that."

Startup Methodology and Competition
The startup follows a lean Startup Methodology while designing the product. Livehealth closely worked with a Diagnostic center before launching the final product. Initially, different versions of the product were launched for a variety of customers. This was done to finalize the most suitable version.
Regarding Competition, Mukund elucidates- "The companies providing EHRs will be our competitors but to be honest, there are no competitors to our system as such because the EHRs these companies provide are all broken in one way or another and are mainly focused on one specific diagnostic center management solution rather than a generic electronic medical report management solution."
Challenges Encountered, funding and future plans
Finding the right people turned out to be the biggest challenge for Livehealth. Since it's a B2B product, convincing health providers to believe in their vision was very difficult. With good online marketing, Livehealth was able to land 1000+ visits in the first week of website's launch. The Startup is 100% bootstrapped by the founders.
When asked about the future, Mukund says, "We plan to expand to different cities, so that more and more people can have this experience. Also, we have some great features in the pipeline, which you'll have to just wait for. We would suggest other entrepreneurs to also prioritise other fields apart from their field in expertise. "

The team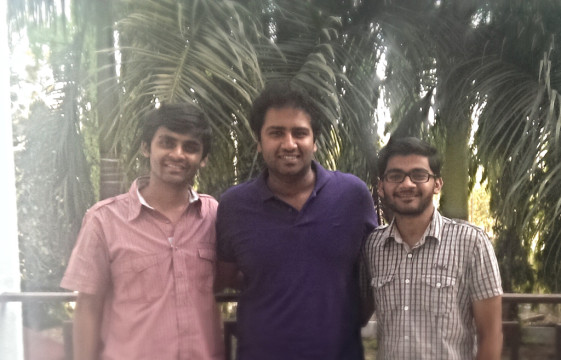 L to R : Sanket Savla,  Abhimanyu Bhosale and Mukund Malani
TTP's take on Livehealth.in
The vision is indeed commendable. Indian health care system needs an apparent change and Livehealth can be the savior. However, It will be very challenging for the Startup to convince Health Providers in the country. We wish the Livehealth team all the very best!